AirPods may be the best wireless headphones around. In part, thanks to how seamlessly they connect to your other Apple devices. But many users report the left or right AirPort isn't recognized anymore and there's a flashing green light on the case.
Like any sensible person would, you'd probably assume your AirPod ran out of charge if the left or right one stopped getting recognized. But users found that the light on their AirPods charging case flashed green when they plugged it in.
That's not normal.
Find out what's going on and the best ways to fix it below.
Quick Tips
Use these quick tips if there's a flashing green light and only the left or right AirPod is recognized:
Return both AirPods to the case and charge it for at least 15 minutes.
On your device, ensure Bluetooth is on and connected to your AirPods.
Unpair your AirPods and hold the setup button to reset them.
Charge your AirPods and device next to each other while on Wi-Fi.
Make an appointment at the Genius Bar for a replacement AirPod.
Related:
Why is my left or right AirPod not recognized?
It could have run out of charge or your iPhone might be set to mono. Maybe it's physically damaged or suffers from a manufacturing defect. Truth be told, there are lots of reasons one of your AirPods might not be recognized anymore.
But the telltale sign of a problem is if the case flashes a green light when you try to charge them.
Why is there a flashing green light on my AirPods case?
Most users whose left or right AirPod stops being recognized also see a flashing green light on their AirPods case. Apple makes no mention of what this means when they talk about the different lights on your AirPods. But it doesn't look good.
The first-generation AirPods case has a status light inside the lid. The second-generation case and Airpods Pro case has it on the front of the case. Normally the status light shows if your AirPods or case are charged, charging, or ready to pair.
A flashing green light seems to show a problem.
For many users, the green light stops flashing when they remove the dodgy AirPod from the case. This implies that AirPod wasn't charging properly. But without more information from Apple, we've no way to know for certain.
Still, whatever the cause, you can fix it with our tips below.
How do I fix a flashing green light on my AirPods case?
We've put together the best tips for troubleshooting your AirPods when there's a flashing green light on the case.
However, many users weren't able to find a permanent solution. In the end, they had to visit the Genius Bar at their nearest Apple Store for a replacement AirPod.
We suggest you follow this link to make an appointment now. That way, if our tips don't help, you won't need to wait as long to get a replacement. You can always cancel the appointment if you manage to fix the AirPods yourself.
1. Unpair and reset your AirPods
The first troubleshooting step is to reset your AirPods. I would normally suggest a restart, but since you can't do that with AirPods this is the next best thing.
When you reset your AirPods they forget all the devices they've paired with. Instead, they act just like they did when you first took them out of the box.
So you need to pair them with your device again after the reset.
How do I reset my AirPods?
Unpair your AirPods from their current device.

On iOS: go to Settings > Bluetooth.
Tap the icon next to your AirPods, then choose to Forget This Device.
On macOS: Go to System Preferences > Bluetooth.
Click the X next to your AirPods.

Return your AirPods to the charging case and close the lid.

After 15 seconds, open the lid again.
Press and hold the setup button on the back of the charging case.
Keep holding the button until the status light flashes from amber to white.
Now pair your AirPods with your device again.
Hopefully, that resolved your AirPods issues. But many users with the flashing green light problem were also unable to reset their AirPods. If that happened to you, move on to the next step.
No Amber Light when trying to Reset AirPods?
Unfortunately, for some users, the amber light never shows when the reset button is pressed and held on the AirPods case. The status light simply continues to show the white blinking light and the reset operation is impossible.
If you find yourself stuck in this situation with your AirPods, check the following steps:
Reset Network Settings on your iPhone. Tap on Settings > General > Reset > Reset Network Settings ( Please make a note of your Wi-fi credentials before resetting as you will need to enter them again)
Once the Reset Network operation has completed, disconnect the AirPods by tapping on Bluetooth in settings and choosing to forget.
Now Try and use the Reset operation on the case.
If the steps above didn't solve your issue, take a look at the contacts at the bottom of your AirPods
Clean the charge contacts on your AirPods as well as the contact points in the case.
Insert your AirPods into the case after the cleaning
Now Try Resetting the AirPods and you should see the Amber status light and the reset operation should work.
2. Update the firmware on your AirPods
Firmware lives in your AirPods and tells them how to work. It's their programming. Occasionally, Apple releases an update to the AirPods firmware, which installs through your Apple devices.
A flashing green light with one AirPod that doesn't work could be due to a problem with the firmware.
You can see the latest AirPods firmware version on the Apple AirPods Wikipedia page. Compare that to the firmware version currently on your AirPods.
How do I see what firmware is on my AirPods?
Connect your AirPods to an Apple device.
On the Apple device, go to Settings > General > About.
Scroll down and tap on AirPods.
Find the Firmware Version here.
Unfortunately, the firmware update process is automatic and there's no way to manually trigger it. But you can make sure your AirPods are in a state to receive any firmware updates should they need one.
How do I update the firmware on my AirPods?
Make sure your Apple device is connected to a working Wi-Fi connection.
Update the software on your Apple device through the settings:

On iOS: Go to Settings > General > Software Update.
On macOS: Go to System Preferences > Software Update.
Download and install any available updates.

Make sure both AirPods are in the charging case.
Plug your Apple device and your AirPods into power.
Keep your AirPods next to the Apple device.
Wait for at least an hour.
3. Clean your AirPods and charging case
Some users suggest that one of your AirPods might not be recognized because of a dirty connector in the charging case. This can't be true for everyone — else a single AirPod replacement wouldn't fix anything. But it has been an effective fix for some.
Clean your AirPods with a soft, dry, lint-free cloth. You can often remove stubborn marks with a rubber eraser. And clean the small ports and seams using a clean, dry cotton swab or interdental brush (we recommend using the brush.)
For the charging case, use a microfiber cloth to clean the inside and outside. You can slightly dampen the cloth using 70% isopropyl alcohol to loosen dirt. But don't let any liquid get inside the AirPods or charging case.
Pay particular attention to the metal plates inside the AirPods charging case. If there is dirt on them, it could interfere with your AirPods when they charge and sync.
After thoroughly cleaning your AirPods and charging case, return the AirPods to the case and connect it to charge. Use the status light and your Apple device to make sure the AirPods are charging.
4. Visit the Genius Bar for a replacement
As we mentioned earlier, these tips won't work for a lot of users with a green flashing light on their AirPods case. Unfortunately, most of them need to get a replacement AirPod from Apple.
If your AirPods are under one year old, they should still be covered by Apple's warranty.
Otherwise, it costs $49–69 per replacement AirPod, depending on if the problem is battery related or not. That is unless Apple releases a replacement program.
Make an appointment at your nearest Apple Store using the Get Support website.
Select Battery, Power & Charging under the AirPods menu. Then you can choose to Bring in for Repair without chatting to Apple Support first.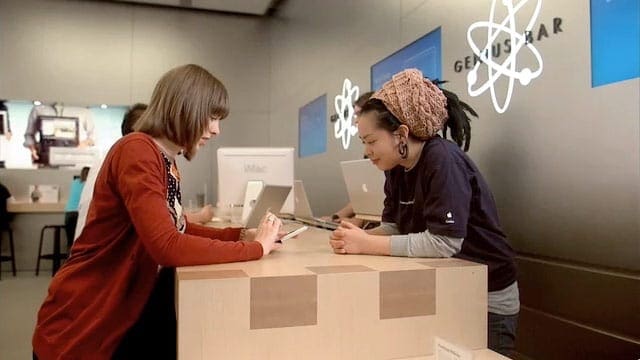 Let us know in the comments what's going on with your AirPods. Did you manage to fix the flashing green light using our tips? Or did you need to get a replacement AirPod from Apple?
Hopefully, Apple fixes this problem soon. Or at least creates a repair program as they have for other common problems in the past.
Dan is a freelance writer based in South West England.
He spent two years supervising repairs as a Genius Admin for Apple Retail and uses that knowledge to keep our troubleshooting guides up to date.
Long before that, Dan turned to Apple products from a musical background. Having owned iPods for years, he bought a MacBook to learn sound recording and production. It was using those skills that he gained a first-class Bachelor of Science in Sound Technology.