Recently I had an email with a few attachments that wouldn't leave my iPhone's outbox! It showed a spinning wheel and seemed to hang there for days. And that was utterly destroying my battery AND unnecessarily consuming data.
If this situation sounds like you, here are some tips to remove stuck or unsent email from your outbox.
Related articles
Emails sometimes get stuck on their way to the destination. You often find these emails stuck in your "outbox" folder.
On its own, it is rarely a big problem however the problem can get magnified when the email size is huge in that it contains several attachments or photos, videos, music, and media files.
This often leads to battery drain issues consumes lots of cellular data on your phone as well.
You fix this problem relatively quickly by removing the "stuck" message from your iOS device by following the steps below.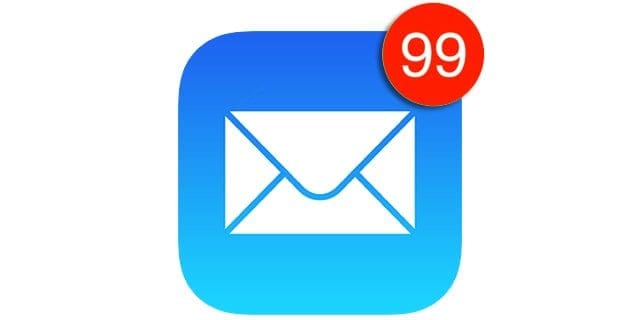 Before you proceed to remove the email, please make sure that the account setting is right on your phone.
Quick tips
Follow these quick tips to remove an email stuck in the Mail App's outbox
Sign in to your email account using Safari or another web browser and look at your outbox and then delete the email there. If it's not in the webmail outbox, search for the email and delete it
Try toggling on Airplane mode and then try deleting the email from the Outbox
Turn your WiFi off and place your iDevice into Airplane mode temporarily, then delete those emails from the Outbox
Remove your email account from the iPhone and add it back via the Settings app and Passwords & Accounts
Problem on a Gmail or Google email account?
If you are using Gmail, please check your Gmail account settings to verify that you haven't entered your account information incorrectly.
To do this, tap Settings > Passwords & Accounts (or for older iOS versions, check Settings and tap Accounts & Passwords, Mail,  or Mail, Contacts, Calendars.)
Tap your Gmail account and verify the information on the screen.
If your account settings are right and the phone is connected to cellular and wifi without any issues, you can proceed to these steps below.
Remove Stuck or Unsent Email From Your Outbox
Step -> 1. Switch your phone to Airplane mode
Step-> 2 Open Mail's Outbox
Once your phone is in Airplane mode, open the Mail app and Go to the Outbox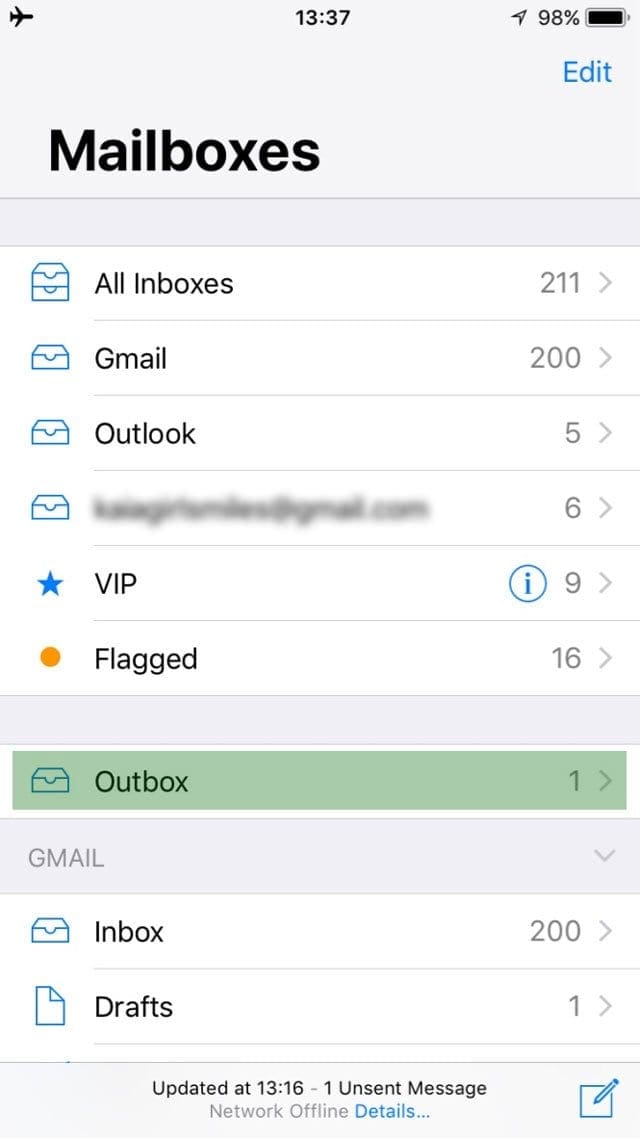 Step ->3 Click the "Edit"
It's the button on the top right of the screen, followed by checking on the circle next to the "stuck" email that you want to delete
Step-> 4 Click "Trash" or Swipe to Delete
Trash is on the right bottom of your screen to remove the message–you may need to go back to the previous menu and perform step 3 again before you can actually delete the message from the outbox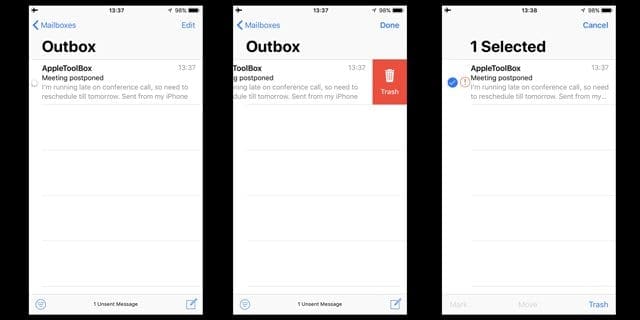 Step-> 5 Rinse and Repeat (if applicable)
If you own multiple devices, perform steps 1-4 on all devices that connect to the problematic email account
 Step-> 6 Turn Off Airplane Mode
Switch your device(s) out of the Airplane mode and return to the mail app.
You should no longer see the stuck message on your email outbox.
Step-> 7 Reboot
Finally, power down your iPhone and then start up normally.
If that's not working, perform a forced restart:
On an iPhone 6S or below plus all iPads with home buttons & iPod Touches, press Home and Power at the same time until you see the Apple logo
For iPhone 7 or iPhone 7 Plus: Press and hold both the Side and Volume Down buttons for at least 10 seconds, until you see the Apple logo
On an iPhone or iPad with no home button or iPhone 8 or iPhone 8 Plus: Press and quickly release the Volume Up button. Then press and quickly release the Volume Down button. Finally, press and hold the Side button until you see the Apple logo
AND, if it does not work on your first try, try it again! It may take a few attempts
Remove your email account, then add it back
On your iDevice, go to Settings > Passwords & Accounts
Tap the email account that you want to remove
Tap Delete Account

Delete your Mail account to troubleshoot problems.

Confirm you want to delete the account
Restart your device
Go back to Settings > Passwords & Accounts and choose Add Account
Follow the prompts to add in your account type, credentials, and choose the items you want to sync with your device
Reader Tips 
Reader Jen reminds us to also turn off the mail feature on ALL your iDevices that are using the email account with the "stuck" email. I couldn't get mine to delete until I remembered that I also receive emails on my ipiPadOnce I turned off email on my iPad and followed the steps above, I was finally able to get rid of that annoying stuck email!
I fixed it by following these steps, in this order:
1. Go to mail account setting and turn off mail
2. Turn on airplane mode
3. Go to Mail and then you should be able to clear stuck message by sending to trash
4. Turn airplane mode off
5. Turn mail back on in account settings
I went into settings, turned on airplane mode, turned off both wi-fi and cellular data. Then I went into my mail app, found the edit function and swiped to delete
A video file was stuck in my outbox for weeks. I deleted that particular email account from my phone and then reinstalled it. All of my emails came back as they were already on the email server. Once the reinstallation was complete, the file that was stuck in the outbox was gone!
I completely shut off my phone and rebooted. Then turned it back on and after launching mail outbox, the edit button was available and was able to trash the message
I had to close the multitasking windows, but once I did, the edit button displayed and I put that file in the trash!
I Had the exact same problem as you did. What helped me was to reset the phone .. just close & restart the mail app (while in airplane mode) and it works
Please let us know if you had any issues in removing the items by providing your comments below.
Obsessed with tech since the early arrival of A/UX on Apple, Sudz (SK) is responsible for the original editorial direction of AppleToolBox. He is based out of Los Angeles, CA.
Sudz specializes in covering all things macOS, having reviewed dozens of OS X and macOS developments over the years.
In a former life, Sudz worked helping Fortune 100 companies with their technology and business transformation aspirations.