The only thing worse than forgetting a password is not having a hint to what it is. If you often use your Apple Watch to log in on your Mac or don't use your Mac daily, there's a good chance you could forget the password.
While you can certainly go through the password reset process and then even disable the login password on your Mac, there's one thing you should try first.
You can quickly add a password hint to your login screen. Then the next time you can't recall your password, that hint might be just the ticket to logging into your Mac.
Related:
Add a password hint to the Mac login screen
It takes such little time to add that password hint to your login screen that even if you never end up needing it, at least it's there just in case.
Open your System Preferences with the icon in your Dock or Apple icon > System Preferences from the menu bar.
Select Users & Groups.
Click the lock on the bottom left and enter your login credentials.
On the left, pick Login Options.
Check the box for Show password hints.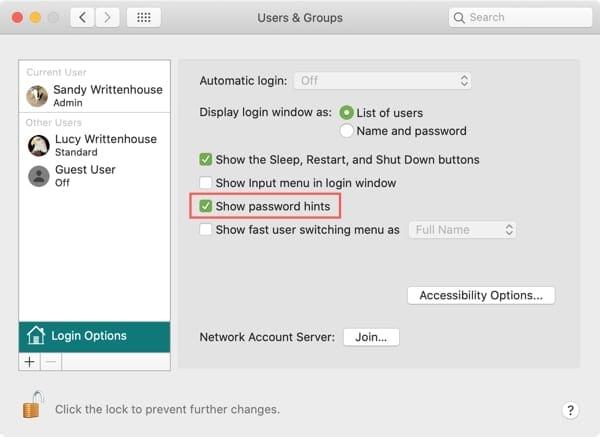 You can then relock and close the System Preferences window, head to your login screen, and double-check that your hint displays.
View your password hint
Access the login screen and click to enter your password. When the password box opens, click the question mark. You should see your password hint at the top of the window that opens (above the password reset options).
Make sure you have a password hint set up
If you don't see a password hint after following these steps, then you may not have set one up. While there is no way to check if you did or not, you can still set one up for your current password by going through the Change Password process.
Head back to the same settings as above in System Preferences > Users & Groups.
Select your username on the left.
Click the Change Password button.
Enter your old, new, and verification for your password. You can use the same password you're currently using and enter it into all three spots if you like.
Add a Password hint.
Click Change Password.
To reiterate, you do not have to change your password to do go through this process. You can just use the same one, unless you decide it's time to change your password anyway.
Now when you go to the login screen and click the question mark in the password box, you should see the hint you just added.
Save yourself some aggravation with a password hint
You never know when the day may come when your password has completely left your brain. So, adding the password hint to your login screen is a good precaution to take if that should ever happen.
Let us know if you plan to add a password hint to your Mac login screen! You can comment below or visit on us Facebook or Twitter!
Sandy worked for many years in the IT industry as a project manager, department manager, and PMO Lead. She then decided to follow her dream and now writes about technology full-time. Sandy holds a Bachelors of Science in Information Technology.
She loves technology– specifically – terrific games and apps for iOS, software that makes your life easier, and productivity tools that you can use every day, in both work and home environments.
Her articles have regularly been featured at MakeUseOf, iDownloadBlog and many other leading tech publications.