Wondering how do you make the alarm on your iPhone louder or softer? Starting with iOS 11 and continuing to the latest iOS and iPadOS versions, Apple introduced many changes to the iPhone and iPad Operating System (iOS.) And for whatever reason, some very simple things like changing the alarm volume on the iPhone is a bit more of a convoluted process these days.
What was once easy is now a bit cumbersome–so how exactly do you change alarm volume on your iPhone? 
Well, after some trial and error, we discovered just how you how to change the alarm volume using a workaround on your iPhone and other iDevices.  Read on!
Steps to Change Alarm Volume on Your iPhone
A lot of people think Do Not Disturb and the Ring/Silent switch impact your alert volumes. They DO NOT affect the alarm sound. When you set your Ring/Silent switch to Silent or turn on Do Not Disturb, alarms still make a sound.
If your alarm vibrates but doesn't play a sound, check that your alarm sound isn't set to None.
Open the Clock app
Tap the Alarm tab
Choose Edit
Tap the Alarm > Sound
Select a new sound
Using AirPods or other wireless headphones and speakers with iPadOS or iOS 11 or later?
Alarms do not play through wireless headphones and speakers.
Do not manually adjusting your Date & Time settings
If you choose your date and time settings manually in Settings > General > Date & Time–this often has a direct impact on your alarms.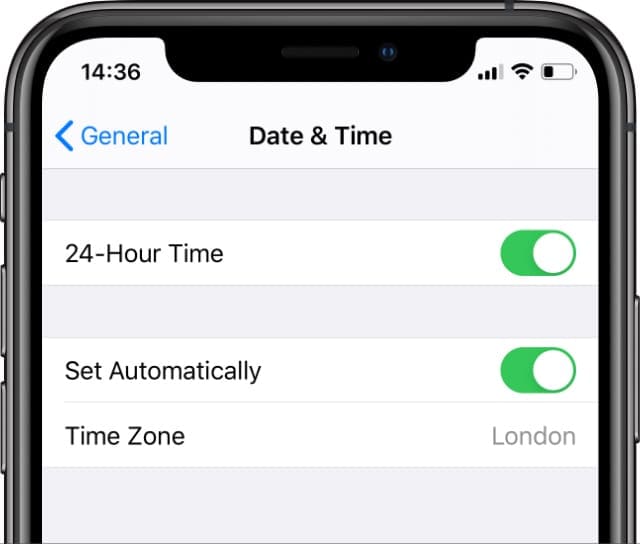 Instead, use the feature Set Automatically so iOS/iPadOS adjusts your clock & timezone for you.
Toggling on 24-hour Time also helps!
If you have been waking up to a full (or low) alarm volume since updating to the latest iOS, please follow the steps below to make the changes
Tap on Settings > Sounds & Haptics (or Sounds) to get to your iPhone alarm volume control
Under the section Ringers and Alerts, toggle on Change with Buttons. This feature allows you to change the alarm volume using the volume buttons on the side of your device
Drag the ringer and alert volume slider right to increase the volume and left to decrease. When you drag, an alert plays, so you can judge the volume changes as you make them.
Volume in Control Center is playback volume, not ringer volume!
Make sure that it is ringer volume you are adjusting.
After performing thee two steps you shouldn't experience further issues with iPhone alarm volume not working. My 8+ on 11.1 is now working fine, alarms are only as loud as my ringer setting, even with the side mute switch enabled.
Use your Apple Watch instead for all your alarms
A lot of our readers recommend using the Apple Watch instead of an iPhone for alarms.
What our readers really like is the Apple Watch's Taptic Engine which taps you to wake you up or give you notice of a set alarm–before it even makes any sound. Perfect for people who don't want to wake up others sleeping next to them!
So give it a try and Use the Alarms app on your Watch to play a sound or vibrate at a set time
Open the Alarms app on your Apple Watch
Tap Add Alarm
Tap AM or PM, then tap the hours or minutes
Turn the Digital Crown to adjust, then tap Set
To turn the alarm on or off, tap its switch
You can also tap the alarm time to set repeat, label, and snooze options
On your watch, open Settings > Sounds & Haptics
Adjust the Alert Volume or toggle on Silent Mode for muted alerts
Scroll down and toggle on Haptic Alerts
Choose the Prominent option
3 Tips to Get the Most Out of Your Alarm/Sleep Rituals
Set a bedtime schedule 
Tap Bedtime, then follow the instructions to set your sleep reminder and wake-up alarm. After you've done the initial setup, you can slide and adjust your sleep and wake times. Tap Options to set the alarm days, wake-up sound, and volume. To turn Bedtime reminders off, tap the Bedtime switch.
Fall asleep to music or a podcast
Tap Timer, tap When Timer Ends, then choose to Stop Playing at the bottom. 
Create Alarms with Siri
To set an alarm on the Home screen, press Clock, then tap Create Alarm. The easiest way is to use Siri to set up your Alarms. A simple command such as "Wake me up tomorrow at 7 AM" does the trick! 
Similarly, if you want to delete all the alarms on your iPhone, leverage Siri. Say "Turn Off All my Alarms" and your alarms are switched to inactive.
Alarm Volume Super Low on iPhone 11 Series or X/XS/XR?
Many users have noted that even though their iPhone ringer and volume settings are turned all the way up, their alarm volume is super low when it goes off.
This is probably related to the Attention-Aware setting associated with the FaceID feature. The volume goes low when you pick up and look at your iPhone.
Tap on Settings>Face ID & Passcode>Attention-Aware Features and toggle it off.
What's Next? 
With the introduction of Apple's anticipated Homepod speaker, we fully expect more features dedicated to integrating alarm function on the Homepod speaker and iOS devices. Perhaps like waking up to your favorite music or podcast, wouldn't that be lovely!
Obsessed with tech since the early arrival of A/UX on Apple, Sudz (SK) is responsible for the original editorial direction of AppleToolBox. He is based out of Los Angeles, CA.
Sudz specializes in covering all things macOS, having reviewed dozens of OS X and macOS developments over the years.
In a former life, Sudz worked helping Fortune 100 companies with their technology and business transformation aspirations.