If you've picked up a new Wi-FI + Cellular iPad recently, and you have an old cellular iPad, then you might be wondering how to transfer your data plan over.
Luckily, Apple has made the process pretty easy. But there are a couple caveats, specifically relating to the different SIM cards that various iPad models use. Here's what you need to know.
Find Out What SIM Card Your Device Has
Before you transfer your cellular plans, you'll need to know what kind of SIM card your iPad has. Certain SIM cards are not compatible with certain Apple iPad models, and it can get a bit confusing pretty quickly.
The following iPad models have an embedded Apple SIM or an eSIM. But they also have a nano-SIM card tray.
eSIM: 12.9-inch iPad Pro (3rd-generation) Wi-Fi + Cellular model
eSIM: 11-inch iPad Pro Wi-Fi + Cellular model
12.9-inch iPad Pro (2nd-generation) Wi-Fi + Cellular model
10.5-inch iPad Pro Wi-Fi + Cellular model
9.7-inch iPad Pro Wi-Fi + Cellular model
The following iPads come equipped with a non-embedded Apple SIM in a nano-SIM tray, or are otherwise compatible with Apple SIM.
iPad (5th generation)
iPad Pro (all Wi-FI + Cellular models)
iPad Air 2 and later
iPad mini 3 and later
iPads not on the list above with a nano-SIM tray will not support an Apple SIM. You'll get an "Invalid SIM" notification if you attempt to use it.
Older iPads may use a Micro-SIM card, which is a bit larger and is incompatible with nano-SIM.
iPad (4th generation)
iPad (3rd generation)
iPad 2
iPad
How to Transfer Your Data Plan Over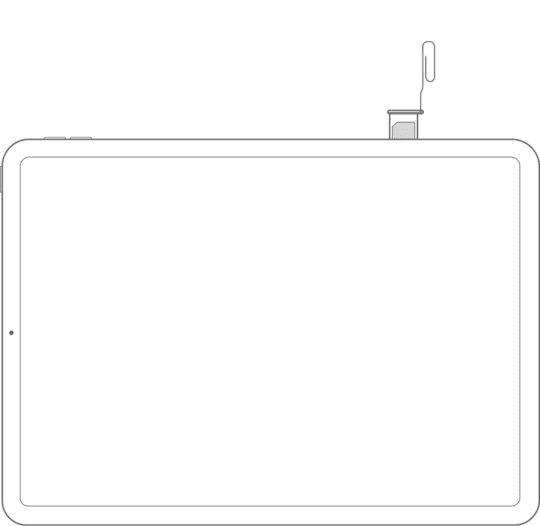 The exact method you use will depend on whether or not one of your iPads uses physical SIM (see above section).
Of course, you'll also need to go through the regular iOS setup process on your new iPad before you can transfer service from your old one.
How to Transfer Cellular Plans for iPads with Apple SIM or eSIM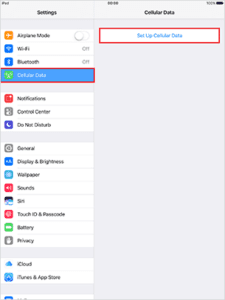 If both of your iPad devices feature embedded Apple SIM cards or eSIM, it's pretty easy to transfer data plans — and you don't even need to mess with any software. Just use the following steps.
Open Settings on your iPad.
Find and tap on Cellular Data.
Tap on Set up Cellular Data.
If you see it, tap on the Transfer button.
Follow the proceeding directions to transfer your cellular service.
Once you're done, you may need to wait a few minutes for the service activation to complete.
This won't always appear for all iPad users, however. If you don't see a Transfer button in Set Up Cellular Data, then you'll need to contact your carrier for help.
RELATED:
How to Transfer Data Plans Between iPads with the Same SIM Card
If you have two iPads with the same SIM card — say, a nano-SIM — then it's relatively easy to switch the data plan between them. You'll use the method below.
Turn off both of your iPads.
Use a SIM removal tool — or a paperclip — to open the SIM tray on your old iPad.
Use the same tool on the SIM tray of your new iPad.
Insert the SIM card from your old iPad in the SIM tray of your new iPad.
Close the tray and turn on both devices.
Of course, activation may take some time to complete.
How to Transfer Data Plans Between iPads with Different SIM Cards
It's a bit trickier if you have iPads with different SIM cards. For example, if your previous iPad has a Micro SIM and your new iPad has a nano-SIM tray.
In these cases, you'll need to contact your specific carrier to get a new SIM card that's compatible with the tray on your iPad.
Once you do, you'll insert the new SIM card into your new iPad. It's worth noting that Apple recommends removing the old SIM card from your previous iPad as well.
If you have any iPad with eSIM or Apple SIM, keep in mind that those iPads will also have a nano-SIM card.
In those cases, you'll just use pop the nano-SIM out of your old iPad and into your new one. (Make sure both iPads are turned off beforehand.) The nano-SIM card will transfer your cellular plan to the eSIM in those models.
Additional Tips
If you get an alert that says "No SIM" or "There is a problem with your SIM card" at any point during the process, you can do a quick bit of troubleshooting.
Firstly, you'll want to make sure that your new iPad is compatible with Apple SIM. If it isn't, this can cause problems if you're transferring from a newer iPad to an older one. All Apple SIM iPads have a nano-SIM card tray, but not all nano-SIM iPads support Apple SIM. So it's a bit confusing.
In all other cases, you'll want either want to check with Apple Support for hardware issues or your carrier for cellular or plan issues.
Mike is a freelance journalist from San Diego, California.
While he primarily covers Apple and consumer technology, he has past experience writing about public safety, local government, and education for a variety of publications.
He's worn quite a few hats in the journalism field, including writer, editor, and news designer.