iPad marks a return to tablets.
While certainly a vast improvement from the heavy stone tablets of ancient times, the world has embraced a return to the days of tablet use. This time around, it's Apple's iPad that's an instant sensation.
And iPad is the game-charger, knocking most others out of the spotlight.
But like anything, problems happen. Things fall apart. And someday, we all find ourselves needing some iPad troubleshooting & help.
In this lengthy article, we strive to produce a comprehensive iPad troubleshooting and help guide.
If you are on a newer iPad or if your iPad is running iPadOS, you can check out the specific iPadOS resources towards the bottom of this article.
Related Articles
From Concept to Triumph
Riding on the heels of the iPhone's phenomenal success, the iPad made its colossal debut in 2010.
Apple's development of a tablet had commenced several years earlier, but the late Steve Jobs tabled the project in a quest to develop and market the iPhone.
iPhones Lead, iPads Follow
The worldwide success of the iPhone as the pioneering example of touch screen capability and computer portability, coupled with a new(ish) obsession with rich texting and e-reading books/magazines, created a customer need and paved the way for an iPad introduction.
Despite the fact that the iPad was initially available only through Apple's online store and in Apple retail stores across the United States, a record-breaking 300,000 units sold during its first day on the market.
In its first month, one million iPads sold, and within two more months, that number tripled. By the Fall of 2010, the iPad was available to consumers in countries throughout the world. Since launch, Apple has sold over 400 million iPads across the globe!
Many Generations, Many Sizes
Ten years later, Apple introduced the seventh-generation iPad to the market.
As with the iPhone, each incarnation offers more advanced capabilities and new features to captivate anticipating audiences.
There's also now a slew of different models and price points, from the standard iPad to the professional iPad Pro, and the smaller iPad Mini.
The iPad Pro and the Mini join the market to offer customers a smaller version, mimicking in size those other popular electronic readers.
The new iPadPro revealed in March 2020 along with the newer 2020 MacBook Air offers a new class of iPads that are faster than some PCs and feature amazing display resolution and speed.
Related Articles
Features Revisited
When it comes to the hardware behind the iPad's genius, many of the features seem somewhat familiar because we know the operating system.
It's the same iOS that runs our iPhones and iPod Touches!
And includes neat features like AirPlay and AirPrint.
Related Articles
Power Up
Like the iPhone, Apple powers its iPad with its Apple-developed iOS operating system.
As with Apple's desktop computer operating systems, iOS and iPadOS are intuitive and fun for easy navigation through all sorts of apps (applications.)
These next-generation iPads run on Apple's proprietary chips and multi-core processors.
Apple Lithium-ion Batteries are inside all your iDevices, from iPhones and iPad to your Apple Watches and MacBooks.
These built-in lithium-ion polymer batteries provide the best performance for your device and are easily rechargeable.
With WiFi and LTE Data on board, your iPad maximizes Internet connections and speed. Bluetooth capability allows the use of wireless accessories such as AirPods, earbuds, headsets, and keyboards with the iPad.
The increased power of the iPad led to a redesign of many of the iPhone's Apple applications to make the iPad a superior performer.
Related Articles
Late to the Party: The Camera
One of the most notable improvements made in the next generation of iPads is the camera.
The megapixel camera shoots high-definition pictures and video from the front AND the rear of the tablet.
The front camera feature is typically used for video chats with the FaceTime, Snapchat, and similar apps and selfies, of course!
Related Articles
Siri Arrived Late Too!
Apple's artificial intelligence onboard assistant Siri is a voice-activated system that responds to the user's queries. Apple did not include Siri with the original iPad.
Surprisingly, Apple's AI virtual assistant was not introduced into the iPad lineup until the third generation's debut.
Related Articles
Crystal Clear
No matter the model, the iPad screen is simply beautiful, with gorgeous colors and sharp details.
And if your iPad features the retina display, you see the sharpest and most vivid images available on tablets.
Rotate the tablet and your screen displays in either portrait or landscape orientations.
Related Articles
Find It In the Cloud
The iCloud feature enables the user to synchronize, via a unique Apple ID, storage of photographs, documents, videos, contacts, appointments and notes with other Apple devices for later retrieval from an iPhone, laptop or desktop computer.
Related Articles
Let the Music, Books, Games, and Fun Begin!
As with the iPhone, the iPad comes out of the package with some of the most popular applications to beckon immediate enjoyment.
Some of these applications include Safari for Internet browsing, FaceTime for video and audio chats, Mail, Photos, iTunes, Messages for instant texting and swapping of photos and other media, and Music.
Related Articles
For Your Reading Pleasure
One of the hidden treasures of iPad's included lineup of apps is Apple Books, previously knows as iBooks. This application turns your iPad into a fantastic electronic reading device.
It also serves as an online bookstore, offering thousands of titles available for download. Like most electronic readers, iBooks stores all your downloaded books on its virtual library shelves.
Related Articles
Customize Through the App Store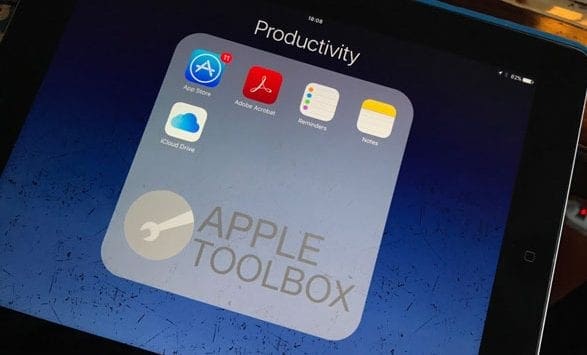 iPads always include the App Store app. This app is Apple's online shopping mecca for every application one can ever want or need, from word processing and photo editing programs to the latest games and recipe collections.
If the user craves a way to add fun, utility, better living, education or shopping to his or her life, there is an app for that.
Related Articles
Your iPad Carries You Away
Thanks to the mobility and functionality of the iPad, you access everything at your fingertips.
The sleek, lightweight design and powerful, vast capabilities have made Apple's iPad the most coveted mobile tablet device in the world today.
And now with Apple AirPods, being on the go with your iPad or other iDevice is a cable-free and hassle-free experience!
iPad Troubleshooting and help for iPadOS (Updated 2020)
Starting with iOS 13 in 2019, Apple made a deliberate decision to separate the operating system for iPads. This was mainly done to provide new iPad focussed features that would drive better usability for the tablets. From a common troubleshooting perspective, 2019 also marked an important event in that iTunes was removed from macOS.
The way we sync our iPads and restore iPads changed with the introduction of macOS Catalina and has continued to evolve in the year 2020.
In this update, we will explore some of the commonly asked troubleshooting and tutorial questions around iPadOS in seven major areas:
iPadOS Update
iPad Display

 

External drives for iPad
Using Keyboards and Mouse with iPadOS
App related tips and issues
Battery and Charging
Hardware repairs – 2020 update from Apple
Cannot Update iPad to iPadOS Update and other Install Issues
Most of us today have come to depend upon the OTA (Over the air) update. If you have chosen to set your iPads to update automatically to the latest operating system, it should get triggered on its own if you keep your iPad on charge and connected to wi-fi. Manually choosing to update is another option and can be accessed by the Settings app. 
Tap on Settings > General > Software Update to begin the process of downloading and installing the latest iPadOS update.
Many software bugs are addressed by Apple using these updates, so it is important to keep your iPad updated to the latest iPadOS operating system.
Most of the time, the update download and install process is seamless especially if you are on a newer model and your Wi-Fi has decent speed, however, there are times when you run into issues.
Check if your iPad is compatible with the latest Apple's iPadOS update
If you can't find the iOS or iPadOS update in Settings > General > Software Update;  review Apple's specs on device compatibility. For folks using iPhone 6 and below (such as 5S), your devices are no longer upgradable.
Take a look at this list below, if your device is on this list, it supports Apple latest iOS 13 and iPadOS.
Cannot Update to iPadOS, how can I fix it?
If you are seeing common error messages such as 'Unable to install update' or 'Unable to verify Update', these are easy to fix and can depend upon a handful of issues or settings. We have published a detailed guide as well as a roadmap that you can follow to address these issues.
A few common tips to keep in mind when faced with iPadOS update issues are the following:
Keep your device connected to a power source for the entire update process
If you use a VPN, temporarily disconnect your device from it (toggle off) and try updating again
Try connecting to 2.4GHz WiFi network instead of a 5 GHz WiFi network
Toggle WiFi off and on to refresh to your network
Forget your WiFi network and then add it back into your device, then update
Reset your network settings, add your network back in, and try again
Please check the detailed step by step guide for resolving iPadOS update issues in detail. The comprehensive guide also covers the new iTunes replacement which is using Finder to restore your iPad to repair.
Related Articles
iPadOS Display and SideCar Problems
The edge-to-edge Liquid Retina display on newer iPads is not only gorgeous and immersive, but also features incredibly advanced technologies such as Pro-motion, True Tone, and industry‑leading color accuracy. It is not a coincidence that Apple is trying to find new ways around using the iPad display.
You can identify your iPad model by using Apple's link and learn about the specifications
Starting with iPadOS in 2019, Users can now use their iPad as a secondary display device with their Macbooks using a popular feature called SideCar. 
You can also use an external monitor such as LG-UltraFine 4K/5K display with your tablet. Especially helpful if you pair it with a keyboard, mouse, and trackpad. You can use it to set up a perfect Work from Home (WFH) setup.
Fairly easy to set up and use, but there are some caveats around its use. Follow our youtube video to get some tips to get SideCar working and look at the article for a detailed guide.
Related Articles
iPad Pro or iPad Screen randomly freezes or shows a Black screen
Based on AppleToolBox reader inquiries over the past years, we have seen this issue being reported occasionally. Chances are that the iPad Black screen issue is a software-based.
Force-restarting is the best thing you can do to see if it's a software-related issue:
You can force restart your device even if the screen is black or the buttons aren't responding. 
iPad models with Face ID: Press and quickly release the Volume Up button. Press and quickly release the Volume Down button. Then press and hold the Power button until the device restarts.
iPad with Home button: Press and hold both the Home and the Top (or Side) buttons until you see the Apple logo. 
Related Articles
iPad and External Drive related issues
In its pursuit to make the iPad more like a Computer, Apple introduced some new features with the introduction of iPadOS in 2019. One of these features was around providing the iPad to access external drives.
Lot of photos or videos on your iPad. Move some of them to an external drive and free up space on your iPad.
We provide you with a comprehensive set of resources if you are trying to use external drives or network drives with your iPad or iPad Pro running iPadOS.
Related Articles
Working with iPad and external keyboards, TrackPads or Mouse 
iPads can now use external keyboards more efficiently with iPadOS. Apple has introduced a whole set of new keyboard shortcuts that you can use to enhance your productivity. In this section, we cover some of the main issues around keyboard use and iPads
Starting with iPadOS 13.4, you can now take advantage of a connected trackpad. Learn which apps provide you some great features to take advantage of a connected trackpad with your iPad.
Related Articles
iPad and iPadOS Apps related Problems
Some of the common apps that we use such as Safari and Notes work great on iPadOS. There are a handful of times, especially with updates when things tend to go sideways and it causes annoyances.
In this section, we look at these issues and also provide you with a set of tips and tutorials that will help you work out the issues with these common iPad Apps.
Related Articles
iPad Battery health and charging
Starting with iOS 12, Apple has focussed on improving battery performance across iPhone and iPads. We have not seen too many issues in this category except sometimes for an occasional runaway third-party app that can cause the battery charge to decelerate rapidly. It's also a good idea to review guidelines around maximizing battery performance.
Your best bet is to get more familiar with understanding battery health reports in iPadOS so that you can quickly identify the offending app and take appropriate actions.
If you have an older iPad and notice charging issues, your best bet is to clean the charging ports. With use, iPad and iPhone charging ports accumulates dirt and debris and that can cause slow or no charging on the iPad. We suggest that you periodically clean the port and avoid charging issues. 
You may also want to replace the battery on your older iPad. We have seen an immediate performance boost on older devices with battery replacement
iPad Hardware Repair guidance
If your iPad or iPadPro is under warranty, and if you have tried the basic troubleshooting such as restart/ restore without any success, you should reach out to Apple directly and have them look at your tablet. You may also consider getting a monthly AppleCare+ service for your tablet if its a newer model and third party servicing is often tricky for these newer models.
As of 2020 here are some of the pricing guidelines from Apple for iPad Pro repair. If you are not in the US, you can check out your country specific repair guides from Apple.
Replacing the battery for out of coverage iPads costs $99.
Please bookmark this resource on your iPad as we keep updating the resources available on this Page.
Related Articles