As Apple Music continues to grow in popularity, the ability to use it with your different devices becomes equally as important. One such use case is the ability to listen to your Apple Music favorites through Amazon's Alexa-powered speakers. Amazon has cultivated an excellent smart home ecosystem of products, all powered by Alexa and compatible with both iOS and Android. From the Fire TV Stick to the Amazon Echo Show, and everything in between, Amazon is doing everything it can to fill all of your needs when it comes to creating the perfect smart home experience. Much of this can be attributed to the plethora of Alexa Skills, which enables much of the functionality that we want to have, in order to get Alexa working with different devices.
Related Reading
How To Use Apple Music With Amazon Alexa
Apple Music has transformed from a niche project to one of the biggest and most popular music streaming services available today. Apple continues to update its service with new features, as evidenced by the addition of Lossless and Spatial Audio. But did you know that you can use Apple Music with Amazon Alexa devices? This means that you'll be able to listen to your favorite songs and playlists from Apple Music on any of your Alexa-powered smart speakers. The setup process is fairly simple, but it does require the use of an Alexa Skill in order to get things working.
Here's how to use Apple Music with Amazon Alexa:
Open the Amazon Alexa app on your iPhone.
In the bottom right corner, tap More.
Tap Skills & Games.
In the top right corner, tap the Magnifying Glass (Search).
Enter Apple Music in the search box.
Tap Apple Music from the list of results.
Tap the Enable To Use button.
Tap Settings.
Select Link Account.
Sign in with your Apple ID.
Now that the Alexa Skill has been downloaded to your iPhone, and Apple Music has been linked to your Amazon account, there is only one more series of steps that you need to take. The following steps allow you to use Apple Music as the default streaming music service when connecting to your Alexa speakers.
Open the Amazon Alexa app on your iPhone.
In the bottom right corner, tap More.
Tap Settings near the bottom of the page.
Scroll down and select Music & Podcasts.
Tap Default Services at the top of the page.
Under Music, tap to select Apple Music.
Once everything has been enabled and you have selected Apple Music as the default for music streaming, there's nothing left to set up. Now, you'll be able to send requests such as "Hey Alexa, play John Mayer on Apple Music", or "Hey Alexa, play Summer Hits on Apple Music". And the music will instantly begin playing on your Alexa-enabled speakers.
Best Amazon Alexa Speakers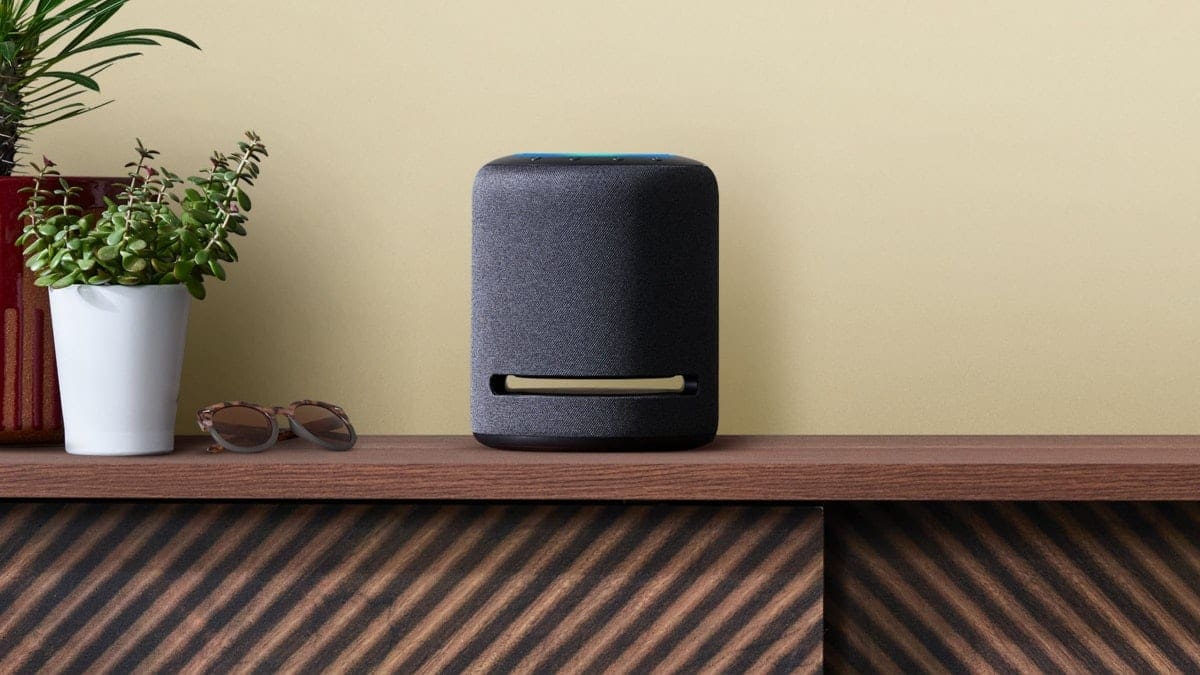 Sonos speakers are simply some of the best in the business, regardless of what smart home platform you are using. With the Sonos One, you're getting the company's flagship speaker, and it can be paired with your iPhone to access Alexa when your hands are full, or if you just need to turn on the lights. This speaker sounds simply incredible and will match perfectly with whatever aesthetic you have in the home.
The Studio features a total of five speakers inside, helping to make this rated for Dolby Atmos. This brings superb sound quality, and if you want a bit more "punch", there's a combination available that includes the Amazon Echo Sub. There are microphones built into the Echo Studio, so you can use this to control your smart home products. There's also the added benefit of sound adaptation, meaning that the Studio automatically senses the acoustics of your room and adapts the sound for the ideal playback.
The Echo Show 10 is Amazon's most impressive smart speaker with its 10.1-inch FHD display that can twist and turn to follow you around the room. It includes a built-in Zigbee hub to connect most of your smart home devices, without needing to try and set up a separate hub elsewhere. This can be used to play your favorite music, have video calls, or you can access the built-in camera to remotely monitor your home. It's an impressive all-in-one speaker that looks good no matter where you put it.
The company's flagship speaker saw a redesign with the release of the 4th Gen Amazon Echo. This provides better sound quality overall, while also supporting Lossless Audio for compatible streaming services such as Apple Music and Amazon Music. Like the Echo Show 10, it doubles as a smart home hub with Zigbee devices, along with providing quick and easy access to Alexa. There's even a motion sensor built-in which allows you to create routines that can turn the lights on when you enter a room or turn them off when you leave.
If the goal is to simply have Alexa everywhere in your home, then there's no better way to do so than with the Echo Dot. This little speaker is lightweight, comes in three different colors, and can be placed pretty much anywhere you could want. It also features a built-in motion sensor that can trigger Alexa routines, while also packing impressive sound in such a small package.
Andrew Myrick is a freelance writer based on the East Coast of the US. He enjoys everything to do with technology, including tablets, smartphones, and everything in between. Perhaps his favorite past-time is having a never-ending supply of different keyboards and gaming handhelds that end up collecting more dust than the consoles that are being emulated.