The iPad dock keeps disappearing for some iOS iPad users, forcing them to restart their device multiple times a day. Apple is yet to acknowledge the issue, so we've gathered information on the topic showing you how to fix it yourself.
Related Posts:
About the Disappearing iPad Dock: What does it look like?
Normally the dock sits at the bottom of your iPad screen and holds your favorite and most recently used apps. It should be available at any time by swiping up from the bottom of the display or by visiting the Home screen.
When the iPad dock disappears, you're left with a blank space in its place. Rotating the iPad from portrait to landscape mode, or vice-versa may cause the dock to reappear in a strange location either part-way up the display or halfway off the side.
What causes it?
Most people experiencing the issue claim that it's triggered by fullscreen ads in mobile games, such as The Walking Dead: No Man's Land. After watching an in-game advert the dock is missing when the user visits the Home screen.
It's possible that confusion between playing landscape and portrait videos causes this problem within the iPad. It can happen on any model from iPad Mini to iPad Pro and seems to be a problem. While Apple hasn't acknowledged the issue, it's likely they are working to patch it in the next software update.
How to Fix the Disappearing iPad Dock
Change Your Screen Orientation
Some users find that by flipping their iPad to portrait mode or landscape mode brings the iPad Dock back on-screen. So if you're using your iPad in landscape mode, switch to portrait mode and see if the iPad Dock returns. Just make sure you haven't locked your screen's orientation–swipe on Control Center and see if the icon for orientation is highlighted. If so, tap it to turn off screen orientation lock. 
Turn Zoom Off
If you use the Zoom feature on your iPad, this could be the reason you're not seeing the Dock. To check, go to Settings > Accessibility > Zoom or for older iOS versions, General > Accessibility > Zoom, and look to see if you enabled Zoom. Also, check the setting Zoom Region and set it to Window Zoom instead of Full-Screen Zoom.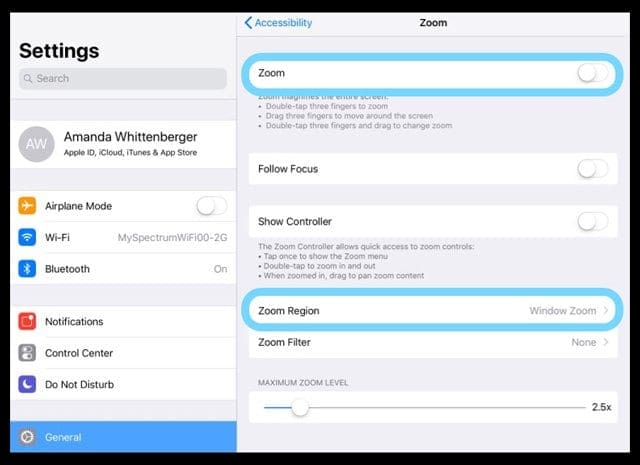 Another suggestion is to also toggle off Follow Focus.
Follow focus tracks your selections, text insertion points, and where you type.
Toggle OFF All Multitasking Settings
Turning off multitasking works for some, not for others. But it's worth a try to see if this one gets your Dock back. Go to Settings > General > Multitasking & Dock and toggle off all the features such as Allow Multiple Apps. Then return to your Home Screen and see if the Dock returns. 
Restart Your Device for a Temporary Solution
For many readers, the consistent solution for when your iPad dock has vanished is to restart your device.
While this isn't a permanent fix, it should bring your dock back temporarily and allow you to keep using your iPad in the meantime.
There are four ways to restart your iPad:
Press and hold the Power button then slide to power off
Go to Settings > General > Shut Down
Perform a Forced Restart

On an iPhone 6S or below plus all iPads with home buttons & iPod Touches 6th generation and below, press Home and Power at the same time until you see the Apple logo
For iPhone 7 or iPhone 7 Plus and 7th generation iPod: Press and hold both the Side and Volume Down buttons for at least 10 seconds, until you see the Apple logo
On the iPhone SE 2nd generation and an iPhone or iPad with no home button: Press and quickly release the Volume Up button. Then press and quickly release the Volume Down button. Finally, press and hold the Side button until you see the Apple logo

For iOS 11 and above, the accessibility feature AssistiveTouch also offers a restart option. Go to Settings > Accessibility > Touch (or for older iOS, General > Accessibility) > Assistive Touch > Customize Top Level Menu and tap an icon to change its function to Restart 
Update Your Operating Software
When Apple has found a solution to this problem they will release it in a software update. Bugs such as this are frequently fixed in small updates called patches, denoted by numbers following the iOS version.
Your iPad should check for updates automatically and notify you when it finds one. However, you can speed up the process by checking yourself and ensuring you're on the latest iOS version.
Update iOS
Go to Settings > General > Software Update
If a new update is available, tap Download and Install 
Reset Your iPad Settings
It could be that the disappearing iPad dock is triggered by something in your iPad settings. Therefore, if you reset the settings it might fix the issue.
Doing so won't delete any content from your iPad, but returns all your settings to their default state. This affects your wallpaper, notification preferences, accessibility settings, ringtones, and more. You should make a backup of your iPad in case anything goes wrong.
Once you've saved a backup, follow the steps below to reset your iPad settings:
Go to Settings > General > Reset
Reset All Settings 
Final Measures to Get Your iPad Dock Back
We've collected additional suggestions for those of you who are still struggling with a disappearing iPad dock. While they aren't convenient solutions, they can help to see you over until Apple fixes the problem.
Stop Using Problematic Apps
Most users who have experienced problems with their iPad dock can link the issue with the use of certain apps. Take note of what you've used each time your dock disappears and try to narrow down a selection of likely suspects.
If you find that the use of these apps regularly makes your dock disappear you could stop using them for the time being.
Granted, this isn't something you should have to do for your iPad to work properly but you may be left with few options.
Restore Your iPad to Factory Settings
Since the iPad dock issue hasn't affected 100% of iPads, there's a chance that fully restoring your device can save you from further frustration.
Please note there's no guarantee this will work. Therefore we only recommend it if you've tried everything else and can't wait for a fix any longer.
Restoring your iPad to factory settings deletes all the content from your device — so you should make a backup before doing it.
When ready, follow the steps below to restore your iPad:
Go to Settings > General > Reset
Erase All Content and Settings 
That's everything there is to know about how to fix the disappearing iPad dock. Let us know in the comments if these tips worked for you or not, and keep us posted on any other issues that you find!
Reader tips
Rebecca went into her iPad's Zoom settings. Zoom was not toggled on, but Follow Focus was, so she turned that off. Toggling Follow Focus off fixed her iPad's missing dock immediately. Super happy now!