Are you having trouble with your iPhone or iPad speaker? Not hearing anything when playing music, making a call, or using FaceTime or another audio app?
At some point in our iLives, our iPhones' speakerphones do not work. It's super frustrating when we can't make calls using the speakerphone. When someone calls, we can't hear anything through our iPhone speaker. Worse yet, since we hear NOTHING, the person calling us maybe even hangs up. And when listening to voicemail on your iPhone, you hear zilch!
Related Articles
Symptoms Leading to iPhone Speaker Not Working Diagnosis
Other symptoms of an iPhone speakerphone problem include not hearing our music or videos through the speaker. The notification chime we normally hear with a new text or email is suddenly absent. Some of us love that feature, so it's really troubling when it disappears!
Our iPhones have one speaker (and multiple microphones), and our phones use that speaker A LOT. Think about it—we use our speaker for talking on calls and to Siri, for listening to music and videos, for notifications, and there are a zillion (and counting) apps that use your speaker.
One More Thing About Your iPhone Speaker
When your iPhone speaker is sort of working, you hear crackling, static, or generally poor sound quality. That's not normal and not okay.
So let's learn what to do when your iPhone speaker isn't working and fix these problems.
So let's get to it!
Start with Your iPhone's External Buttons
Check Your iPhone Speaker Connections
This might sound obvious but first verify that there is nothing plugged into the headphone jack, including earbuds, headphones, or any other kind of adapter.
Next, make sure the Mute/Ring/Silent side switch is not switched to silent 
If you can see orange, it's set to silent.
Change Volume
Adjust the volume up by pressing the volume UP button until the volume is turned all the way up. Check your iPhone screen to make sure the volume is at its highest.

If you hear any sound, but it's hushed and/or crackling, then your iPhone speaker is damaged. You'll need to get your iPhone speaker repaired or replaced.
Check that nothing is blocking your speaker. Sometimes dirt or other debris gets trapped and covers the speaker screen. This is especially true if you keep your iPhone in a case. If blocked, use a microfiber cloth and carefully clean away any debris.
Check Your iOS Software
Usually, our iPhone speaker isn't working due to a software (or human) problem. The good news is that we can fix these on our own, without a visit to our local Apple Store.
Before we start going through a physical exam, make sure your iPhone is updated to the latest version of iOS. Performing this update often solves the problem straight away!
If your iPhone is up-to-date or if your update didn't change your speaker problem, let's go through a physical exam.
Turn Mute and Do Not Disturb Off
Open Settings > Do Not Disturb or swipe on Control Center and check that Do Not Disturb is not enabled.  If so, toggle it off!
For folks using an iPad, swipe down from the top-right corner to open your Control Center. Ensure that both the mute button and Do Not Disturb button are not on. 
Stuck in Headphone Mode
When you adjust your volume, if you see the headphone icon showing that headphones are connected when they aren't, there may be dirt, dust, or something else lodged into the headset jack
Check the headphone jack and look closely. If there's anything in there, try to remove it carefully. If you don't see anything, try swiftly blowing into the jack to dislodge any dust.
Another tip is to quickly insert and then remove a pair of headphones or earbuds into the headset jack. Do this a couple of times to dislodge any dirt or dust. We have an extensive article on this particular problem, so if you are stuck in headphone mode check this article out.
Audio Through the Airwaves
Check that you are not connected to any Bluetooth or Airplay speakers, headphones, or other audio devices.
You either turn Bluetooth entirely off or if you want Bluetooth to remain on for other devices, like your Apple Watch, disconnect the offending Bluetooth device from your iPhone.
For Bluetooth
Settings > Bluetooth
Toggle OFF OR Under My Devices

 Tap the "i" to the right of the Connected Device

Select Disconnect 
For Airplay
Swipe on Control Center  and navigate to the Music tile and press the Airplay icon 
Select your iPhone (or whatever device you use) from the list of devices 
Perform a Restart to Fix iPhone Speaker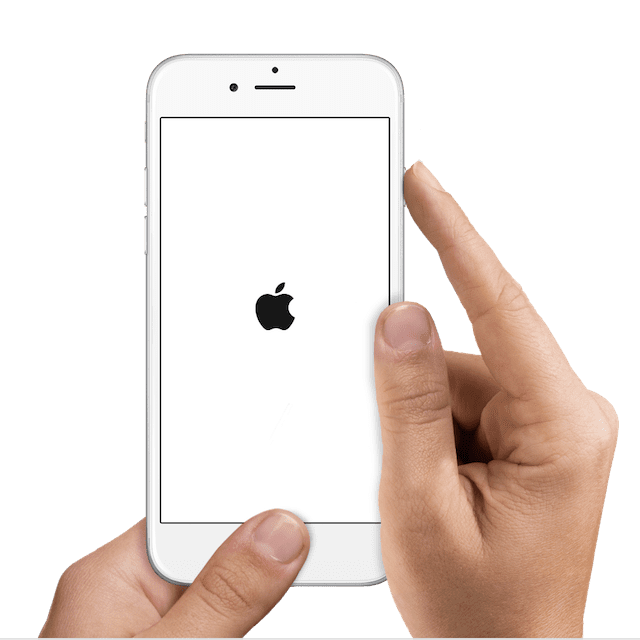 Restart your iPhone and test again
On an iPad Pro 11-inch or iPad Pro 12.9-inch: Press and quickly release the Volume Up button. Press and immediately release the Volume Down button. Then press and hold the Power button until the device restarts
On an iPhone 8 or later: Press and quickly release the Volume Up button. Press and immediately release the Volume Down button. Then press and hold the Side button until you see the Apple logo 
On an iPhone 7 or iPhone 7 Plus: Press and hold both the Side and Volume Down buttons for at least 10 seconds, until you see the Apple logo
On an iPhone 6s and earlier, iPad, or iPod touch: Press and hold both the Home and the Top (or Side) buttons for at least 10 seconds, until you see the Apple logo
Perform a Restore to Fix iPhone Speaker
If restarting doesn't work, try restoring your iPhone. Restoring your iPhone is our final option and will also determine if the issue is your software or your hardware. We recommend performing a DFU Restore. Check out our article here on Using DFU Restore to Solve iPhone Problems.
Before you go ahead and perform a DFU restore, make sure you backup your iPhone preferably in at least 2 locations, 1 local (such as your computer via iTunes and 1 remote such as iCloud.) Ideally, you backup following our 2X2 rule (2 remote and 2 local backups.) To learn more about how to back up your iPhone, check out our comprehensive article on Backing Up iDevices.
After your iPhone restore finishes, you'll immediately know if your iPhone speaker is working. When setting up your iPhone, you should hear keyboard clicks when typing in your Apple ID. If you don't hear anything, verify your iPhone isn't on silent mode and turn your volume all the way up.
If you still don't hear anything, we now know that your iPhone's software is not causing the problem.   Unfortunately, your iPhone speaker is broken.
It's a hardware issue, which means you need a repair.
Help is on the Way for Your iPhone Speaker!
The time has come to visit your local Apple Store and make an appointment with a Genius. There is also a mail-in repair service at iPhone Service Answer Center https://support.apple.com/iphone/repair/service. Be sure to check if you are still covered under AppleCare+. Check your iPhone's warranty coverage at https://checkcoverage.apple.com/. You'll need your iPhone's serial number to review your coverage details.
To Find Your Serial Number
Go to Settings > General > About and look for your device's serial number, IMEI/MEID, and ICCID. To paste this information into Apple registration or support forms, tap and hold on the number and copy it.
Wrap Up
Okay, it really sucks when your iPhone isn't behaving normally. When our speaker goes awry, it affects our routine and disrupts our equilibrium. Our iPhones and many of our third-party apps are dependent on the speaker functioning. So it's important for us to figure out what's going on. Hopefully, your speaker not working is due to a software or human issue that we can remedy without additional support or cost.
But if after all this troubleshooting, you discover it's a hardware problem, rest assured that you are not alone. Apple Geniuses and other repair shops see this problem and are experienced in getting your iPhone back to tip-top shape.
I hope this article helped you! I wish you good luck. And if you have any additional tips that worked for you, please share in the comments. We love comments and absolutely adore additional tips and advice!
For most of her professional life, Amanda Elizabeth (Liz for short) trained all sorts of folks on how to use media as a tool to tell their own unique stories. She knows a thing or two about teaching others and creating how-to guides!
Her clients include Edutopia, Scribe Video Center, Third Path Institute, Bracket, The Philadelphia Museum of Art, and the Big Picture Alliance.
Elizabeth received her Master of Fine Arts degree in media making from Temple University, where she also taught undergrads as an adjunct faculty member in their department of Film and Media Arts.