Several users have reported that after upgrading their device to the latest iOS, some or all artwork disappears on their iPod Touch, iPad, or iPhone.
Fixes for Music Cover Art Not Displaying
Check Your Storage
One of the biggest reasons album artwork does not download to your iPhone or iPad is that you don't have sufficient storage space available on your device.
To Check Storage 
Open Settings > General
Scroll down to iPhone (or iPad/iPod) Storage
Wait for the information to populate
Look at the graph information for specific details on how much internal storage you're currently using
If your device has less than 10% free and available, it's probably time to get some things off your device to free up space!
Once you open up some space, see if your album artwork now shows up!
Check out this article for tips on maximizing your internal storage and getting some space open.
Using Mobile (Cellular) Data?
For folks not connecting to WiFi to download music, check some of your Cellular Settings to ensure you allow Apple Music to download when connected to mobile data.
Go to Settings > Music > and toggle on Cellular Data and then toggle on Downloads. 
Toggle Apple Music Off and On
Sounds simple. And it is!
Try toggling Show Apple Music Off, wait a few minutes, and toggle it back on.
Look in Settings > Music > Show Apple Music 
Or try disabling and re-enabling iCloud Music Library
If that doesn't help, some readers tried this with iCloud Music Library and toggling this off then back on did the trick for them!
Find this in Settings > Music > iCloud Music Library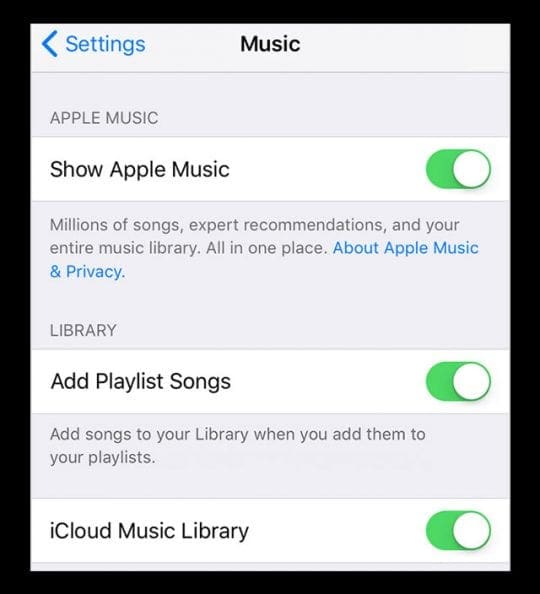 Sync with iTunes
Please note that this process may take some time especially if you have a lot of music files
Connect your iPhone or iDevice to your computer
Select your device, then tap 'Music'
Uncheck 'Sync Music'
Sync your device
Recheck 'Sync Music' 
Re-sync your device.
Obsessed with tech since the early arrival of A/UX on Apple, Sudz (SK) is responsible for the original editorial direction of AppleToolBox. He is based out of Los Angeles, CA.
Sudz specializes in covering all things macOS, having reviewed dozens of OS X and macOS developments over the years.
In a former life, Sudz worked helping Fortune 100 companies with their technology and business transformation aspirations.