The screen on your MacBook might be the best laptop screen available today. But you can't appreciate that visual splendor if it's hidden beneath a coating of fingerprints, dust, and other filthy grime.
Before you grab the nearest cloth to start wiping away the dirt, know that if you do it wrong you could permanently damage your Mac. Instead, learn how to clean your MacBook screen the right way with the advice below.
Related:
What you need to use
You don't need to shell out on an expensive cleaning kit for your Mac. In fact, you can get all you need for very little money, which is good news considering the price you probably paid for the Mac itself.
Here's everything you need to safely clean your MacBook screen.
A soft microfiber cloth
A microfiber cloth is made of fine, synthetic fibers that are perfect for all sorts of household cleaning. It's antistatic, it picks up dust, it wipes off fingerprints, and it's unlikely to scratch or damage your MacBook screen.
You can pick up microfiber cloths in packs of three or four at a low price. But you may not need to buy one since they often come free with glasses, screen protectors, and other electronic gadgets.
Distilled water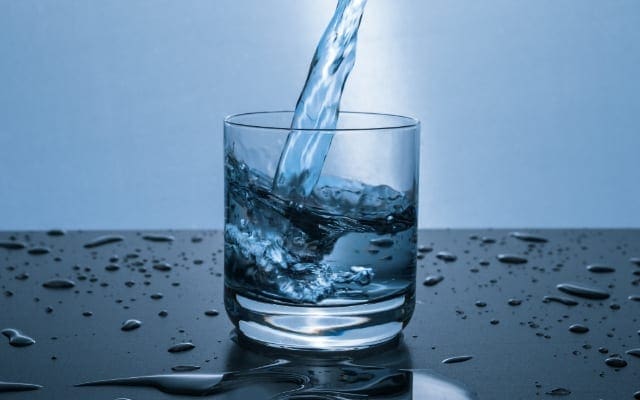 Any clean water will do, but distilled water is best. That's because tap water contains extra minerals that can leave a residue on your screen or cause extra problems for the circuitry inside your MacBook.
Before cleaning your MacBook screen, put some water in a spray container for easy application to your cloth. Also, allow plenty of time for it to warm up to room temperature, which is better than hot or cold water.
Isopropyl alcohol or Clorox disinfecting wipes (Optional)
If you're particularly concerned about germs and bacteria, you may want to consider using 70 percent isopropyl alcohol or Clorox disinfecting wipes on your MacBook screen as well.
Apple only recently started suggesting these products, after the COVID-19 outbreak. Excessive use may still cause damage to your screen.

What you need to avoid
Despite your good intentions, it's easy to damage your MacBook screen if you use the wrong materials to clean the screen. Not only could this strip away the anti-reflective coating, but you might scratch the glass display as well.
Here's how to avoid causing damage while cleaning your MacBook screen.
Don't use paper towels
We get it, paper towels are often the most obvious item to clean your MacBook screen with. They're cheap, disposable, and absorbent. But they could also scratch your MacBook screen and rub off the coating.
The same goes for sponges, rough fabric, toilet paper, tissues, and regular towels. Stick to a microfiber cloth instead.
Don't use cleaning fluids
It's tempting to use a cleaning spray or polish to get rid of fingerprints and grime on your MacBook screen, but doing so quickly strips the protective coating and clouds up the glass.
Your MacBook screen is different to most LCD screens. Even if your cleaning fluid is designed for screens, it might be bad for your MacBook.
Be particularly careful to avoid the following substances:
Abrasives
Aerosol
Ammonia
Bleach
Solvents
Hydrogen Peroxide
Don't excessively wipe the screen
We know you want to keep your MacBook screen clean, but you shouldn't clean it every day. Aim for once a week at the most. This is because you can still wear away the anti-reflective coating on your MacBook display even if you only use the recommended method below.
You should also be careful not to wipe the screen too vigorously when you clean your MacBook. Stick to gentle pressure instead.
How to clean your MacBook screen
Now you know what to avoid, let us show you how to safely clean your MacBook screen. Don't worry, it's incredibly easy and only takes a few minutes.
Step 1. Power off and unplug your MacBook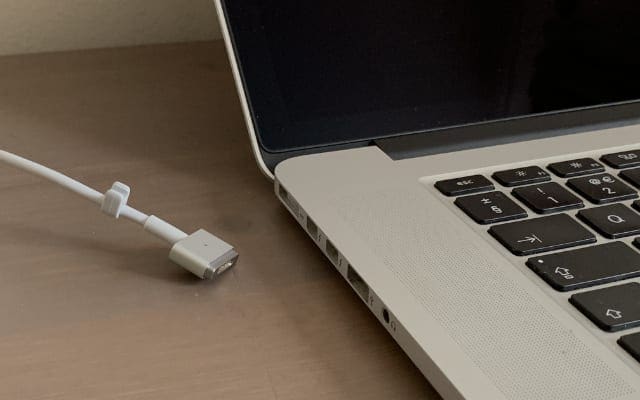 Before starting, open the Apple menu and Shut Down your MacBook. You should also unplug every power cable and accessory.
This makes it easier to see marks on the screen because it's turned off. But it also gives your Mac the best chance of survival if you accidentally let any liquid get inside the casing.
Step 2. Wipe the screen with a dry microfiber cloth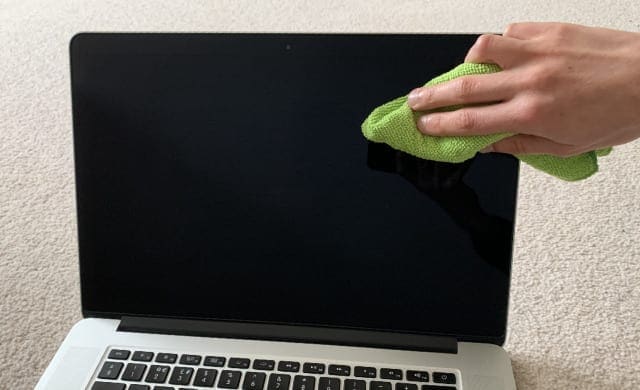 Use a clean, dry microfiber cloth to gently wipe your MacBook screen. Move the cloth in small circles across the entire screen, focusing on particularly dirty areas if you need to.
This should remove almost all the dust, fingerprints, and other dirt from your MacBook screen. Most of you can finish here and consider the job done.
If there are still stains or marks left on your screen, continue to the next step.
Step 3. Dampen the cloth and wipe the screen again
You only need to do this if your MacBook screen was still dirty after the last step. Use a spray bottle to lightly dampen your microfiber cloth with distilled water, then wipe over the remaining marks on your screen.
Do not apply water directly to your MacBook screen.
The best thing to do is spritz your microfiber cloth using a spray bottle you filled with distilled water. If you don't have a bottle, just dab the corner of your cloth into a glass and wring it out so it isn't too wet.
After cleaning off any marks, use the dry side of your cloth to soak up any water residue. You may need to wipe away water streaks as well.
Step 4. Disinfect the screen with isopropyl alcohol or Clorox wipes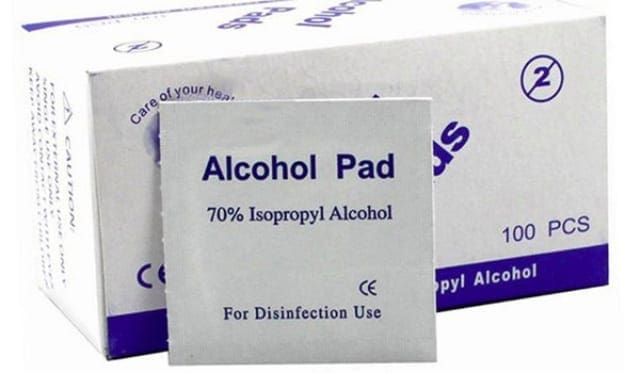 Like the previous step, this one is also completely optional. You don't need to disinfect your MacBook screen every time you clean it. In fact, you definitely shouldn't do it often because it still strips the anti-reflective coating.
After cleaning your MacBook screen, spray isopropyl alcohol onto a clean microfiber cloth and wipe it over the screen to disinfect it. Alternatively, wipe the screen using a Clorox disinfecting wipe.
You may need to use a dry microfiber cloth again to remove streaks and residue from these disinfectants.
Keep all your Apple products clean
That's it, you're done! Your MacBook screen should be sparkling now you've learned how to clean it. You might also want to find out how to clean your iPhone or iPad screen as well since they probably don't look as shiny in comparison anymore!
FAQs
If you have any lingering questions, you should find the answers you're looking for in this short FAQ. If not, add your question to the comments below and we'll do our best to answer it.
How do I remove fingerprints from my MacBook screen?
All you need to do is gently wipe the screen with a clean, dry microfiber cloth to remove most fingerprints. Make sure you don't wipe too hard.
How do I disinfect my MacBook screen?
Add a small amount of 70 percent isopropyl alcohol to a clean microfiber cloth, then use that to disinfect your MacBook screen. Alternatively, wipe down the screen using Clorox disinfecting wipes.
But don't disinfect your screen too often since it damages the coating.
Do I need to disinfect my MacBook screen?
Technological gadgets can be breeding grounds for bacteria, but not all bacteria are harmful. If you're immunocompromised or concerned about getting sick, then it might be wise to disinfect the screen from time-to-time. Otherwise, you don't need to worry about it.
Can I use regular tap water instead of distilled water?
Distilled water is best, but in a pinch, it isn't a big deal if you use regular tap water instead. The reason distilled water is better is that tap water contains more minerals, which might leave a residue on the screen or cause more problems if the water gets inside your Mac.
Can I use Windex to clean my MacBook screen?
No. Windex strips the anti-reflective coating from your MacBook screen, leaving it with permanent stains across the screen. The only third-party products Apple recommends are Clorox disinfecting wipes.