iOS 11 and 10 are two of the most significant iOS ever released according to Apple. And they come with a lot of new features that are sure to amaze and awe many users. For those of us that have an older iPhone or iPad, our experience may not be on par with the folks sporting a brand new iPhone model. Some of the new features in the latest iOS consume incremental resources, and that can lead to a slow iPhone and battery issues with iOS 11 (or 10 for 32-bit devices) updates.
If you are facing such issues with your iPhone 5, iPhone 6 or the good ole iPad, read on and make sure that you have explored all the tips to get the best iOS experiences possible without the annoying sluggishness and battery drainage issues.
Please note that the first few days using a new iOS could be battery intensive as the software takes some time to index your information on the phone. You shouldn't have any persistent problems beyond that. If you are still having issues, please read on to see how these tips could help you.
Tips to Speed Up iPhone and Improve Battery Life
Tip #1 Optimize Free Space on your iPhone
This tip has always worked for the past several iOS updates. For those of you still sporting the 16GB iPhone, this advice is crucial. If you have updated your iPhone or iPad to the latest iOS with less than 10% free space available on the device, please try and free space on your iPhone to get better performance.
Tap on Settings > General > iPhone (or iPad) Storage (for iOS 10, look for Manage Storage under Storage.) Here you see a graph outlining how much apps, media, photos, and other data are consuming the most storage on your iPhone. iOS 11 also includes some great storage management recommendations to help you better organize your iDevice's space.
Plus, your Storage Setting also includes as lists of all your apps and how much data each one takes up–that consists of the app itself and its data & documents. Try to go through the list and delete items that you do not need on the iPhone. There might be apps that you have not used in ages, and they are still on your iPhone.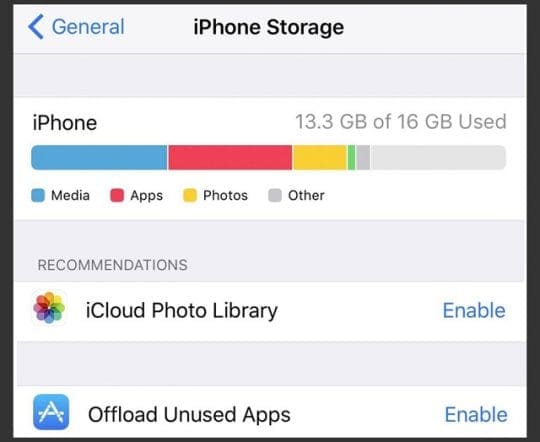 iOS 11 includes some extremely handy tools for storage management. Check out all that iOS 11 offers in this article.
For a comprehensive checklist and a step-by-step guide to help you recover space on your iPhone, please look at our data cleaning guide for your iPhone.
Tip # 2 Optimize the Photos on your iPhone
Tap on Settings > Photos and choose Optimize iPhone Storage. This allows iOS to optimize storage for your photos on your iDevice. If you have too many pictures and haven't backed it to the iCloud, you may consider backing up the Photos via photo Library and deleting them from your iPhone.
With iOS 11 &10, you can now take advantage of the "Memories" feature. You can not only create a custom slideshow with memories made of photos, but you can also add music and other media to the slideshow and then save it as a video.
Well if you have too many of these memories video files on your device, that can end up eating your free space. You may want to manage these videos to conserve space on your iPhone.
Tip # 3 Delete Apple Stock Apps that You Never Use
Now with iOS 11 & 10, you can eliminate all the native/stock Apple apps that you never used such as the Compass. Just hold the app icon for a second or two and then tap on the 'X' mark on the edge to remove the app from your iPhone.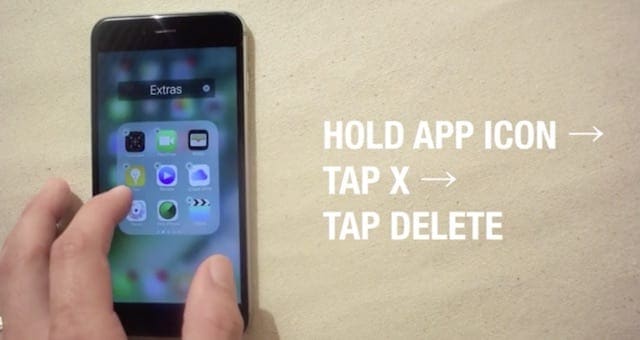 Tip # 4 Manage iOS 10 Animation Related Issues
iOS 11 (and 10) have a lot of new animation features that can dazzle up a new iPhone on the latest iPhone models. If you are on an older iPhone, this may lead to sluggishness and slowness.
To get a handle on these animations, you can turn on Reduce motion on the accessibility settings. Turning on this setting stops the iOS from eating up valuable resources.
While in the accessibility settings, you can also increase the Contrast link by moving the slider to ON position.
Important: Please note that when you turn off ON the reduce motion setting, some of the fancy features in iMessage such as disappearing ink will not work on your device.
Tip # 5 Get a Handle on Location Services on your iPhone
This tip not only can boost the performance of your iPhone but will also be useful in preventing battery drain issues. Depending upon how many apps you have set up to use your location, they can very quickly become the performance pitfall. This is particularly the case with third-party apps that have not been updated in a while.
To manage this, Tap on Settings > Privacy > Location Services > Turn Off completely or manage it by the individual app to which you have provided access to your location.
Tip # 6 Disable Raise To Wake Feature
We love this feature on our iPhones. The raise to wake feature only works with the iPhones that have the updated motion-co-processor. Since this feature gets triggered when you move the iPhone, it does end up consuming some battery power on your device.
If you are having problems with battery life on your older iPhone, you may want to try disabling this feature to see if it helps your iPhone.
To Disable the Raise to Wake feature, Tap on Settings > Display and Brightness > and turn off the switch next to Raise to Wake Setting.
Tip # 7 Get a Handle on the iOS Widgets
Widgets have been around on the iOS for a while, but iOS 11 & in particular 10 brought in new features to this functionality. If you have too many widgets on your lock screen, that can cause performance and power issues as the widgets will try to get updated information. Try to reduce the number of iOS widgets and only use the ones that you absolutely must on your locked screen.
Tip # 8 Selectively Disable Background Refresh of Apps 
Most of us that depend upon notifications cannot switch off the background refresh feature. You can however selectively turn off the refresh for most apps and only keep the ones that you need.
You can change the settings by going to Settings >General >Background app refresh. Disable the background refresh for the apps that you do not need.
We know that Facebook is one app that consumes some serious resources.
Tip # 9 Use Battery Life Suggestions Feature
If your brightness settings for your iPhone are turned up all the way (in iOS 11: Settings > Accessibility > Display Accommodations > Auto-Brightness OFF), you might see the suggestion in this section to change the setting. Depending on the various settings, your iPhone/iPad shows you the power consumption of the different iPhone resources so that you and manage this to conserve battery. Find Battery Life Suggestions in Settings > Battery  and look for "Battery Life Suggestions."
If you don't see it, chances are your iDevice's iOS needs more usage data before it makes a suggestion.  Continue to use your iPhone or another iDevice normally and check the Battery Settings later to find recommendations.
Battery Life Suggestions only appears when using Low Power Mode or when your iPhone is not connected to power. These recommendations come on automatically, once your iOS determines your battery usage pattern.
Frequent recommendations are to enable auto-lock, reduce screen brightness, or toggle on Auto-Brightness.  For iFolks that troll the internet using their mobile data connection, a suggestion to disable cellular data appears. Most people don't realize how much power a mobile network data connection uses, so if you have options always use an available WiFi connection to conserve your iDevice's battery.
Check the settings by switching between last 24 hours and last seven days to see which apps are consuming the most battery on a repetitive basis based on your usage.
Tip #10 Use Low Power Mode with iOS 11 & 10!
Low Power Mode is one of the most significant battery optimization feature introduced in iOS 9. You should take advantage of this setting to get more juice for your iPhone. Tap on Settings > Battery > Low Power Mode ON
When activated, battery draining background activities are disabled automatically by iOS to save you hours of battery.
iOS 11 finally put Low Power as an optional toggle in Control Center. We highly recommend you add it to your Control Center Customization. To do so, go to Settings >Control Center >Customize Controls > INCLUDE Low Power Mode. Having quick access to low power is awesome! 
Tip # 11 Minimize Auto-Lock Time
Change the auto lock time setting to 30 seconds so that your iPhone screen is not turned on all the time. This helps save your battery levels.
Tip # 12 Remove Siri Suggestions and Spotlight Search Option for Apps
If you are not a big fan of Siri Suggestions or Spotlight Search recommendations or use it minimally, you can turn off the settings where Spotlight searches in Apps. In order to do this, tap on Settings > Siri & Search (for iOS 10: Settings > General > Spotlight Search.) Disable Suggestions in Search and Suggestions in Look Up. Then scroll down and tap every App listed in the section and Turn OFF the Search & Siri Suggestions. 
For iOS 10, scroll down to  Search results and disable the apps whose results you don't want to see in the Spotlight Search recommendations.
Tip #13 Optimize iMessage Media 
iMessage in iOS 11 is spruced up with even more stickers and emojis et al. Depending upon your usage; this can consume a lot of resources on your iPhone. This is especially true when you are trying to send a super hi-quality image via your iMessage service. In iOS 11, you can optimize this setting so that it consumes fewer resources on your iPhone. To do so, Tap on Settings > Messages > Scroll down to the bottom and locate Low-Quality Image Mode. Set this setting to ON on your device.
Tip #15 Reset RAM on iDevice
One way to speed up a slow iDevice is by clearing up the cache. To do so in the older iOS, All you do is hold down the Power button on your iPhone until the "Slide to power off" prompt appears. Then, just park your thumb (or finger of choice) on the Home button until the phone bumps you back to the Home screen.
And that's it. Unlock your iPhone. Otherwise, you open Siri. This works with your iPhone and iPad. Thanks to Mark Forrest for sharing this tip online.
You need to be on one of the Apple's native apps when you do this.
There are many other tips and tricks out there to boost the performance and power of your iPhone while using iOS 10. Last but not least is optimizing your Safari's performance on your iPhone. Please check it out to make sure that you have optimized your Safari settings to get a speed boost while using the app.
No Time? Check Out Our Video Tips
Lastly, we have also added an easy Step-by-step video that walks you through some of these easy to use tips on your iPhone running iOS 10–it's good for iOS 11 too!
Your iPhone or other iDevice consumes a lot of energy and drains your battery–that's how it works. Following the tips listed, we hope you can address your slow iPhone and battery issues with iOS 11/10 updates. And ideally, speed up your iPhone's performance and conserve battery while still enjoying all that your iPhone offers.
Obsessed with tech since the early arrival of A/UX on Apple, Sudz (SK) is responsible for the original editorial direction of AppleToolBox. He is based out of Los Angeles, CA.
Sudz specializes in covering all things macOS, having reviewed dozens of OS X and macOS developments over the years.
In a former life, Sudz worked helping Fortune 100 companies with their technology and business transformation aspirations.