Apple introduced the Memories feature in our photos app back with iOS 10. And many readers are pleasantly surprised when they browse their Photos app and check out this memories section on their iDevice. Plus, Apple provides you some great features that help edit and personally customize these video memories. In this article, we quickly look at how you can make changes to the music that plays along with the memories videos.
Please note that you can only use songs for Memory Videos without a digital right protection.  Songs you (or your friends and family) recorded yourself are great options as well as songs ripped from unprotected sources like CDs, and any DRM-free songs purchased online. If you subscribe to Apple Music, those songs are fully protected and cannot be used in a soundtrack for a memory.
In this article, let's quickly look at how you make changes to the music that plays along with the memories videos.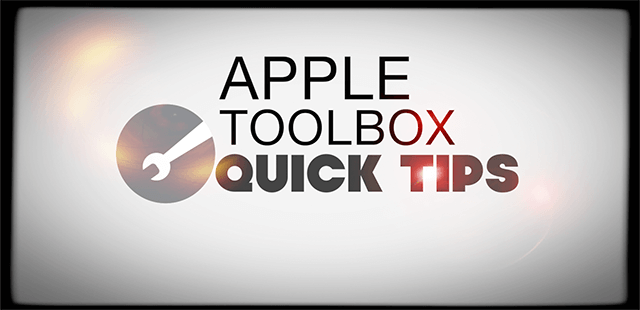 This method is a Quick Tip and should take you less than 3 minutes to master this skill.
Related Posts
See Your Memories
First of all, easily access all your memories by opening up your Photos app on your iPhone. Tap on Photos and then select the lower tab "Memories." Your iDevice automatically creates Memories for you and displays those in this section, as shown below.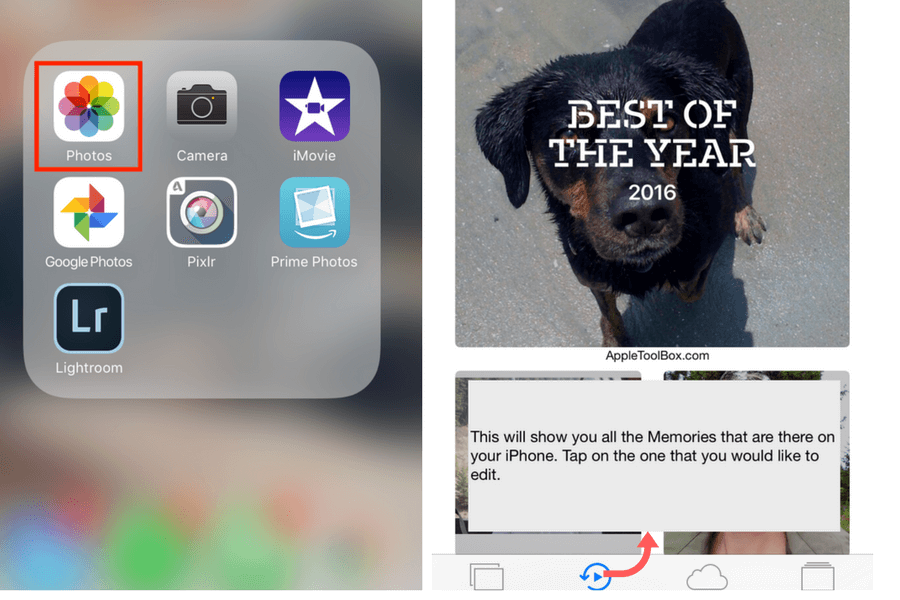 Scroll down to see all the Memories available. And then tap on a specific Memory to select it. Tap on the play button in the lower-right corner to play full-screen and then tap anywhere in the video while it's playing to get to the Edit menu. And go ahead and adjust the Memory movie's music, length, and even the photos it chooses for content!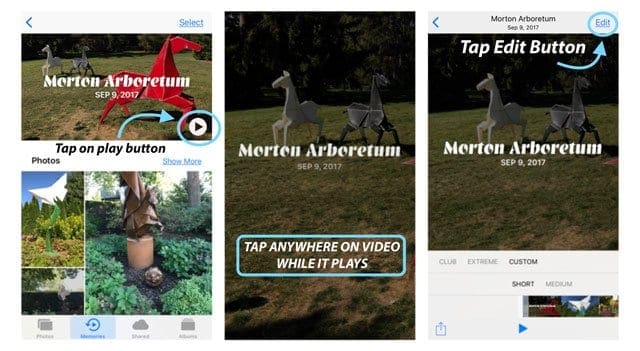 To change and make edits to the music of a particular memories file, tap on the memories, and then you see a few options that you can use.
Option – 1 Change the Mood
If you just want to modify the atmosphere of the background score, select from a preset list of music option that iOS 11-10 make available for you. These preset options range from "Dreamy," "Sentimental," "Gentle," "Uplifting," "Chill" and more. Swipe on the song options and choose the one that you want to use. To preview a track, tap on it–if it's not in your library already, it downloads. Tracks with cloud symbols are additional tracks now available for you to download and try out on your projects!
Once you select a track, iOS places a checkmark next to it. To preview that checked track with your photos, return to the previous menu and hit the play button at the bottom to test it out and decide which musical score you like best. If you like it, that's it! If not, go back into the Soundtracks menu and choose another track for your Memory project.
Option – 2 Choose Your Own
What if you didn't want any music or wanted your own music from your playlist? That is easy to do as well. After you have opened up the particular Memories file that you want to change, Tap on the Edit button ( 3 horizontal arrows). Next, Tap on Music. You can choose "None" as your option for no music or tap on "My Music" to choose your own personal track from your iPhone.
Only music that is DRM-free and that you downloaded onto your iPhone shows up in the Memories Music as options in My Music. So if all your music is via iCloud or streamed, it won't show up. That means you can only use songs without digital rights protection. Like songs you record yourself or ripped from unprotected CDs or DRM songs purchased from the iTunes Store. All Apple Music is protected and cannot be used in any soundtrack for a memory video.
Try and download some DRM-free music of your choice or of your own composition to your device and see if My Music options become available.
Make sure to tap on the "Done" in the top corner to save this setting once you have confirmed your music selection for the memories.
Don't See Memories or Memory Music Options?
If you're not seeing any of Apple's DRM-free music options or are unable to download selections when tapping the cloud icon, check that you're signed into iTunes. Go to Settings > iTunes&App Store and sign in with the same Apple ID connected to your Photos App. (that's your main Apple ID.) If you're already signed in, try signing out, restart your device, and then sign back into iTunes.
Also, make sure you're signed into iCloud Photo Library on all of your devices that you want to use with Memories. To check, go to Settings > Photos > iCloud Photo Library and make sure it's toggled ON.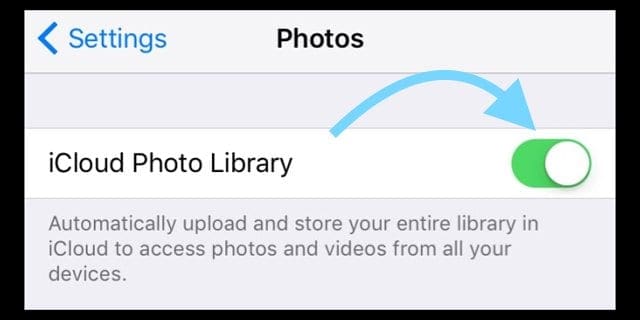 Finally, close the Photos App by double pressing Home or swiping up the Home Gesture Bar, locating the Photos App Preview and swiping up off the top of the screen to close. Restart your device and open the Photos App–see if Memories is working as expected.
Still Not Seeing Memories or Memory Music?
If you continue to experience trouble viewing, editing, or creating Photo App Memories, then it's possible you need to reinstall iOS's Photos App. Unfortunately, that means reinstalling your iOS since you cannot reinstall just a part of it. We recommend you reinstall your iOS using iTunes since those installations tend to be a lot more stable.
Use iTunes Recovery Mode To Reinstall iOS
Update your computer to the latest version of iTunes

If you don't own a computer, ask a friend or family member or visit a nearby Apple Store or Apple Reseller

Backup your device using iTunes or iCloud (iTunes preferred)
Disconnect your iDevice and close iTunes
Connect your iDevice to your computer and open iTunes
When your iDevice connects, perform a force restart

On an iPhone 6S or below plus all iPads & iPod Touches, press Home and Power at the same time until you see the Apple logo
For iPhone 7 or iPhone 7 Plus: Press and hold both the Side and Volume Down buttons for at least 10 seconds, until you see the Apple logo
On an iPhone X or iPhone 8 or iPhone 8 Plus: Press and quickly release the Volume Up button. Then press and quickly release the Volume Down button. Finally, press and hold the Side button until you see the Apple logo

Choose Update when you see the option to Restore or Update, choose Update 

iTunes tries to reinstall your iOS without erasing your data
If the update takes more than 15 minutes and your device exits recovery mode, let the download finish, and try again

After the Update completes, follow the on-screen instructions to set up your device
Restart your iDevice after all steps completed
Open Photos App and see if Memories now works!
We Love Our Photo App Memories!
We especially like this Memory Video feature since it keeps your memories in iCloud, so you can view it on all your iCloud connected devices including Apple TVs! Once these memories have been edited on your iPhone or other iDevice and saved to your iCloud account, pop them up on your Apple TV in your living room!
So sit Back, Relax and take a tour of some of your favorite moments and memories with your own custom music score. Apple has made this feature really user-friendly!
Obsessed with tech since the early arrival of A/UX on Apple, Sudz (SK) is responsible for the original editorial direction of AppleToolBox. He is based out of Los Angeles, CA.
Sudz specializes in covering all things macOS, having reviewed dozens of OS X and macOS developments over the years.
In a former life, Sudz worked helping Fortune 100 companies with their technology and business transformation aspirations.