A lot of Apple users are using a passcode on their iPhone, iPad, or iPod touch to protect their data.
If you enter a wrong passcode "too many times" on your iPhone or iPad, your device will display, "iPhone is disabled."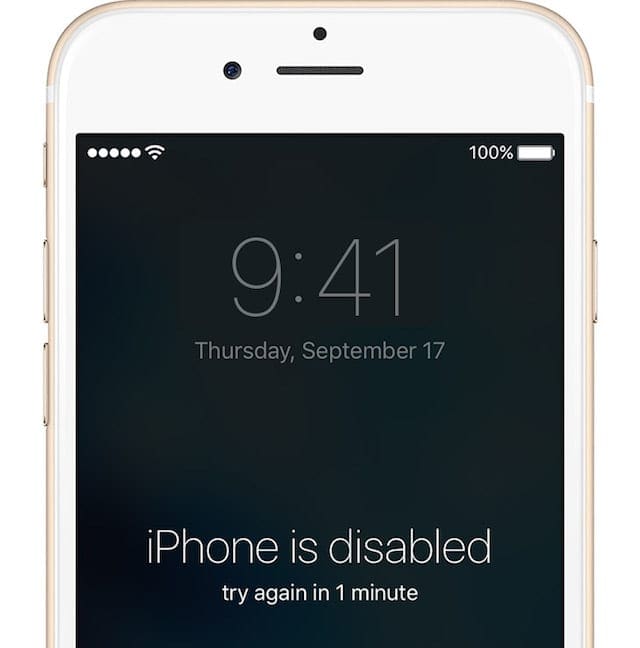 You see this message when you try to enter an incorrect passcode at least six different times.
If you try again with another incorrect passcode, iOS locks you out for longer.
When you try around ten different attempts, your iPhone or iPad is entirely disabled, and you see a message to connect your device to iTunes. 
If you set your device to erase after ten failed passcode attempts, your iOS then automatically erases your iPhone or iPad.
You need to restore from a backup to get your data back and get your iPhone or iPad working again!
Here is what you can do if your device is disabled because you have forgotten or can't remember your passcode. You can unlock an iPhone or iPad, if you forgot your password, to regain access.
Related Articles
How To Fix When Forgot Your Passcode?
Basically, you have three options to regain access to your device. 
iTunes
iCloud
Recovery Mode
Do You Have a Backup?
If you routinely back up your device using iTunes or iCloud, all is not lost. You can recover your data.
Option 1 iTunes
If you have previously synced your iPhone/iPad to iTunes, use this option
Just connect your device to your computer, then sync your iOS device with iTunes
Then back up your device 
After your backup and sync are complete, restore your device from your backup using the Restore Backup tab

Follow the on-screen instructions
Restoring an iDevice first erases it completely, so make sure you have a backup before moving forward
Select Restore from iTunes Backup when it appears as an option. You can also select Restore from iCloud Backup
Seeing a message to turn off Find My iPhone? 
If you see this message, try using the iCloud method instead.
Option 2 iCloud
Connect the disabled device to power, so it's in charge mode
When you remotely erase a device, Activation Lock remains on to protect it. Your Apple ID and password are required to reactivate the device
You can only use this option if you enabled Find My iPhone on your iOS device
Simply visit the iCloud Find website and log in with your Apple ID and password

Use your computer or use this tip if you are using an iOS device
If needed, tap Find iPhone and then select the disabled device from your list of iDevices (if you have more than one)
If you're not using a trusted browser, answer your security questions or enter the verification code that is sent to your other devices

Choose Erase iPhone 

If your device is online, the remote erase begins. A confirmation email is sent to your Apple ID email address. If your device is offline, the remote erase starts the next time it's online
If you use two-factor authentication, the device that you erased is removed from your list of trusted devices
Apple Pay is automatically disabled when you erase
This option erases everything and takes time

When asked, enter your Apple ID password to restore all your apps and other purchases. Choose to restore from iCloud Backup to restore your device from your most recent iCloud backup 
Option 3 Recovery Mode
If you have never synced your iPhone to iTunes or iCloud, then this option is for you
And if iTunes does not recognize your device, try this option or if you see a message that your device is in recovery mode 
Please follow the steps in this article regarding how to launch the recovery mode
After your device is in recovery mode, you must restore your device (this again erases everything including your passcode)
If after fifteen minutes your device still isn't restored, go through the recovery process again
Then restore your device from your backup, either iTunes or iCloud