Does your iPhone say iPhone is disabled and wondering what that means, why this message is showing up, and what you can do about it?
If you see the message iPhone is disabled or iPhone is disabled with the connect to iTunes icon or message, then your device is, at least temporarily, not accessible.
But all is not lost! In this article, we look at what's going on, why you are locked out of your iPhone, and what you can do about it so that you can use your iPhone again, like normal!
Related articles
Why is my iPhone disabled?
Did you, or someone you love, type in the wrong passcode on your iPhone?
If you or someone with access to your device (young children in particular) typed in the wrong passcode too many times on your iPhone or another iDevice, Apple automatically disables access to your device and displays the message on-screen that your "iPhone is disabled." You cannot use the phone at this point, at least temporarily.
This message is a security feature, meant to help you, just in case your device was stolen or is in use by an unauthorized person.
This message usually appears after you've tried entering an incorrect passcode at least six different times.
When we see the message iPhone is disabled, it's first followed by the instruction to try again in 1 minute or try again in 5, 15, 60 minutes.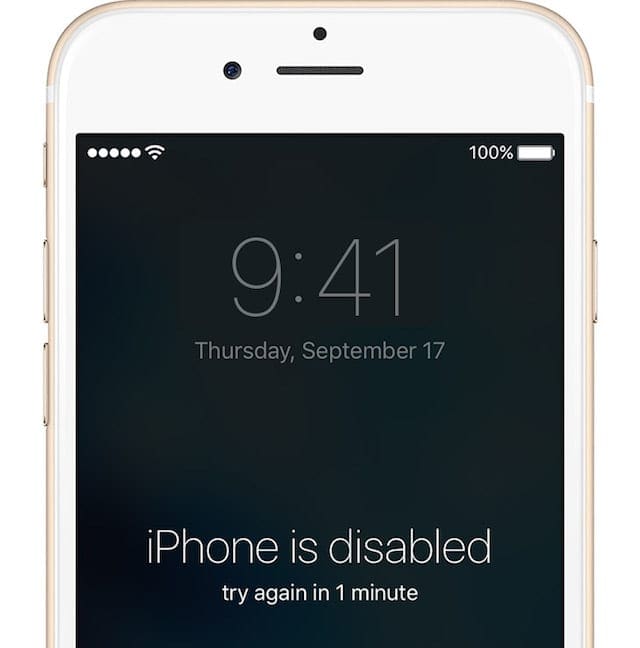 In that case, wait that allotted time, verify that you are entering the correct passcode, and then try signing in again after that time expires.
You can still make an emergency call, even when your phone shows it's disabled
If after that time expires, you try again with another incorrect passcode, iOS locks you out for even longer–up to 1 hour.
Here's how long your iPhone is disabled, based on the number of incorrect passcode entries
6 incorrect entries: iPhone is disabled. Try again in 1 minute
7 incorrect: iPhone is disabled. Try again in 5 minutes
8 incorrect: iPhone is disabled. Try again in 15 minutes
9 incorrect: iPhone is disabled. Try again in 60 minutes
10 incorrect: iPhone is disabled. Connect to iTunes
Seeing the message that your iPhone is disabled and connect to iTunes?
When you try around ten different attempts, Apple locks you out and your iPhone or iPad is entirely disabled, and you see a message to connect your device to iTunes.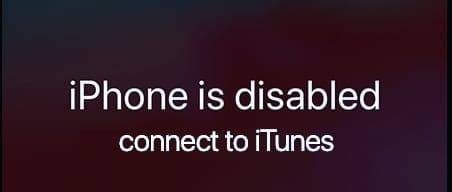 Does entering the wrong passcode automatically delete my data?
If you earlier set your device to erase after ten failed passcode attempts, your iOS then automatically deletes all the data from your iPhone or iPad.
In that case, you need to restore from a backup to get your data back and get your iPhone or iPad working again!
How to fix when you forgot your passcode?
If you can't remember your passcode, you need to erase your device.
Erasing an iPhone automatically deletes all of the data and settings stored on that device, including its passcode.

Do you have a backup?
If you routinely back up your device using iTunes or iCloud, all is not lost. You can recover your data.
If you back up your iPhone with iCloud or iTunes, then your data is stored elsewhere and protected. All we need to do is reconnect your iPhone to that stored data.
Don't back up your iPhone or iDevice?
Unless you made a backup before you forgot your passcode, there isn't a current way to save your data.
How to regain access to your iPhone after entering the wrong passcode too many times
Basically, you have three options to restore access to your device
iTunes (Windows and macOS Mojave and below) or Finder (macOS Catalina+)
iCloud
Recovery Mode
Option 1 iTunes or Finder
If you have previously synced your iPhone/iPad to iTunes or Finder, use this option
Just connect your device to your computer, then sync your iOS device with iTunes/Finder
Then try to back up your device using Back Up Now
If you can't back up, choose Restore iPhone. Restoring an iDevice first erases it completely, so make sure you have a backup before moving forward
If you can back up first, after your backup and sync are complete, restore your device using the Restore iPhone function

Follow the on-screen instructions to erase your iPhone
When iTunes completely erases your device, Apple treats it as a new iPhone that you need to set-up again
Select Restore from iTunes Backup when it appears as an option. You can also select Restore from iCloud Backup
Seeing a message to turn off Find My iPhone? 
If you see this message, try using the iCloud method instead.
Option 2 iCloud
Connect the disabled device to power, so it's in charge mode
When you remotely erase a device, Activation Lock remains on to protect it. Your Apple ID and password are required to reactivate the device
You can only use this option if you enabled Find My iPhone on your iOS device
Simply visit the iCloud Find website and log in with your Apple ID and password

Use your computer or use this tip if you are using an iOS device
If needed, tap Find iPhone and then select the disabled device from your list of iDevices (if you have more than one)
If you're not using a trusted browser, answer your security questions or enter the verification code that Apple sends to your other devices

Choose Erase iPhone 

If your device is online, the remote erase begins. Apple sends a confirmation email to your Apple ID email address. If your device is offline, the remote erase starts the next time it's online
If you use two-factor authentication, the device that you erased is removed from your list of trusted devices
Apple Pay is automatically disabled when you erase
This option erases everything and takes time

When your device is fully erased, it's treated as a new iPhone
When asked, enter your Apple ID password to restore all your apps and other purchases. Choose to restore from an iCloud Backup to restore your device from your most recent iCloud backup. You can also restore from an iTunes backup if desired. 
Option 3 Recovery Mode
If you have never synced your iPhone to iTunes/Finder or iCloud, then this option is for you
And if iTunes does not recognize your device, try this option or if you see a message that your device is in recovery mode
Please follow the steps in this article regarding how to launch the recovery mode
After your device is in recovery mode, you must restore your device (this again erases everything including your passcode)
If after fifteen minutes your device still isn't restored, go through the recovery process again
Then restore your device from your backup, either iTunes or iCloud
For most of her professional life, Amanda Elizabeth (Liz for short) trained all sorts of folks on how to use media as a tool to tell their own unique stories. She knows a thing or two about teaching others and creating how-to guides!
Her clients include Edutopia, Scribe Video Center, Third Path Institute, Bracket, The Philadelphia Museum of Art, and the Big Picture Alliance.
Elizabeth received her Master of Fine Arts degree in media making from Temple University, where she also taught undergrads as an adjunct faculty member in their department of Film and Media Arts.