Several readers report that they're getting voicemails and missing calls because their iPhone does not ring, and their iPhone goes straight to voicemail without ringing. It sucks to experience this kind of problem, especially when you've people calling you on a daily basis for business purposes.
For some weird reasons, this particular issue of going to voicemail without ringing happens to a fair amount of iPhone users., most notably after a major or minor iOS update.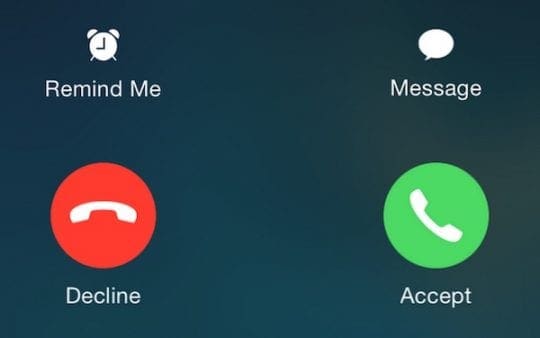 Additionally, users who port their number to a different mobile carrier or users who switch from Android to iPhone (or vice-versa) often report this problem. So, just how do you stop iPhone calls from going straight to voicemail?
In this post, we look into the reasons why your iPhone goes directly to voicemail when someone calls and explain some tips on how you can fix the problem!
Quick Tips

 
Try These Quick Tips to stop calls going to voicemail without ringing
See if you inadvertently switched your phone to mute
Look to see if you enabled Airplane Mode
Make sure your phone has service and that you don't see a "no service" message
Check your blocked call list
Make sure call forwarding is off
Check if Do Not Disturb is on and if you're driving (or a passenger) that Do Not Disturb While Driving isn't on
Look and see if the Phone Setting Announce Calls is set to always
See if your mobile carrier released an update to their carrier settings
Related Articles
Recently Changed Carriers But Kept Same Phone Number?
If you just made a switch from one carrier to another, your phone service with that same phone number may still be porting. When carriers port numbers, there's a time of transition when calls are not received yet on your device and may get sent to your new or previous voicemail account.
Carriers say this period can last up to 72 hours, where incoming inter-carrier phone calls might end up in voicemail.
How to Fix iPhone Goes Straight to Voicemail Without Ringing
If you are having this issue, please try the following
See if there are any iOS updates. Go to Settings > General > Software Update. If an update is available, please backup first! Also, we recommend updating via iTunes if possible–iFolks report a lot fewer problems with updating when using iTunes for updates
Check that you don't have your callers blocked. Go to Settings > Phone > Call Blocking & Identification. When you block a call using iOS, it sends that caller straight to voicemail

Try either unblocking a single number or unblock all numbers 

Look and see if Call forwarding somehow was enabled. Go to Settings > Phone > Call Forwarding and turn it off
Make sure that mute mode isn't enabled and/or the iPhone's Ring/Silent switch is OFF meaning the ringer is ON. A bell flashes briefly on the screen when you turn on the ringer 
Check that the Do Not Disturb setting is not silencing calls (Settings > Do Not Disturb OR swipe open Control Center and make sure the crescent moon icon isn't enabled)

Even if you don't see the crescent moon, check your DND Settings anyway. Some readers report that Do Not Disturb was on, even though they didn't see the crescent moon symbol!
Change your Do Not Disturb setting Allow Calls From to Everyone–try this even if you do not have DND on 

Also, make sure Do Not Disturb While Driving is also off (if you're not driving of course!) This iOS 11 feature is easiest to control via Control Center–but you need to add it as a customization

Go to Settings > Control Center > Customize and tap the green plus sign (+) to add it to your phone's control center 
Additional Steps for Calls Going Directly to Voicemail
Make sure that Airplane Mode is OFF (Settings > Airplane Mode)
Try turning on the Announce Calls feature. Go to Settings > Phone > Announce Calls > Always.  See if this makes a difference 
Make sure that your carrier software is up to date (Settings > General > About)
Look at news sites for reports of major cell phone service outages or disruptions. Or check sites that specializes in reports of down servers and services. It might really NOT be you or your device!

Many carriers have their own service outage maps, so check with your carrier to see if there's an outage in your area
Most carriers say that a restart usually solves problems and restores calls when service is temporarily disrupted. You may need to perform a reboot multiple times or do a restart followed by a forced restart
Look at outage reports on social media by other users and your service provider

Check your SIM card–are you using the correct card for your mobile carrier. Your SIM might be locked to another carrier or may require PIN entry 
Turn off LTE. Go to Settings > Cellular > Cellular Data Options > and turn OFF Enable LTE
Power off the phone and remove then reinsert the SIM card 
Users that are having this issue on iOS 10 and later versions have found success by turning off the Cellular Roaming by Settings >Cellular >Cellular Data Option >Roaming >Voice Roaming >Off. This suggestion is especially true for users that are using Verizon plan for their iPhones 
Other readers report success when turning off WiFi and strictly using their iPhones with Cellular (or Mobile) connections only
Those solutions above should help you resolve the problem in a minute. However, if it continues to happen, here are some more things you can do to fix it.
Enable Airplane Mode (Settings > Airplane Mode), wait a few seconds and turn off Airplane Mode
Reset Network Settings by going to Settings > General > Reset > Reset Network Settings 
Restart your device by pressing and holding the Sleep/Wake/Power button until you see the red slider
Perform a Forced Restart

On an iPhone 6S or below plus all iPads & iPod Touches, press Home and Power at the same time until you see the Apple logo
For iPhone 7 or iPhone 7 Plus: Press and hold both the Side and Volume Down buttons for at least 10 seconds, until you see the Apple logo
On an iPhone X or iPhone 8 or iPhone 8 Plus: Press and quickly release the Volume Up button. Then press and quickly release the Volume Down button. Finally, press and hold the Side button until you see the Apple logo

Restart the Phone app by double-clicking the home button or swiping up from the Home Gesture Bar, then find the Phone app and swipe it up to close it
If you are still having issues, contact your carrier to see if there are any network issues
Some of the most common causes of this problem are the Do Not Disturb feature enabling automatically, specifically when you upgrade to a new firmware, or you may have turned it on but then forgot to turn it off. If  Do Not Disturb is switched on, a crescent moon icon appears in the top right of your iPhone's status bar, right next to your phone's Bluetooth and battery symbols.
Reader Tips 
Reader Rhonda pointed out that after updating your iOS, the upgrade itself might switch this function to off. So fix it by going to Settings > Phone > Announce Calls and then change it from Never to Always. For Rhonda, that fixed the problem!
Jerry found that sending this command: ##update# send/call worked for his Sprint iPhone and updated his iPhone's settings
When I checked DND, to my surprise, it was ON! For whatever reason, I didn't see the Moon symbol in Control Center or on my home screen, and I just assumed DND was off. So lesson learned, check DND from your Settings App
This solution worked for some: Disable Voice and Data over LTE, and then re-enable it. Then go to Settings > Cellular > Cellular Data Options > Enable LTE > Off, power device off, power it back on, and re-enable Voice & Data from LTE in your Cellular Data options
Georgia found that turning off any spam filter worked for her. She had a 3rd party app for spam blocking turned on there. When she turned it off the issue was resolved
Mandy put her SIM card on her son's iPhone 5 and his SIM into her iPhone 6. After turning phones back on and seeing Messages pull through, Mandy turned off the two phones and swapped the SIMS back to original iPhones. AND everything seems fine! So give this one a try if nothing else worked for you YET.
Put the phone in airplane mode then turn it off for a few minutes. After a few minutes turn the phone back on and then turn off airplane mode. That's it!
I solved it by switching off 'call forwarding' in Setting, General, Phone, Call forwarding. I hope this can be helpful to some of you
Check if you can FaceTime, SnapChat, FB Messenger, Facebook Live, Skype, or iMessage. If those calls and texts are going through, the problem is with your mobile carrier, not your device or Apple
A couple of readers deleted all their voicemails, and after making sure their voicemail boxes were empty, their phone calls no longer went directly to voicemail
Check that your SIM card is unlocked. If locked, just enter the PIN code, and everything should work
I corrected my problem by just rebooting my phone
What worked for me was  going to settings > phone > announce calls and changing that to always
The fix for this issue on my iPhone was deleting my voicemails after listening or saving my voicemails