When the iPhone X Series (X, XS, XR) launched, we were expecting to see a few bugs and quirks that caused issues. However, one issue we didn't expect to see were issues with being able to actually use the touchscreen.
Related Posts:
Users everywhere have reported that the touchscreen on their iPhone X/XS/XR has stopped working, regardless of the situation. The first issues arose after it was discovered that cold temperatures were causing problems with touch input.
Since then, there have been more problems arise with the touchscreen. Luckily, there have seemed to have been a few fixes that you can attempt before throwing your $1,000 iPhone against the wall or out the window.
Force Reset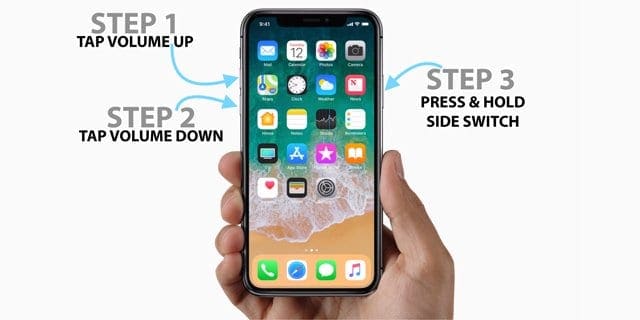 The first and most basic method to try and get your iPhone X working again is to Force Reset it. This is not a factory reset, as you are only forcing your iPhone to simply power down.
The steps are pretty easy, but are a bit different than previous iPhone models.
Tap (quickly push in & release) the Volume Up button
Then Tap (quickly push in & release) Volume Down button
Press and hold the Side button until you see the Apple logo, then release

If you see the slide to power off option, keep holding down the Side button until the Apple Logo appears on your screen
Enable/Disable 3D Touch
If forcing your iPhone X Series to restart doesn't do the trick, then you may want to try toggling 3D Touch on and off. This has seemed to work for some folks, and you can do so via the steps below.
Go to Settings
Tap General
Select Accessibility
Scroll down and select 3D Touch
Toggle the switch Off or On
To be more thorough, you might want to turn off 3D Touch, Force Reset your iPhone, and then see if everything works. If not, then you'll want to keep moving down the list.
Check for software updates
To put it plainly, some folks are afraid of software updates. This is especially true for Windows users, as software updates can completely bring your system to a halt.
However, there are some software updates that are really quite useful. For example, the release of iOS 11.1.2 included a fix for iPhone X's that were unresponsive "after a rapid temperature drop".
Open Settings
Tap General
Select Software Update
After this screen is presented, your iPhone will automatically check with Apple's servers for a new software update. If there is an update available, then you will want to press Install Now.
However, if there is not an update available, you may need to check out the next option on our list.
Factory Reset
This next step may be the most frustrating, but it could also be your last hope before making the trek up to your local Apple Store. When all else fails, you should factory reset your iPhone in order to try and work out any bugs.
Backup
However, before doing that, there are a few steps that you need to take. The first of which is creating an iCloud backup of your iPhone. This will save all of your apps, media files, and more so you can restore your iPhone back to normal.
Open Settings
Tap your Apple ID at the top
Select your iPhone from the list of devices
Tap iCloud Backup
Tap Back Up Now
Turn off 'Find My iPhone'
The next step before completing a factory reset is to turn off 'Find My iPhone'. If you do not turn this off then you will not be able to reset your phone back to factory settings.
Open Settings
Tap your Apple ID at the top
Select your iPhone from the list of devices
Tap Find My iPhone
Toggle Off
Enter Apple ID password
Wipe Everything Clean
Now that you have a brand new backup and have turned off Find My iPhone, you can now factory reset your iPhone to its original settings. This will completely wipe everything off of your iPhone and hopefully fix any bugs.
Open Settings
Select General
Scroll down and tap Reset
Tap Erase All Content and Settings
Confirm
It's important to note that if there is a new software update available, your iPhone will likely download and install it. This is to keep your phone in tip-top shape with the latest version of iOS on board.
Take it to Apple
The final option if you continue to have issues with your iPhone X Series touchscreen is to take it to Apple. Regardless of whether you have AppleCare or not, taking it to the Genius Bar could result in you getting an entirely new iPhone.
Of course, if your iPhone X Series was previously damaged, then you might run into some issues and may end up having to pay some type of deductible. Nonetheless, it's better than paying another $1,000 for an Phone, or being stuck with a paperweight.
Let us know if any of these methods worked for you, or if there's a method that we didn't make mention of!