You can't reformat a drive in macOS Disk Utility when the Erase button is grayed out. This might happen for a variety of reasons, all of which keep you from erasing or reformatting the drives connected to your Mac.
If your MacBook's Disk Utility won't let you erase drives, follow the steps below to fix it.
Related:
How to erase or reformat a Drive using Disk Utility
Let's start with a brief explanation of the correct way to reformat or erase drives using your Mac. Feel free to skip this section if you already know how to do it.
You may want to erase your drive as a quick way to create space for new files. Or you might need to reformat it so it works with different operating systems, like Windows, Linux, or even iPadOS.
When you reformat a drive, it also erases all the data on it. So make sure to back up any important files before erasing or reformatting your drives.
When you're ready, here's how to erase or reformat drives:
Open Disk Utility from the Utilities folder in your Applications.

Spotlight is the quickest way to open Disk Utility.

In the sidebar, select the drive you want to erase or reformat.
Click the Erase button at the top of the window.

Disk Utility presents several tools at the top of the window.

Choose a new name and format for your drive, then click Erase.

Decide what to name your drive after erasing it.

Wait for Disk Utility to erase or reformat your drive, then click Done.

Disk Utility shows each process it completes in the window.
What if the Erase Button in Disk Utility is grayed Out?
You're probably reading this article because the Erase button was grayed out when you tried to erase or reformat a drive using Disk Utility. Use the steps below to fix it and let us know in the comments which one worked for you.
Step 1. Show All Devices and Erase the Parent Drive
By default, Disk Utility only shows the Volumes on your connected drives, rather than the drives themselves. A Volume is the partition or section of a drive you store data in.
Open Disk Utility and select View > Show All Devices from the menu bar. You should see the device names for each of your drives appear in the sidebar.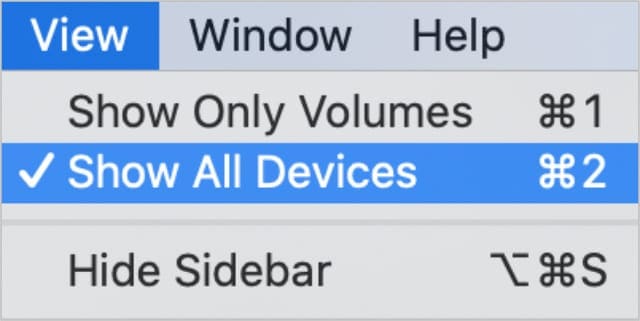 Select the parent folder for the drive you want to reformat or erase, then click the Erase button again. Take note that when you erase a device, it erases all the Volumes contained within it as well.
Step 2. Run First Aid to Repair Your Drive Before Erasing It
Disk Utility has a First Aid feature that fixes all kinds of issues related to your drives: slow performance, corrupt files, or unexpected behavior. When you run First Aid, it scans the entire disk for errors and lets you know if there are any it can't repair.
Open Disk Utility and select the drive you want to erase from the sidebar. At the top of the window, click the First Aid button, then agree to Run First Aid.

The length of time First Aid takes to run depends on the size of your drive, how much data is on it, and how many errors need fixing.
Combine this step with the previous one to run First Aid on the parent device for your drive, as well as the individual Volumes.
Step 3. Boot Into Recovery Mode to Erase Your Startup Disk
If you're trying to reformat or erase the startup disk on your Mac, you need to boot into Recovery Mode first. The startup disk is the main hard drive on your computer: the one that stores macOS and all your data. It's not usually possible to erase the startup disk because your Mac is using it to run macOS.
Recovery Mode is a special partition on your Mac you can use to restore from a backup, reinstall macOS, get online support, or erase your startup disk.
You should back up your Mac before trying to erase or reformat it.
When you're ready to boot into Recovery Mode, restart your Mac and hold Cmd + R while it boots up. Keep holding both keys until you see an Apple logo or hear a startup sound.
You should see a macOS Utilities window appear. Select Disk Utility from this window and try erasing or reformatting your drive again.
Learn how to reinstall macOS after erasing your Drive
After erasing or reformatting the startup disk—if that was your goal—you need to reinstall macOS before you can use your Mac again. This is because the original macOS installation was on the startup disk you just erased.
Boot into Recovery Mode once more to reinstall macOS or follow our guide to factory reset any Mac. When you reinstall macOS, your Mac behaves as though it's a brand new machine, with no data on it waiting for you to set it up.