If you're new to iOS 11, you may have noticed that some apps are "deleted" at random or even apps uninstalling themselves. It may be frustrating having to reinstall your apps consistently. But rest assured that your iOS is actually functioning as intended.
It's a feature, not a bug. In fact, your apps aren't really being "deleted" — they're being offloaded. The feature is called Offload Unused Apps, and it can be turned off (or back on again) really easily.
What Is This Setting?
Basically, Offload Unused Apps is a feature that was introduced in iOS 11 as an easy way for users to save and optimize their storage.
The feature automatically "offloads" apps that you don't use, or use only very rarely, when you're low on storage. These apps will remain on your Home screen, but the icons will appear grayed-out and have a small cloud logo next to them.
Unlike simply deleting an app, offloading applications actually saves the app's documents and app data locally on your device.
Before iOS 11, the only option to save storage was to actually delete an app (which also deleted the app's documents and data).
In other words, you can save storage without losing any app data. When you reinstall an offloaded app, the data will be automatically restored.
Basically, it's like you never deleted the app in the first place.
How to Disable Offload Apps (and Other Options)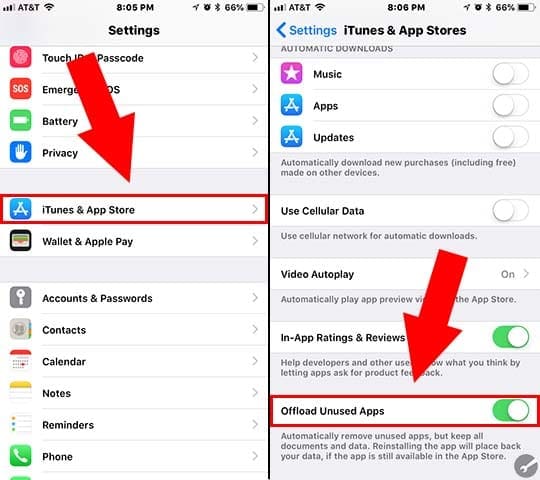 While it's a feature, judging by some posts on the Apple support forums, some users would rather have it turned off.
Offload Unused Apps is enabled by default. Alternatively, users may have been it turned on inadvertently or simply tested it out and decided they didn't like it.
Whatever the case may be, here's how to disable the feature.
Note: There are actually two ways to access the feature. There's a toggle both in iPhone Storage and the iTunes & App Store sections of Settings. The only way to disable the feature is in iTunes & App Store, however.
Open the Settings app
Tap on iTunes & App Store
You should see the Offload Unused Apps next to a toggle
If the toggle is green, it's enabled. Tap on it to disable it
If you ever decide that you want the feature back on, just follow the above steps and tap on Offload Unused Apps to enable it.
How to Individually Offload Apps on your iPhone
You might like having the option to offload apps instead of deleting them, but you don't want iOS to do so automatically.
Luckily, you can still offload apps individually even if the automatic setting is disabled. Here's how.
Open Settings
Tap on General
Tap on iPhone Storage
Tap on an app that you'd like to offload
In the next menu, you should see an option to Offload App. Tap on it
Tap on Offload App once again to confirm
As with the automatic setting, individually offloading apps will save the app's documents and data on your device. That way, when you opt to reinstall the app, it'll seamlessly restore that data.
How to Reinstall Offloaded Apps
Obviously, disabling this feature will reinstall your apps and prevent them from being offloaded automatically in the future.
If you want to keep using the feature but need access to an individual offloaded app, you can go to Settings –> General –> iPhone Storage. Tap on an app and then tap Reinstall App.
Alternatively, you can simply tap on its icon to reinstall it
Other Issues
On the other hand, there may be some issues with Offload Unused Apps.
Namely, some users report that their app data is actually getting deleted when an app is offloaded. We can't independently confirm every case of this, but it's definitely not how offloading is supposed to work.
It might be a bug in your specific instance of iOS 11+ or an issue with an individual app. Thankfully, loss of app data when offloading apps does not seem to be widespread. In other words, it's may very well just be an isolated or sporadic incident.
On another note, if your iPhone is actually deleting apps for real, then there's probably another bug or issue with your handset. We recommend trying a hard reboot, backing up and factory resetting your iPhone or contacting Apple support directly.
Mike is a freelance journalist from San Diego, California.
While he primarily covers Apple and consumer technology, he has past experience writing about public safety, local government, and education for a variety of publications.
He's worn quite a few hats in the journalism field, including writer, editor, and news designer.