Face ID is Apple's facial recognition system for iPhones and iPads allowing you to quickly unlock your devices based on biometric authentication. Unfortunately, Face ID doesn't work when you're wearing a mask. When facial recognition fails, your iPhone automatically prompts you to enter your passcode. So far, so good. Unfortunately, your iPhone may sometimes fail to recognize your passcode. In other words, you enter your correct passcode but your iPhone says it's incorrect.
This issue frequently occurs after users update their iPhones to a newer iOS version. Let's see how you can troubleshoot this problem and unlock your device.
Why Is My iPhone Saying My Passcode Is Wrong?
If you enter an incorrect passcode, your iPhone will alert you about that. Maybe you hit the wrong keys. Slow down a bit and try again.
Your iPhone may sometimes get corrupted and that could prevent the device from accessing passcode information. In other words, your device can't access the security file that contains information about your passcode. As a result, it can't compare the passcode you're entering to the passcode you set up.
Since this issue often occurs after you update your iOS version, maybe the OS failed to install properly. That could trigger various glitches, including the passcode issue we're covering in this guide. So, if you know for a fact that your passcode is right, pursue the troubleshooting solutions below.
What to Do When Your iPhone Won't Accept Your Correct Passcode
⇒ Important Note: If you enter the wrong passcode ten times in a row, your iPhone may automatically erase your data.
Quick Fixes
A number of users managed to troubleshoot this passcode problem by performing a series of basic actions. Maybe one of the workarounds listed below does the trick for you as well.
Force restart the device. Maybe this quick workaround will remove the software blockage.
Charge your iPhone's battery completely. Unplug the charger, turn off the device and wait five minutes. Turn your phone back on, enter your passcode and check if you can unlock your phone now.
Try 123456 and check if it works. Many users confirmed that entering 123456 allowed them to go to Settings and switch off the passcode requirements.
Restore Your iPhone
If nothing worked, you need to restore your iPhone in order to be able to use it again. Of course, this means you need to erase all the data and bring your device to default settings. If you already backed or synced your pictures, files, and other documents stored on your iPhone, you can restore them later. If you never backed up your phone, then you can say farewell to your data.
As you can see, backing up your iPhone is crucial if you don't want unexpected events to catch you off guard. Simply put, the time for backups is before you actually need them. Enough talking, let's jump right into the action.
Steps to Restore Your iPhone
Hold the Side button of your iPhone (right side).
Then press and hold one of the volume buttons. Keep on holding both buttons down until the Power Off slider appears on the screen.
Tap and drag the slider to turn off your device.
Next, grab a cable and connect your iPhone to your computer. The key is to hold the Side button down until the Recovery Mode pops on the screen.
Remove the passcode and restore your iPhone data if you already backed up the device.
Once your computer has detected the iPhone, select the Restore option. Selecting Update won't help.
iTunes will now download the latest software version on your device. If the whole process takes more than 15 minutes, your iPhone will automatically exit Recovery Mode. This means that you need to repeat the steps above again.
If the Restore process is successful, you can then set up your iPhone and hopefully use it without any problems.
How Do I Unlock My iPhone Passcode Without a Computer?
If there's no computer around to restore your iPhone using iTunes, you can use Find my iPhone instead.
Log in to your iCloud account on a different iPhone. Or download and install the Find my iPhone app on another iPhone.
Then log in to your account using your Apple ID and password.
Let the app find all the devices associated with your AppleID.
Select the problematic iPhone and tap the Erase iPhone option. This action will remove all the data saved on your device.
You can then set up your phone again. If your backup file is ready, select Restore from iCloud backup.
How Many Failed Passcode Attempts Can You Have On iPhone?
On the latest iPhone models, you have a maximum number of 10 failed passcode attempts to unlock your phone. Starting with the sixth failed passcode in a row, your iPhone will automatically lock itself for one minute. After the seventh incorrect passcode attempt, you won't be able to enter any passcode for 5 minutes. The eighth attempt locks you out for 15 minutes.
After entering the wrong passcode for the 10th time in a row, your iPhone will lock you out completely. Additionally, if you enabled the option "Erase all data on this iPhone after 10 failed passcode attempts", your device will automatically wipe out all data after the 10th failed passcode attempt.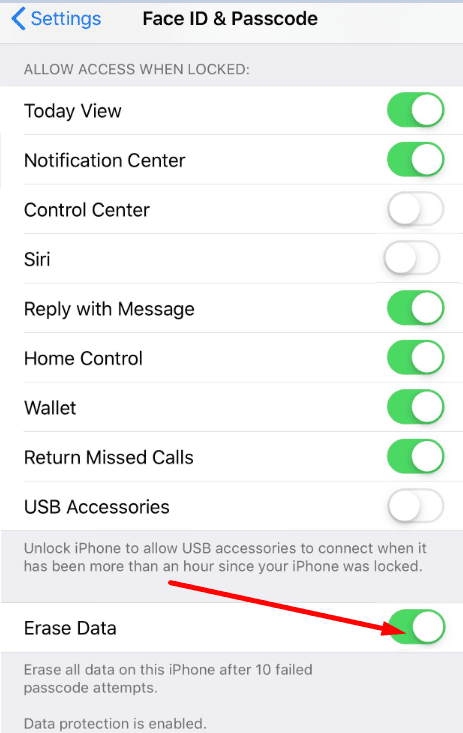 Is There a Default iPhone Passcode?
There is no default iPhone passcode you can use in case you forget your passcode or the device does not recognize your correct passcode. However, some users said that entering 123456 helped them unlock their devices in similar situations.
Conclusion
Your iPhone may sometimes fail to recognize your passcode even though you're hitting the correct keys. This problem often occurs after users install the latest iOS updates on their devices. Unfortunately, the cause remains unknown. To troubleshoot this problem, force-restart your device and then enter 123456 in the passcode field. If the issue persists, you've only got one option left and that is to restore your iPhone.
When was the last time your iPhone failed to accept your passcode? Did you find other solutions to troubleshoot the problem? Do let us know in the comments below.