Your keyboard is perhaps the most important input device on your Mac. It records thousands of keystrokes every day helping you to enter data into your computer. But your Mac may sometimes prevent you from typing.
This problem can manifest itself in a variety of ways. Sometimes, all the keys are unresponsive and they just beep when you press them. Basically, the keyboard freezes completely. Othertimes, only certain keys stop working. So, let's see what you can do if your Mac keyboard is acting up.
How Do You Fix an Unresponsive Keyboard on a Mac?
If This Issue Affects an External Keyboard
If your external keyboard won't type anything on your Mac, do the following:
Disconnect and reconnect the keyboard.
Make sure the connector is properly plugged into the port. Then switch to a different port if possible.
Check if a different external keyboard works. Maybe your current keyboard is faulty.
If this problem affects the built-in keyboard, continue with the steps below. Try connecting an external keyboard to your Mac so that you can type your password and log in to your computer. Oftentimes, external keyboards work in spite of the built-in keyboard being unresponsive. Alternatively, you can also use the virtual keyboard.
Check For Updates
Ensure you're running the latest macOS version on your device. Sometimes, major macOS releases bring issues of their own but Apple is usually quick to fix them. Install the latest updates and check if the issue is gone. Go to System Preferences, select Software Update and check for updates.

Disable Slow and Mouse Keys
If the Slow Keys option is enabled, you need to hold the keys longer for your Mac to recognize what you're typing.
Click on the Apple menu and select System Preferences.
Then go to Accessibility, and click Keyboard.
Select click Hardware and disable Slow Keys if the option is enabled.
Then go back to Accessibility and select Pointer Control.
Select Alternative Control Methods and disable Mouse Keys.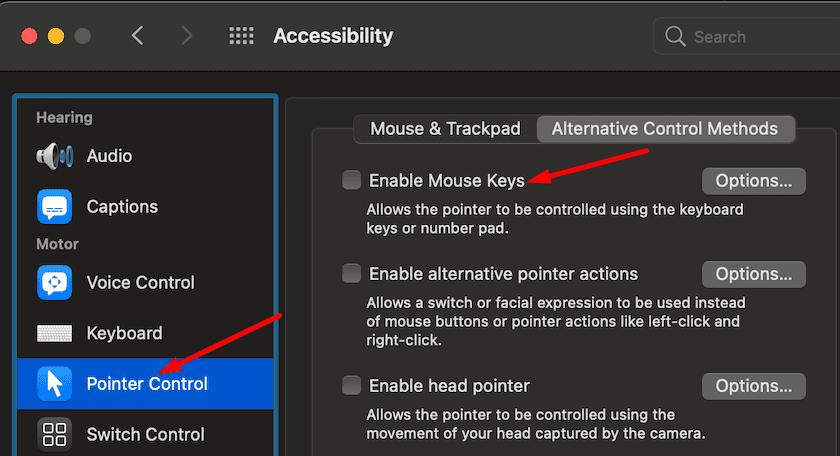 Don't forget to check your keyboard layout as well.
Go to System Preferences, select Keyboard, then click Input Sources.
Then select Show Input menu in menu bar.
Open the Input menu, and check your current keyboard layout. Change it if necessary.
Remove Recently Installed Apps
If this issue occurred after installing a new program on your Mac, launch Finder, and go to Applications.
Then select the programs you recently installed and drag them to Trash. Don't forget to empty the bin so as to remove those programs for good.
Delete .plist Files
A number of users solved their keyboard issues after removing the .plist files. Don't forget to back up your computer first.
Launch Finder and then press Command + Shift + G.
Type ~/Library/Preferences/ in the search bar and hit Go.
Locate and delete the following folders:

com.apple.driver.AppleBluetoothMultitouch.trackpad.plist — if you use Magic Trackpad
com.apple.driver.AppleBluetoothMultitouch.mouse.plist — for Magic Mouse
com.apple.driver.AppleHIDMouse.plist — for a wired USB mouse
com.apple.AppleMultitouchTrackpad.plist
com.apple.preference.trackpad.plist

Restart your Mac and check the results.
Boot Into Safe Mode
If you can't associate this keyboard problem with any specific app, try booting your Mac into Safe Mode. In this manner, you can strip the OS of many unnecessary items such as system extensions, fonts, system cache files, and so on. If your keyboard is fully functional in Safe Mode, this indicates one of your programs or settings might be interfering with it. Exit Safe Mode and check if the issue is gone.
How to enter Safe Mode on Intel CPUs
Restart your Mac and quickly hold the Shift key while your device is booting up.
You can release the Shift key when the login window appears on the screen.
Then log into your Mac and you should see the Safe Boot notification in the upper-right corner of the screen.
How to enter Safe Mode on Apple silicon MacBooks
Restart your device.
Then hold the power button for about 10 seconds while the device is booting up.
You can release the Power button when the Startup options appear on the screen.
Select your startup disk, press the Shift key, and select Continue in Safe Mode.
You can now release the Shift key and log in to your Mac.
Create a New Admin Account
A number of users suggested that creating a new admin account may solve this issue.
Go to System Preferences and select Users & Groups.
Click the lock icon to access the settings.
Then select the account type (admin).
Enter the user name and the other details and hit the Create User button.
Reset NVRAM and SMC
Your Mac stores certain settings in the NVRAM in order to access them quickly. But sometimes your device might be unable to retrieve the settings. This can lead to a multitude of glitches, including the keyboard not letting you type anything. By resetting the NVRAM you basically bring your custom settings to default.
How to reset NVRAM on Mac
First, you need to shut down your computer. Then boot it up again and immediately press and hold these keys: Option, Command, P, and R.
If your Mac plays a startup sound, you can release the keys after the device plays the second sound. If there's no startup sound enabled, release the keys after about 20 seconds.
On a Mac equipped with an Apple T2 Security Chip, you need to let go of the keys after the Apple logo disappears for the second time.
If the keyboard problem persists, continue the troubleshooting process and reset the SMC as well.
Reset the SMC on Mac computers released in 2017 or earlier
Shut down your computer.
Press and hold all of these keys on the left side of the keyboard: Shift + Controller + Option (Alt).
Next, hold down the Power button. You need to hold down the four keys at the same time for about 10 seconds.
Then release all of them and power up your Mac.
Reset the SMC on Apple T2 Security Chip Mac computers
If your Mac is equipped with an Apple T2 Security Chip, you need to press the three buttons in this specific order: Control (left side) + Option (Alt) (left side) + Shift (right side). Keep in mind that you need to press the Shift button on the right side of the keyboard.
Then hold the Power button as well, and keep all the four keys down for about 7 seconds. Restart your computer and check the results.
Go to an Authorized Apple Repair Center
If nothing worked, the only thing you can do is take your Mac, go to an authorized repair center, and have your keyboard repaired.
Conclusion
If your Mac keyboard won't let you type, check if an external keyboard works or enable the on-screen keyboard. Then ensure the Slow and Mouse Keys options are disabled. Additionally, boot into Safe Mode and check the results. If the issue persists, reset the NVRAM and SMC. If nothing works, have your keyboard repaired in an authorized Apple repair center. Oh well, the saga of Mac butterfly keyboard issues seems to be a neverending one.