After years of users clamoring and begging Apple to make it possible, the company introduced the Files app. This gives you access to the storage on your iPad or iPhone without the need for a third-party solution.
Related Reading
But despite improvements to the app over the years, Files is still lacking in a few areas. Namely, storage management continues to be a pain point. Even with iOS 13 and iPadOS, there are still issues when users attempt to delete files in an effort to free up some storage.
Taking advantage of the Files app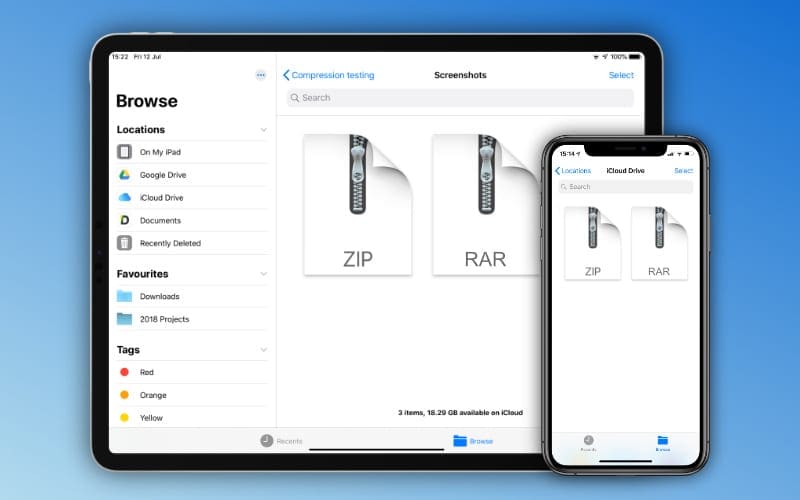 Outside of jailbreaking your device, managing the storage on your iPhone or iPad was complicated. This usually meant that you needed to delete an app altogether or use a third-party solution that never quite worked right.
Now with the Files app, this gives you more fine-grained control over the various documents and files saved to your devices. But you also have a few extra benefits when using the Files app.
Those who take advantage of iCloud Drive can easily sync files between devices. You won't have to upload to something like Google Drive, wait for the file to upload, then access it on another device.
Speaking of Google Drive, Apple's Files app supports third-party cloud storage clients. This means that you can access files saved in other cloud storage services all from the same app. Gone are the days for needing a separate app if you had Dropbox, Google Drive, Box, or others installed on your devices.
How to delete documents and more from the Files app
After downloading a few files, chances are that you'll end up wanting to get rid of them. Whether it's just because you like a tidy file browser or if you need some space, the time will come regardless. Here's how you can delete documents from the Files app:
Open the Files app on your iPhone or iPad.
Navigate to the folder that the file is being stored.
Press and hold on the file to bring up the contextual menu.
From the menu, tap Delete.
That's it, the file will be removed from the Files app, and you no longer have to worry about it appearing in your directory.
Why haven't I gotten more storage after deleting files?
Mistakes happen, and especially when you're working with important documents and files, you don't want to delete something by accident. Without the following feature, those files could be lost forever with no way to recover them.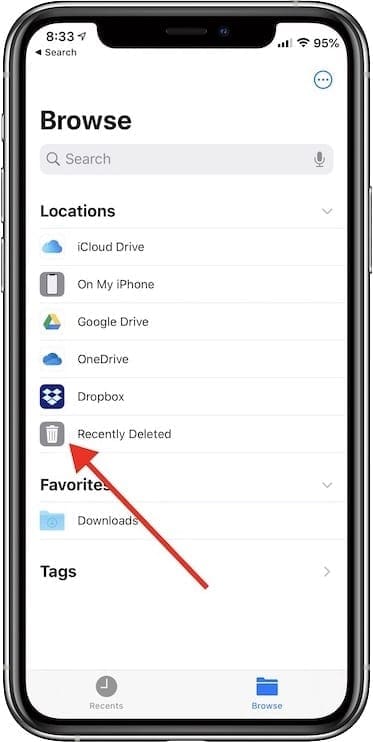 However, Apple thought about the potential "accidental" deletion of a file. If you open the sidebar of the Files app, you'll notice an option named Recently Deleted. This can be found under the Locations section in the sidebar.
How to delete Files permanently
Anything that gets deleted from iCloud Drive or on your device goes to this folder. Then, after 30-days your files will be automatically removed. This gives you 30-days to go back and recover any files that you may have accidentally deleted, or found that you actually needed to keep.
If you happen to be in a crunch for storage, then you'll want to go through and empty the Recently Deleted folder. Here's how you can do that:
Open the Files app on your iPhone or iPad.
Reveal the sidebar in the app by tapping the Browse button.
Tap Recently Deleted from the sidebar.
Tap Select in the top right-hand corner.
Select Delete All at the bottom of the page.
Confirm that you wish to delete the files.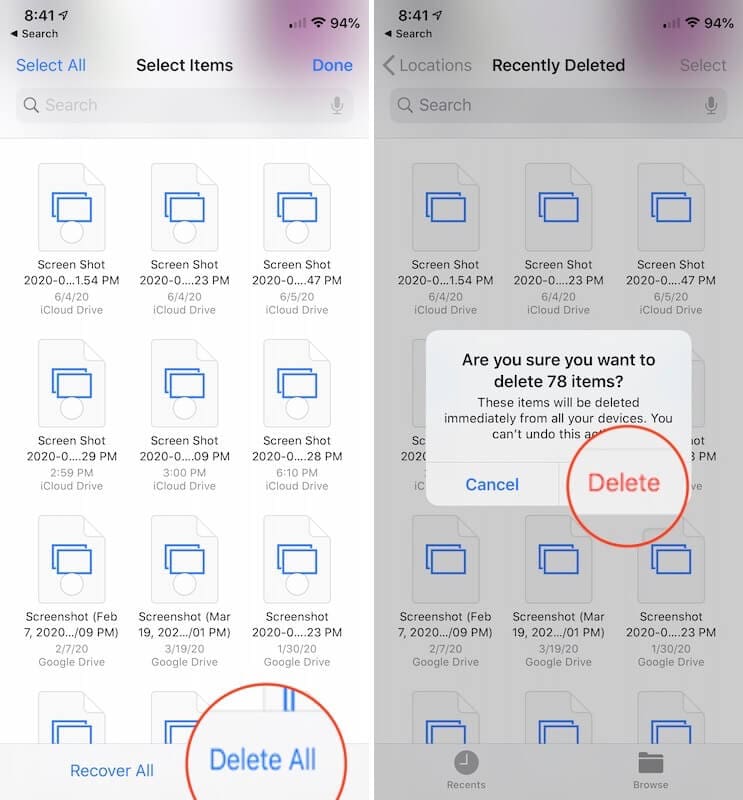 Once you tap Delete on the dialog box, all of the files in the Recently Deleted folder will be removed. This is something that is extremely useful as a way to get rid of all deleted files for good or to recover something if it was accidentally deleted.
Why didn't the files get deleted?
An issue that continues to reveal itself on an almost-yearly basis is when you try to delete those files and nothing happens. One method you can attempt is the following:
Open the Files app on your iPhone or iPad.
Tap the Browse button in the bottom menu.
In the top right-hand corner, tap the three dots inside of the circle.
Tap Edit.
Toggle On My iPhone or On My iPad to the Off position.
Toggle On My iPhone or On My iPad to the On position.
Tap Done in the top right-hand corner.
Restart the Files app.
Attempt to delete the files from the Files app again.
In the event that the above method doesn't work, then you will want to perform a "soft reset" on your iPhone or iPad. Here's how you can reset an iPhone with no Home Button:
Press and quickly release the Volume Up button.
Press and quickly release the Volume Down button.
Hold the Side button until the Apple logo appears.
This works for both the iPhone and iPad models that do not feature a home button. This includes every iPhone after the iPhone X, other than the 2020 iPhone SE which still includes a home button.
Check for a software update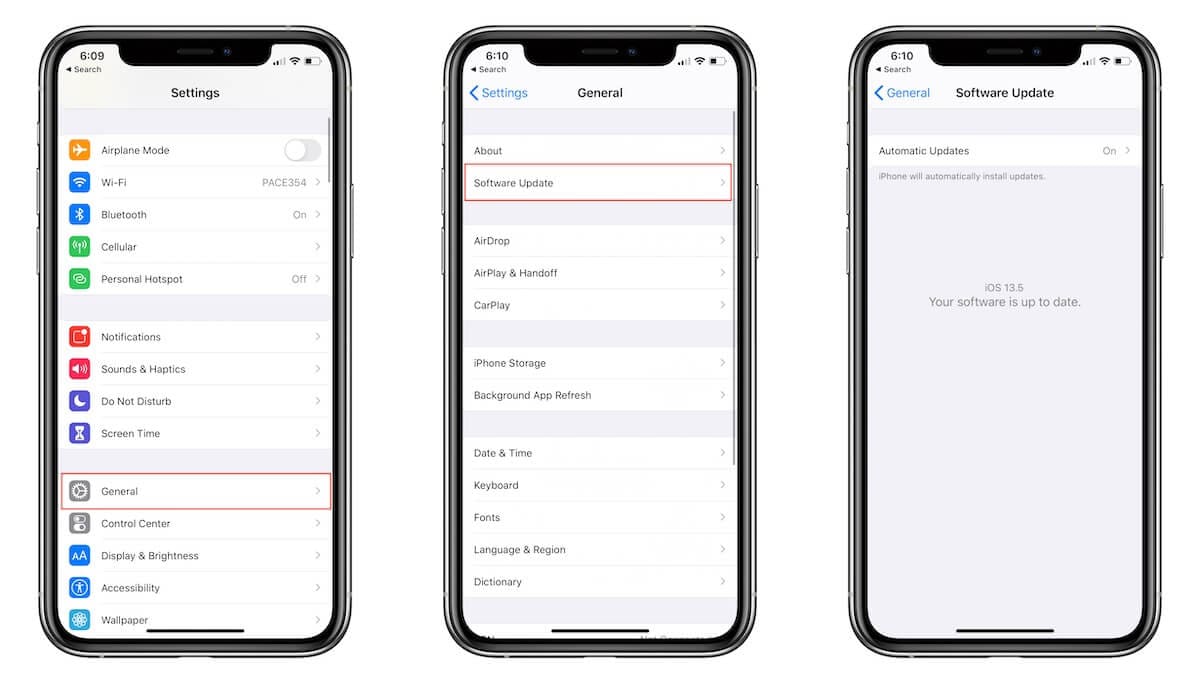 Unsurprisingly, there have been quite a few bugs that have been present in iOS 13 and iPadOS. Apple has been releasing semi-regular updates as we near the next major software release.
While some of these software updates have introduced new features (i.e. trackpad support), they also have included some major bug fixes. So it's important to check for a software update in order to make sure you are on the latest version of iOS or iPadOS.
Open the Settings app on your iPhone or iPad.
Tap General.
Select Software Update.
If an update is available, tap Update Now, while making sure that your iPhone or iPad has at least 50% of battery life or is connected to a power source.
Conclusion
Apple has made some great strides with the Files app, and we are excited to see what's to come in the future. For the time being, there are still some frustrations, but for the most part, Apple has given us another great "stock" app.
If you continue to have issues when trying to delete files from the Files app, let us know in the comments below. Additionally, if you have found another way to delete those files for good, sound off and share it with everyone!
Andrew Myrick is a freelance writer based on the East Coast of the US. He enjoys everything to do with technology, including tablets, smartphones, and everything in between. Perhaps his favorite past-time is having a never-ending supply of different keyboards and gaming handhelds that end up collecting more dust than the consoles that are being emulated.