Apple is largely expected to release its new iOS 13 update following the September 10th event as a free over-the-air update. But how do you prepare your iPhone for the iOS 13 update, which is now scheduled to be released on Sept 19th at 10 AM pacific.
The new software update will introduce Dark Mode, a slew of security and privacy features, a swipe-to-test keyboard and other features to iOS. In other words, it's an exciting and feature-packed update.
Related:
But, as we mentioned, there are a number of things you should do before you download or install iOS 13 to prepare your iPhone for the installation process. Here's how.
iOS 13 compatibility
Even if you want to get iOS 13, there's a chance that you might not be able to. That's because iOS 13 isn't compatible with every iPhone ever made.
So, despite the fact that it supports a wide range of Apple handsets, you'll want to checked if your particular device is compatible.
iOS 13 will be compatible with the following iPhone and iPod touch devices.
iPhone SE
iPhone 6s
iPhone 6s Plus
iPhone 7
iPhone 7 Plus
iPhone 8
iPhone 8 Plus
iPhone X
iPhone XR
iPhone XS
iPhone XS Max
iPod touch (7th generation)
Additionally, Apple's 2019 iPhones will ship running iOS 13.
Free up some storage
Major iOS updates can be quite large, so it's always a good idea to clean out some storage space on your device. Even if you have enough storage already, it's probably still smart that you do some "spring cleaning" periodically.
In our experience, we have found that the leading cause of iOS install problems is the lack of free storage on the device. The common error 'Unable to install iOS' shows up while installing newer iOS if you dont have sufficient storage. This is the best time to also evaluate if there are apps that you want to offload in order to optimize your device storage.
You can follow some of our previous guides on clearing space on your iOS device.
Backup your iOS device
Even as iOS updates get more stable by the year, there's always a chance that something can go wrong after the update or during its installation.
Because of that, it's highly recommended that you back up your device prior to downloading or installing iOS 13.
You can do so via iTunes or iCloud Backup. Check out out previous guides on backing up your device here and here.
Check out your iPhone Battery health. Before you apply the iOS 13 update, if your device battery shows signs of wear and tear, you may want to replace the battery at an Apple Store or BestBuy.
Download carrier updates
iOS updates keep your iPhone or iPod running smoothly, but they're not the only updates you should be checking for and downloading regularly.
There are also carrier updates that improve the network and cellular performance of your device.
While you don't necessarily need to update these before an iOS update, it's a good idea to check for a carrier update when you update the operating system.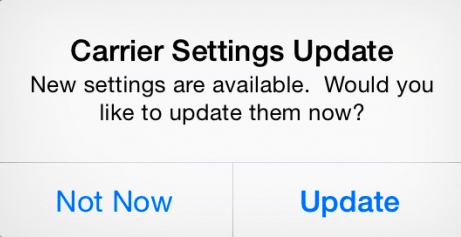 You can check for and download a carrier update by going to Settings —> General —> About. (You can tell which version you can by looking next to the Carrier subsection.)
Take note of your settings
iOS updates generally won't mess with the specific settings or preferences on your device. But, as we mentioned, something could always go wrong during the update process.
Because of that, we recommend checking specific settings that are "mission critical." If you have particular privacy or security needs, for example, make note of them before the update. You don't want one of these settings to be accidentally reversed and not notice it until much later.
We recommend checking your Face ID, passcode, Location Services and other security-related settings. Write down the ones that are important to you.
If you plan on upgrading your Mac to macOS Catalina before upgrading your iPhone or iPad, you can still use macOS Catalina to update your iPhone in case there are any issues with the OTA update.
We have also tested updating iPhone to iOS 13 on macOS High Sierra without any issues.
Back up your Health data (just in case)
While an iCloud backup is generally a sufficient way to save data for most users, there are exceptions. That's because there are certain types of data that iCloud isn't able to back up.
In most cases, these are sensitive or device-specific data types. That includes Health data, device-specific Keychains or Activity data.
If you're worried about losing these data types, you can still back them up — but it requires using encryption and backing up to a computer with iTunes.
Just connect your device to a computer with iTunes and select Encrypted Backup when you back up your iPhone. Just make sure not to lose the password, since it isn't recoverable.
Expect to be patient
All of the previous steps concern what you should do before you install the iOS 13 update. But it's worth noting that there's something you should do immediately after: be patient.
There are some temporary side effects after you update to a new major version of iOS. Your device may be slower and its battery life may be worse, for example. This is because iOS takes some time to find and re-index data.
Similarly, if you store PDFs in the Books app, you'll want to remember that they take some time to actually show up or sync after an update. Don't worry, they're not gone. (And if they are, you should have them backed up anyway.)
In the case you run into any issues with the download and install of iOS 13 or iPadOS on your device, please refer to our detailed guide below. In this guide, we have provided tips and workarounds for the most common install problems.
When running iOS 13 beta for the past several months, we found that iCloud syncing does take longer time but then that was the beta version.
We are confident that when Apple releases the final iOS 13, performance and reliability will not take a back seat to new features.
Apple will be releasing iOS 13.1 on Sept 30 along with the new iPadOS. If you want to wait it out till Sept 30th and directly update to iOS 13.1, thats also an option. If there are any lingering issues with iOS 13, they would have been addressed via iOS 13.1. In any case, please remember to Back-up your iPhone or iPad before you update.
Mike is a freelance journalist from San Diego, California.
While he primarily covers Apple and consumer technology, he has past experience writing about public safety, local government, and education for a variety of publications.
He's worn quite a few hats in the journalism field, including writer, editor, and news designer.