Is your iCloud running low on storage after macOS upgrade? You might need to stop iCloud from syncing desktop folders and documents on your Macs using macOS. With the introduction of macOS Sierra and continuing on to all versions of macOS, Apple provided this feature to automatically sync your documents and desktop folders on your Mac to your iCloud.
This feature not only stores your Desktop and Documents folder on your iCloud Drive but also allows you to access them on all your devices with the Files app or iCloud Drive.
So you can begin working on a document on your Mac's Desktop and continue working on it from your iPhone, iPad, or iPod touch or on iCloud's website.
With this option, everything on your desktop automatically stays up to date everywhere else as long as you sign in to iCloud with the same Apple ID on all of your devices.
And you also must set up iCloud on all of your devices and turn on iCloud Drive in your iCloud's Settings.
Related reading
The Symptoms
Many users who have limited iCloud storage often find that their MacBook documents and desktop folders are eating up a lot of their iCloud space. The continuous syncing operation on your Mac can be annoying as well.
In this article, we show you how you to stop iCloud from syncing documents and desktop folders with a few quick and easy steps.
How-To Stop iCloud From Automatically Saving Files
Step – 1 Click on  > System Preferences > Apple ID > iCloud
For older macOS versions (macOS Mojave and below), choose  > System Preferences > iCloud icon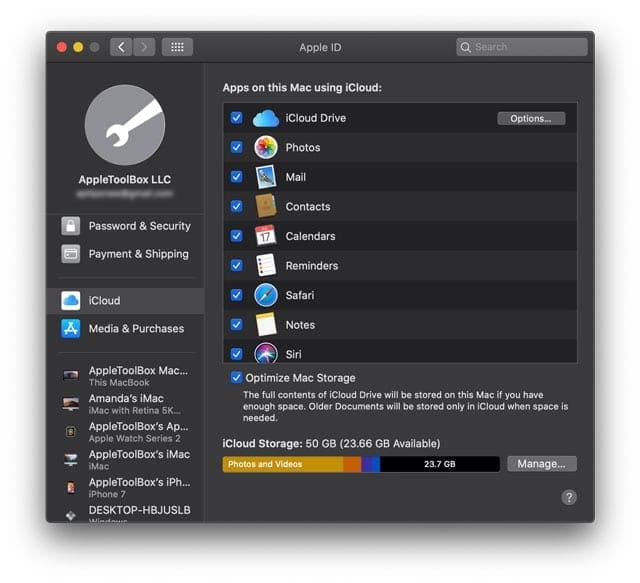 Next to iCloud Drive, choose the Options button on the right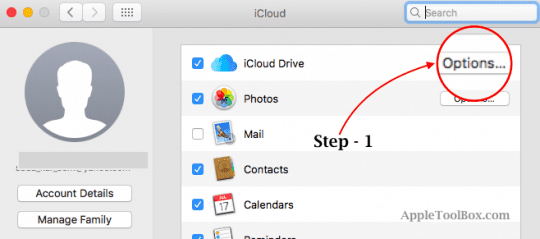 Step – 2 Locate Your Folders
When you open the iCloud Drive options, find the Desktop and Documents Folders checkbox.
Uncheck this box and confirm by clicking Turn Off.
Confirm you want to turn Desktop & Document Folder syncing with iCloud by tapping Turn Off again at the confirmation prompt
All your documents remain available in iCloud but are removed from your Mac–so you'll need to get them back
Step – 3 Transfer files
Now that you have chosen to remove desktop and documents from syncing to your iCloud drive, you need to transfer these files to their original locations on your Macbook.
How to get your files from iCloud Desktop & Documents to your Local Mac's Document folder
Open the Finder in macOS and go to iCloud Drive
Locate the Documents folder in your iCloud Drive
Open another  Finder window and go to your local Documents folder
Select your files from your iCloud Drive Documents folder and drag them to your Mac local Documents folder
Repeat these steps for your Desktop on iCloud to get all contents from Desktop on iCloud to Desktop on your local Mac
Need Another Option?
Using these simple settings, you can enable and disable the syncing of your desktop folders and documents and manage your iCloud storage space.
If you want to leave iCloud Desktop and Documents turned on, BUT you don't want some of your private or older files stored in iCloud, use Finder and move those files to another folder other than Desktop or Documents.
How to prevent iCloud from syncing specific individual desktop files or folders
Adding the file extension .nosync to a file blocks your Mac and iCloud from syncing that file by making it ineligible. You can also add that extension to a folder but must include the .nosync extension to all files contained within that folder as well.
For folders, adding the extension .tmp stops iCloud from syncing that folder AND its contents to your Desktop in iCloud.
Look for the word Ineligible to confirm that iCloud is not syncing that file or folder from your Mac's Desktop. Additionally, once you add .nosync to a file or .tmp to a folder, it shows up as a crossed-out cloud icon when you look at your iCloud Drive in Finder, indicating that it is not uploaded to iCloud.
How to Reclaim Disk Space on Your MacBook for Free
When it comes to storage management, macOS also includes built-in tools that can help you easily manage disk usage of your MacBook. You do not need any third-party tools or apps to achieve this.
Click on the Apple menu > About This Mac > Storage tab. Disk usage of your MacBook shows up. Click on Manage.
Scroll down to the bottom of the next screen and click on Review Files in the Reduce Clutter section. The name says it all!
On the next screen, Select Documents from the left-hand panel.  Find the three tabs on the main screen. Large Files, Downloads and File Browser.
As the name suggests, the large files tab shows all your big files on the disk that are hogging your space. Click on Last Accessed to sort files by access date. Move or archive these files or remove them from your MacBook to save space.
To delete a file, Ctrl+Click, and select Delete. You can also select multiple files for deletion using Ctrl+click and choose Remove.
This section makes it easy to review your disk space usage on your Macbook. You manage your iCloud drive space, organize your iOS files (old backups), download folders and Trash folders, all from one central location.
macOS File Browser
We love the File Browser feature as it lets you dig deep into folders and sub-folders to find the biggest space wasters so that you better manage your SSD.
Before macOS, we used the DaisyDisk app to do most of our disk management tasks, but we are slowly getting the hang of the new built-in macOS disk management functionality.
We hope that the simple MacBook tips in this article were helpful. Please let us know if you have any questions or feel free to share some of your favorite tips below.
Obsessed with tech since the early arrival of A/UX on Apple, Sudz (SK) is responsible for the original editorial direction of AppleToolBox. He is based out of Los Angeles, CA.
Sudz specializes in covering all things macOS, having reviewed dozens of OS X and macOS developments over the years.
In a former life, Sudz worked helping Fortune 100 companies with their technology and business transformation aspirations.