Not getting calls you think you should be? Accidentally blocked someone and now you wonder just how do you unblock someone on your iPhone? Or maybe the block was intentional, but now things have calmed down, and you're ready to receive calls again. Whatever your reason, you want to unblock a number on iPhone today.
The good news is that it's really easy to unblock someone (a number, email, etc.) on your iPhone!
When you unblock a contact, phone number, or email from reaching your iPhone, iPad, or iPod touch, all phone calls, FaceTime, and Messages return to normal.
For folks looking at how to block numbers, check out this article.
So let's get to it!
Related articles
Unblock a Phone Number (or Email) on Your iPhone
Open Settings > Phone App 

You can also open Settings > Messages or Settings > FaceTime

Tap Blocked Contacts or for older iOS, Call Blocking & Identification to open your blocked contacts list 
Select Edit in the upper-right corner and press the minus sign next to the number or email you want to unblock 

Or pick an entry and swipe left on that specific number/email

Tap Unblock 
Repeat for each contact, number, or email you want to unblock
Press Done in the upper-right to save those changes
That's it!
You can also unblock people by finding their number or email in your lists of recent calls and text messages
Select the "i" information button 
Tap their name
Choose Unblock this Caller
Check if you are silencing unknown callers
If you are not receiving calls from service providers and other businesses, you might just have them silenced.
Starting in iOS13, Apple added a feature to automatically silence callers from a number not recognized or known.
The feature is designed to silence spam and robocalls, sending those calls straight to voicemail. However, it appears that this feature sometimes blocks calls we really need, like those from our dentist office, doctors, and other service providers.
How to turn off automatic call silencing
Go to Settings > Phone
Scroll down and toggle off Silence Unknown Callers
Don't See Any Blocked Number or Contacts?
If you don't find anything under Call Blocking & Identification or Blocked in Messages and FaceTime, you may be blocking at the carrier level. 
Most mobile phone companies offer a way to block incoming phone numbers.
Usually, this service is an additional monthly fee so check your most recent bill to verify you have this blocking service as an add-on.
In that case, contact your mobile phone company or visit your online account support page for instructions on how to unblock numbers via their system. It's different for each cellular company so it's best to find out from the source.
Currently, in the US Verizon offers a free Block Calls & Messages service that won't show up on your bill. It temporarily blocks up to 5 contacts, including calls and texts for 90 days. After 90 days, the blocks expire.
What's The Difference Between Carrier Blocking and iPhone Blocking?
Blocking a number from your iPhone or iPad declines receiving calls or text messages on that device.
When you block a contact with your carrier, it stops the contact (phone number, email, etc.) from reaching out to you on an account level. Once a number etc. is blocked on your end via a carrier, you should not receive any type of notification of contact.
Are blocked callers still leaving messages?
Since your iPhone only declines incoming blocked calls, it gets routed directly to your voicemail.
When you block contacts with your iPhone (using iOS), callers can still leave voicemails–they just go through to vmail without ringing. 
When you block phone numbers via your carrier, those blocked calls are totally disallowed. So callers cannot leave voicemails or get through to you at all!
What Happens When I Block a Number on My iPhone? 
When you block a phone number or contact, they can still leave a voicemail, but you don't get any notifications. Messages from blocked contacts should not be delivered.
Wondering if Blocked Contacts Know That You Blocked Them?
When you block a contact via your iPhone (not your carrier), the contact won't get a notification that the call or message was blocked.
So no, blocked folks do not know that you blocked them–at least in the beginning. Once a blocked person calls numerous times and notices that they always go straight to voicemail, they probably figure it out.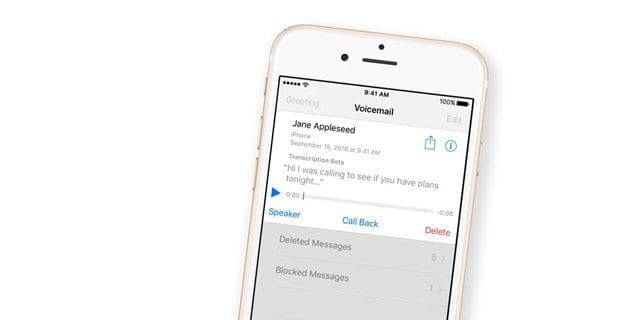 If you block a number via your carrier, blocked contacts receive a message or recording letting them know that you are not accepting their calls and have placed a restriction on them as the account owner.
Obsessed with tech since the early arrival of A/UX on Apple, Sudz (SK) is responsible for the original editorial direction of AppleToolBox. He is based out of Los Angeles, CA.
Sudz specializes in covering all things macOS, having reviewed dozens of OS X and macOS developments over the years.
In a former life, Sudz worked helping Fortune 100 companies with their technology and business transformation aspirations.