As long as you use iOS 7 and above, you can block calls and messages from unwanted contacts. One question we receive a lot from users is can a blocked number leave a voicemail and are those voice messages still accessible?
So can a blocked number leave a voicemail?
The short answer is YES. Voicemails from an iOS blocked contact are accessible. When an iOS blocked number calls you, your iPhone automatically routes them to voicemail. That's the way Apple handles blocking–all iOS blocks calls and automatically routes them to your voicemail. 
This means that blocked number may still leave you a voicemail but you will not know they called or that there is a voice message. Note only mobile and cellular carriers are able to provide you with true call blocking. 
Related Articles
How to Check for Voicemails from Blocked Numbers on your iPhone
It's easy to check if blocked callers left voicemails!
When a blocked caller leaves a voicemail, your iOS automatically creates a category in your voicemail called Blocked Messages.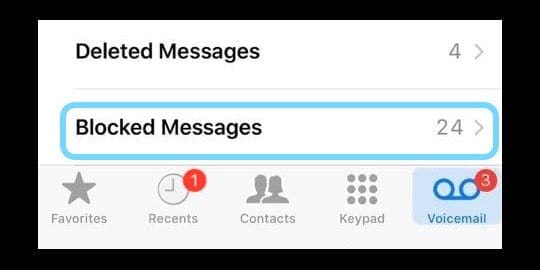 To see if you have any voicemails from blocked callers, open the Phone App
Tap the Voicemail tab at the bottom right of the page
Look down the list to find the Blocked Messages category (usually below Deleted Messages)
Tap it and either delete or listen to those messages
Can you block someone from leaving a voicemail?
Currently, the only way to block a caller from leaving a voicemail is via your carrier. Not all carriers support this feature and of course, it usually adds on another service fee.
Carrier blocking services (for US)
AT&T offers Smart Limits, a parental control feature that lets you block calls and texts
Sprint users can set up call blocking from My Sprint
Verizon customers can block five numbers for free or pay an additional monthly fee for additional blocking options
T-Mobile blocks all text messages for free and their Family Allowances option blocks up to 10 numbers
If you're receiving a lot of voicemails from blocked callers, check with your carrier and see if they provide any options.
How-To Block Your Callers on iOS
Open the Phone app and look under Recents, then tap the blue" i" next to the phone number or contact that you want to block. Scroll to the bottom of your screen, then tap Block this Caller.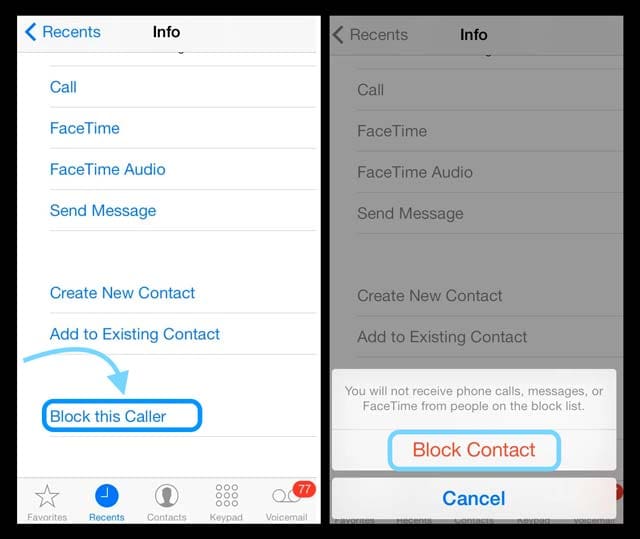 Blocking callers via your iOS results in a block on all phone calls, text messages, and FaceTime calls from people are your block list. However, even when you block a phone number or contact, they can still leave a voicemail, but you won't see any notifications.
This feature is available for the following models: the iPhone 4 and later, iPad 2 and later, iPad Mini, and fifth-generation iPod touch.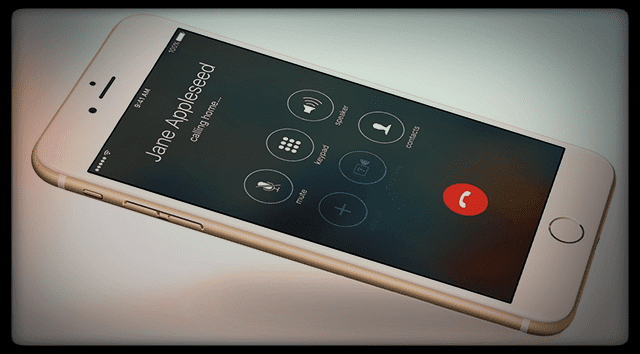 Does the Blocked Caller Know That They're Blocked?
No, any contacts or numbers you block will NOT get a notification that the call or message was blocked.
Silencing unknown callers
Starting in iOS13, Apple added a feature to automatically silence callers from number not recognized or known.
The feature is desgined to silence spam and robo calls, sending those calls straight to voicemail.
How to turn on automcatic call silencing
Go to Settings > Phone
Scroll down and toggle on Silence Unknown Callers
Learn more about silencing unknown callers and robocalls in this article.
View Your Blocked Numbers & Contacts
To see all the phone numbers and contacts you've blocked from Phone, FaceTime, or Messages, go to Settings > Phone > Call Blocking & Identification. 
For FaceTime go to Settings > FaceTime > Blocked. And for Messages go to Settings > Messages > Blocked.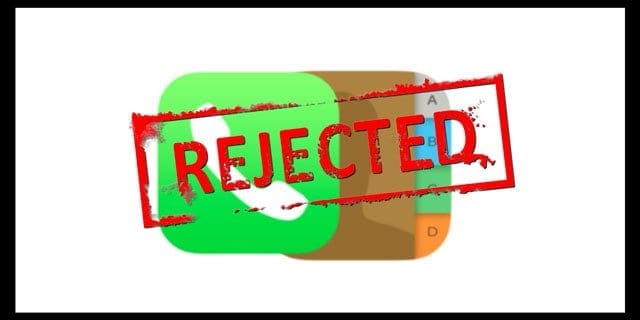 Block Your Callers Via Your Carrier
If you have the numbers blocked in the carrier's system, they are not able to leave a voicemail. A carrier block intercepts that call, and the caller hears a recording that the person they called has a block on. The only way a person whose number can leave a voicemail is if they use a different phone to call.
Be aware that some callers, particularly sales calls, are able to manipulate what phone number appears on an incoming call. The industry calls this spoofing, created using a computer or a third party application.
Blocking Services by Carrier
Most carriers in your region offer a call blocking service for postpaid customers, and some offer it for prepaid customers too. There are often conditions, so make sure you understand those before signing up.
Some carriers offer this service for free, and others charge a monthly fee. Check your account to see if this is a provided service and if there is an associated cost. If the information isn't readily available, call your mobile carrier and ask them about their Call Blocking Services.
Have a Third-Party 
Another option is using a third-party app to block and manage your contacts. We all probably hate those robocallers and want to block telemarketers, spam calls, etc. Unfortunately, iOS call blocking and your carrier blocking services do not prevent these types of callers automatically.
So if you want to block these annoying callers, your best bet is a paid third-party app. These apps maintain and regularly update databases of telemarketers, robocallers, and spam calls and so their software tends to block most of these calls automatically.
We don't have a particular app recommendation but instead encourage you to visit the App Store and search for call blocking apps. Read the user reviews and make your decision based on what others say.
And remember that these apps are handy as paid app subscriptions–the free versions do not receive the updated caller databases.
DO IT YOURSELF! 
Some users handle call blocking on their own with a little diy. The process is to set up your voice mail to use Google voice. Use the blocked feature on the phone to reject the call and send it to voicemail. Then block the caller in Google voice. They hear one of the standard messages telling them the number has been disconnected or is no longer in service.
Obsessed with tech since the early arrival of A/UX on Apple, Sudz (SK) is responsible for the original editorial direction of AppleToolBox. He is based out of Los Angeles, CA.
Sudz specializes in covering all things macOS, having reviewed dozens of OS X and macOS developments over the years.
In a former life, Sudz worked helping Fortune 100 companies with their technology and business transformation aspirations.