The camera on your MacBook or iMac is perfect for making video calls, joining conference calls, or even filming vlogs. But none of that is possible if your built-in camera isn't working or if your MacBook says it's not available.
You might experience this problem across a range of apps: FaceTime, Photo Booth, Zoom, Skype, and more. Whatever the case, you can fix most MacBook camera problems with the troubleshooting tips below.
Related:
1. Allow camera access in your Privacy preferences
To protect your privacy, your Mac blocks camera access to third-party apps until you explicitly allow it. Usually an alert prompts you to do so the first time you open an app.
But if the camera isn't working or if there is no camera available for an app on your MacBook, you might need to allow access in the System Preferences.
Open the Apple menu and go to System Preferences > Security & Privacy > Privacy. Select Camera from the sidebar, then check the box next to the app you want to use. You may need to unlock the padlock at the bottom-left with your administrator's password to make changes.
2. Quit and restart your video app
It's often useful to restart whichever app you're experiencing problems with. This might be Skype, FaceTime, Zoom, Photo Booth, or any other app that uses your MacBook's built-in camera.
Press Cmd + Q to close the current app. Alternatively, go to [App Name] > Quit [App Name] from the menu bar. After quitting an app, restart it again as normal.
If an app refuses to quit normally, press Option + Cmd + Esc to open the force quit window. Select your app, then click the Force Quit button.
3. Shut down and restart your MacBook
If the built-in camera is not working, you might be able to fix it by restarting your MacBook. This basic troubleshooting tip is a great way to resolve all kinds of different issues.
Open the Apple menu and choose to Shut Down your Mac. In the pop-up confirmation box, choose not to Reopen windows when logging back in. Then confirm you want to Shut Down.
Wait 30 seconds for your MacBook to finish shutting down, then briefly press the Power button to restart it.
4. Update macOS and your installed apps
Various software bugs can cause your camera to stop working or make your MacBook think there is no camera connected. These might be bugs in macOS or in the app you're trying to use. The best solution is to download and install the latest available updates for both.
Open the Apple menu and go to System Preferences > Software Update to look for macOS updates.
Open the App Store and click Updates in the sidebar to look for individual app updates. If you downloaded your app outside the App Store, check the developer's website to get the latest updates instead.
5. Test the MacBook camera in a different app
If your MacBook camera is unavailable in one particular app, try using it with FaceTime or Photo Booth instead.
If your camera works with either of those apps, check the in-app preferences for the apps your camera doesn't work with. You can usually find these by going to [App Name] > Preferences from the menu bar. You may need to select your built-in MacBook camera from a drop-down list in the preferences.
If that doesn't help, try deleting and re-installing the Mac app. Back up any important data first. Then open the Applications folder in Finder and drag that app to the Trash. Empty the trash before you install it again.
6. Test the camera using a different user account
Sign in to a different user account on your MacBook and try using the built-in camera again. If your camera starts working, it means there is a problem with your MacBook account—you may need to transfer data to a new account to fix it.
If you don't have any other user accounts, go to System Preferences > Users & Groups. Then use the Add (+) button to create a new user. Go to the Apple menu to sign out.
Follow this guide to fix macOS user account problems.
7. Reset the PRAM and SMC on your Mac
The PRAM and SMC on your MacBook store data such as the display brightness, sound output, or fan speed. A problem with these files might cause issues with the built-in camera.
Fortunately, it's easy to reset them without losing any important data.
To reset the PRAM, go to Apple > Shut Down and turn off your Mac. When your Mac finishes shutting down, press the Power button to restart it and immediately hold Option + Cmd + P + R while it boots up. Keep holding the keys until the second time you see an Apple logo appear on-screen.
The instructions to reset your SMC vary depending on your MacBook model. Follow this Apple guide to find out how to reset the SMC on your particular Mac.
8. Check there's a camera connected in the System Report
Although this step can't resolve any problems, it might explain why your MacBook believes there is no camera connected. Open the Apple menu and go to About This Mac, then click the System Report button to see a run-down of all the connected hardware.
Select Camera from the sidebar to view your MacBook camera details. It should give the model number for your FaceTime camera.
If there is no camera connected, it means something has broken the connection. This could be physical damage from a drop or liquid damage from a spill. Either way, you need to speak to Apple about booking a repair.
9. Boot your MacBook up in Safe mode
Safe mode is a special state you can use to fix all manner of problems on your MacBook. It runs various housekeeping tasks and stops background processes from opening on startup, both of which can help if your MacBook camera isn't working.
To boot into Safe mode, go to Apple > Shut Down and turn your MacBook off. After it shuts down, press the Power button, then immediately hold Shift while it starts up. From the user login screen, it should say Safe Boot in the top-right of the menu bar.
Test your MacBook camera while using Safe mode. Then restart your MacBook normally and test the camera again.
10. Use Terminal to restart background camera assistants
A whole host of software assistants run in the background while you use any computer. Several of these are crucial in making the built-in camera work for your MacBook.
You can use Terminal to stop some of these processes, forcing them to safely restart again. This fixes any issues that arise if they stopped working in the background.
Open Terminal from the Utilities folder in your Applications. You can do this using Finder, Launchpad, or Spotlight. With Terminal open, type each of the following commands—exactly as we've written them—then press Enter after each one to execute it:
sudo killall VDCAssistant
sudo killall AppleCameraAssistant
11. Run Apple Diagnostics
Apple includes built-in diagnostics software with macOS. Use this software to search for MacBook hardware problems that might explain why the camera is not working or not available.
To run diagnostics, go to Apple > Shut Down and turn off your Mac. Once it finishes shutting down, press the Power button to restart it then immediately press and hold the D key until a language-selection screen appears.
Follow the on-screen prompts to complete the diagnostics on your Mac. Make a note of any error codes you get at the end, then contact Apple support if you need to book a repair.
12. Reinstall macOS
This might seem like a drastic step to take, but you can easily reinstall the entire operating system on your Mac without losing any personal data. This is hugely effective at fixing almost every software problem, including those affecting your camera.
As safe as it may be, we still recommend you back up your Mac before reinstalling macOS. That way, your data is safe if anything does go wrong.
To reinstall macOS, open the Apple menu and Shut Down your Mac. After it finishes shutting down, press the Power button, then immediately press and hold Cmd + R to boot into Recovery mode.
In the macOS Utilities window that appears, choose to Reinstall macOS and follow the on-screen prompts. Depending on your Internet connection, it may take a few hours to complete.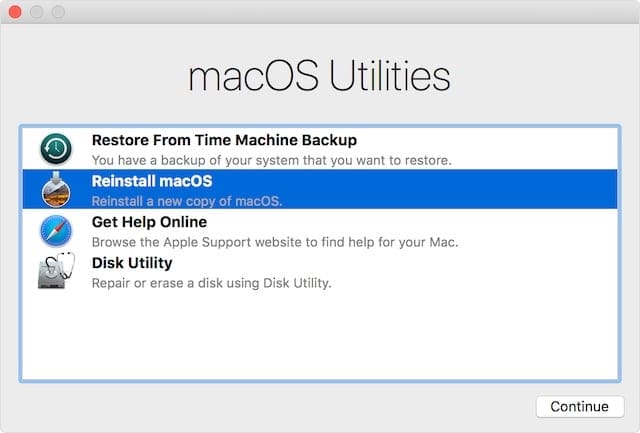 That said, sometimes it's done in twenty minutes.
Use FaceTime from your iPhone
If you desperately need to join a conference call but your MacBook camera isn't working, consider using your iPhone instead. You can join video chats using FaceTime, Skype, WhatsApp, and other services with an iPhone.
You can even start Group FaceTime chats for video calls with up to 32 people in them. Hopefully this lets you keep moving with your day even if your MacBook camera still isn't working.