One of the best features for parents that came with iOS 12 was Screen Time. This helpful tool lets you manage your child's access to apps, schedule their downtime, and block inappropriate content.
Now with iOS 13 comes an enhancement to Screen Time that lets you manage your child's contacts for certain times and apps. This is a terrific way to make sure that your little ones are in contact with people you know on their iPhone or iPad.
Related:
How to manage your child's contacts with Screen Time
Open your device and make sure that you've updated to iPadOS or iOS 13 on iPhone. Then follow these steps to manage your child's contacts.
Open Settings and select Screen Time.
Under Family, choose the child's name.
Tap Always Allowed and enter your Screen Time passcode.
At the top, you'll see a new section called Allowed Contacts. In that area, tap Contacts.
Then pick from either Everyone or Specific Contacts for who you would like your child to have access to.
If you choose Specific Contacts in the step above, you can next select those contacts by tapping Add Contacts.
Pick from either Choose From My Contacts or Add New Contact For [child's name].
Change or complete the contact card and tap Done.
Details on managing your child's contacts with Screen Time
Managing your child's contacts with Screen Time does not mean that you control their contacts list exactly. Here are a few details on how this works.
The contacts that you allow in Screen Time are those that the child can communicate with during the downtime or after app limits have expired.
The apps that this applies to include Phone, FaceTime, and Messages.
If you add a new contact in step 7 above, you'll fill out the contact's card with the details you want your child to have.
If you choose from your contacts in step 7 above, you can add or remove details from the contact card and those changes will apply only to the contact card for your child.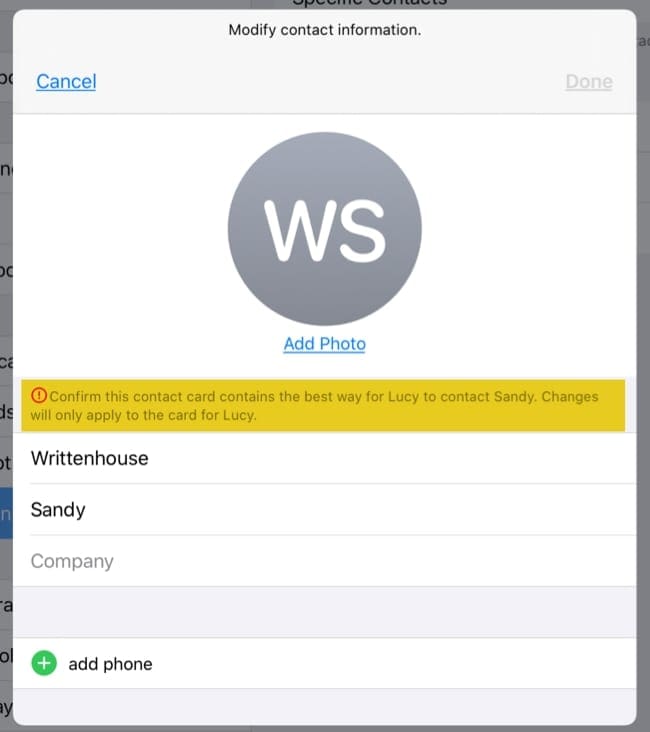 Another way for parents to feel secure
You can't be careful enough these days as an adult, much less as a child. Giving parents the option to manage the people their children are in contact with on their device, during downtime or after app limits, is a good way to help parents feel more secure about their child's screen time.
What do you think about this new iOS 13 and iPadOS feature? Are you planning to use it for your child? Let us know your thoughts in the comments below!
Sandy worked for many years in the IT industry as a project manager, department manager, and PMO Lead. She then decided to follow her dream and now writes about technology full-time. Sandy holds a Bachelors of Science in Information Technology.
She loves technology– specifically – terrific games and apps for iOS, software that makes your life easier, and productivity tools that you can use every day, in both work and home environments.
Her articles have regularly been featured at MakeUseOf, iDownloadBlog and many other leading tech publications.