Several users have reported that their iPad / iPhone home button is not working. They notice that, without any warning signs, their Homes suddenly stop being responsive to touch–any touch, gentle or forceful.
And it's a real problem! For most iDevice models especially those older ones, we use the Home Button all the time!
Before you troubleshoot, make sure you remove any protective films and cases that might block your Home. Make sure these aren't causing your issues.
Related Articles
Recently Fixed or Replaced the Screen?
If your device's screen was recently repaired, it's entirely possible the problem is that the home button was not correctly aligned or paired with the logic board.
If the repair was an Apple Support job, contact Apple immediately and let them know there is a problem with your Home Button not working or malfunctioning since the repair. Ask for a diagnostic.
When a third-party repaired your screen, contact them for further inspection.
First clean the screen, paying particular attention to the Home Button–if you see any dirt or grease trapped in the crevice around the Home Button, try to clean that area thoroughly–you made need a clean screen solution to break down any oil

Make sure your device is off when you clean the Home Button and area around it!

Try "burping" the back of your iPad or iDevice, near where the Home Button is located on the opposite side.

Wrap the iDevice in a towel, then pat its backside (near the Home button) like you are burping a baby–so not too strong but also not too light

Move Safari out of the Dock and then restart your device

Return Safari to the Dock when your home button works again
Recalibrate your Home by doing the following:
Open ANY app
Press down your iPad's or iDevice's Power Button
When slide to power off appears, release power and hold down home
Hold your home button down until the app closes, the screen flashes, and your home screen appears
Try your Home button again and see if it works. If not, repeat the above procedure once more
Perform a Forced Restart (if possible)
On an iPhone 6S or below plus iPads with Home Buttons & iPod Touches, press Home and Power at the same time until you see the Apple logo
For iPhone 7 or iPhone 7 Plus: Press and hold both the Side and Volume Down buttons for at least 10 seconds, until you see the Apple logo 
On an iPhone X Series, iPad with no Home Button, or iPhone 8 or iPhone 8 Plus: Press and quickly release the Volume Up button. Then press and promptly release the Volume Down button. Finally, push and hold the Side or Top button until you see the Apple logo 
Disable Any Accessibility Shortcuts
Tap Settings > General > Accessibility > Accessibility Shortcut (also called in older iOS, Triple-click Home), and uncheck any selections or disable it, so it doesn't show any selected shortcut 
Reset All Settings on Your iDevice
Go to Settings > General > Reset>Reset All Settings.
This action does not delete any data but does return any personalized features like WiFi passcodes, wallpapers, and accessibility settings back to defaults 
Use a Virtual Home Button Instead!
If none of those tips help, add an on-screen Home Button by using your iPad's accessibility setting. Go to Settings > General > Accessibility > AssistiveTouch.
Toggle this feature ON, and then set your Custom Action for a Single-Tap to Home.
Set all other Custom Actions to None. Now that on-screen button is your home button for now. 
Using an Older iOS?
For older iOS that don't see options for custom actions, instead, tap Customize Top Level Menu and set the Home Button as a single icon. 
Can't Restart Your Device Without the Home Button?
If you're having trouble with apps and need to force restart your device but can't, check out this article on How To Restart When your iPhone Home Button or Power Button Is Broken.
iPhone Home Button Not Working 
The Home Button on the iPhone has gone through a series of evolutions over the years. What started as simple mechanism to allow an user to go back to the home screen or assist during a reboot operation, evolved into a home button with Touch ID functionality along with tactile support for the button for the new devices.
This evolved functionality of tactile support and integrated touch-id on the home button sometimes makes it a hard repair if you have issues.
iPhone Home Button Not Working On iPhone 7 or iPhone 8 models
Here is a list of issues to check for when you have issues with your iPhone Home Button. Some of these can be managed via the Settings App while others may require professional repair options.
Touch-ID via the iPhone Home Button Not Responsive 
These iPhone models also included a tactile sensor along with the touch-id functionality for authentication.
Are you experiencing Touch-ID issues on your iPhone? If your touch-id functionality is not working via the home button, it may be a simple setting issue where you may have turned it off by mistake.
Its good to rule this out by verifying it in the Settings app.
Tap on Settings > TouchID & Passcode
Enter your Password
Check if iPhone Unlock is enabled.
Touch-ID on the Home button also doesn't work well if your finger is wet or if the home button has dust on it.
You may want to clean the Home Button on your iPhone as well as your thumb with a clean piece of cloth and then try again.
No Clicking Sound from iPhone Home Button 
If your iPhone is not having any issues with the touch-id functionality but you are unable to feel the 'clicking' sound when you press on it, you may want to explore the taptic settings on your device.
This is where the taptic engine on the iPhone 7 / iPhone 8 variants come into play. In these New iPhone models, the intensity of the home button response can be adjusted. Start by checking it via your iPhone Settings.
Open Settings App on your iPhone
Tap on General > Home Button
Adjust the Home Button feedback intensity here to your preference
Adjust the feedback to level '3' and see if it makes a difference in clicking behavior of the home button.
Home Button Needs Service Message on iPhone 7 or iPhone 8
Apple has engineered feedback on the iPhone 7 and iPhone 8 models, where if there is a hardware issue, it shows the message and automatically sets up a virtual Home Button much like the assistive touch functionality.
You can continue to use this functionality until you take the iPhone to the Apple Genius Store for checking it out.
We wouldn't recommend trying to repair it by opening the iPhone for these advanced iPhones. You are best making an appointment with Apple Support and having them look at it.
The only other suggestion we have when you see this message is to try restoring your iPhone 7/ iPhone 8 into factory settings and checking if it resolves the issue.
iPhone Home Button Broken 
On these new iPhone models such as the iPhone 7/7+ or the iPhone 8 variants, there is not much that you can do other than trying some of the basic troubleshooting procedures to rule out the obvious.
Start with a Simple force restart of the iPhone and see if it fixes the Home Button issue.
Apply Latest iOS Upgrade and Check
If you started noticing these problems following an iOS update to your device, check for any latest pending iOS upgrades and apply them to your iPhone.
Tap on Settings > General > Software Update and if you see a pending update, you can apply the latest iOS update and check if it solves your issue.
Restore iPhone using iTunes 
Here are few ideas that can go a long way to fix Home button issues if it is more of a software related issue.
Start by making sure to take a complete backup of your iPhone
Restore your iPhone by using iTunes and your computer
If a Simple restore didn't yield you the results, you may want to reset the iPhone 7/8 into factory settings and see if it solves your issue
Between the Restore and the Factory settings, the issue is resolved if it is related to iOS software. Here are two guides that walk you through the complete resetting process for your iPhone or iPad
Home Button Hardware Related Issues 
Now, if your home button is not working due to a hardware related issue, you can try some of the basic checks before you look for professional options.
Home Button Contacts and Charging Port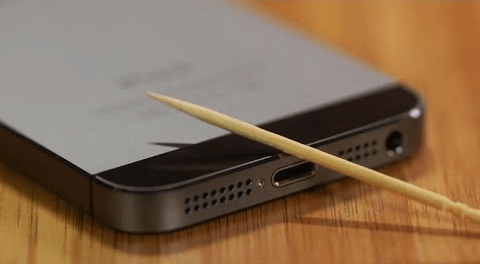 Sometimes, the contacts between the Home button and the rest of the logic board can get loose. Check for the following
Is there any dirt or debris stuck on the charging port of your iPhone
Once you have cleaned the port, try connecting your iPhone to a charging cable and make sure to press it in while keeping the home button pressed
If your Home button starts working, then keep the device on charger for some time and let it charge
If the steps above didn't do much for your iPhone home button, it's probably time to take it in for a professional repair.
Home Button Repair on iPhone or iPad. Here are your Options
If your iPhone or iPad is under AppleCare+, you are in luck. Start by reaching out to Apple support and they will do the needful.
Although there are many repair kits sold online that claim to easily replace the iPhone home button, We can tell you from our experience that replacing the home button on the newer iPhone 7/iPhone 8 or the iPad Pros is not for the faint of heart.
There is a lot of adhesive inside these new iPhone and iPad models that make it extremely cumbersome to isolate the part and replace it yourself.
How Much Does it Cost to Replace the Home Button
On an older iPhone such as iPhone 5 or iPhone 6 models, you can try replacing this yourself if you have some experience in the art.
Here is a sample kit that we found on ebay via iFixit that sells for $40. This is for replacing the home button assembly on an iPhone 6S Plus.
A good number of users who have tried to replace the home button via cheaper options have noticed that their device looses the touch-id functionality after the replacement. Please make sure to check this issue with the repair shop or kit seller before you attempt at replacing.
Please note that you cannot replace the iPhone 7 or iPhone 8 home button assemblies by yourself using DIY kits.
You will need to take it/send it to Apple Support and have them take a look and provide you an estimate.
Apple Repair Cost for Home Button
If your iPhone 7/8 is still under AppleCare+ plan, the repair may cost you about $99. Out of Warranty repairs of the home button may cost you somewhere between $320 and $360 for your iPhone 7 and iPhone 8 models.
The main reason for the high price from Apple is because Apple replaces the entre front assembly in most cases as opposed to just the home button itself.
Third Party DIY Home Button Kits
Things are a little easier when it comes to locating spare parts for the iPad Home Button.
Usually the Home Button assembly is available for $15 and the bracket that holds the Home button can be found for less than $10. It's not the cost of these parts, but the specialized labor involved that makes it harder.
When it comes to DIY repair, you will need to explore the reviews of the offered kit and make your decisions.
Consumers Report had looked at some popular DIY iPhone screen repair kits and found the process to be cumbersome and error-prone.
PRO-TIP:
If your iPhone Home button started having issues after a battery replacement, it is very likely that the home button contacts (there are two gold contacts that are shorted) were not positioned correctly. We have seen this reparability issue when it comes to repairing the Home Button of an older iPad. You may want to take it in to the shop and have them re-check.
If you want to pursue this route, we would definitely recommend starting with iFixit since they have some of the best kits and guides when it comes to DIY repairs for your idevice.
We also suggest that you start with your local Apple store or authorized reseller and get estimates around the repair.
If your iPhone or iPad is old and you are having other issues on it as well besides the Home button issue, you may think about replacing the device with a new or refurbished Apple device.  You should also check if your older device qualifies for a trade-in when buying a new device.
iPad Pro Home Button Feels Hot 
Several iPad Pro users have found that sometimes their iPad's Home button on the iPad Pro 12.9 inch and the recent iPad Pro 9.7 inch feels warm to touch.
Its usually the lower 1/3 section of the iPad Pro that feels warm to touch both around the Home Button area on the front of the display and on the rear side of the device.
If you are seeing this issue with your iPad Pro home button, you may want to restore the iPad Pro using iTunes and check if the problem goes away.
The other major item to check for is the iPad Pro case. Make sure that there are holes in the case to allow for heat dissipation. This is true if you use your iPad Pro for gaming or other resource intensive apps such as video editing et al.
We also suggest that you perform a Network Reset on the device, especially if the heat is related to some Wi-Fi / Cellular issues.
Make a Note of your Wi-Fi ID and password and then tap on Settings > General > Reset > Reset Network Settings.
Once the device starts up, check and see if it makes a difference to the home button issue and warm temperature.
4 key Workarounds for a broken Home Button on your iPad or iPhone 
If your iPad or iPhone's home button is not functioning and you want to wait it out on the repairs, here are FOUR key workarounds that will help you until you are able to repair the device.
The most common option that users use when facing a broken home button issue is to use the Assistive Touch Feature under Accessibility in order to use the Virtual Home Button
The second and a lesser known tip is to use the Five Finger pinch gesture on your iPad to get back to your home screen. This functions almost like a home button. Irrespective of which app you are currently on, use five fingers and perform a pinch gesture on your iPadand it will bring you back to the Home Screen
If you are working on an iPad with broken home button and using a smart keyboard, you can use the 'Command+H'shortcut to access the home screen instead of the Home Button
If your device is on the more recent iOS versions (iOS 11/12), You can use the Settings app to bring up the 'Slide to Power Off Feature'. Tap on Settings > General and scroll all the way down and you will find 'ShutDown' here. Use this to Power off your device
Get Help From Apple!
If the button or switch still isn't working, is damaged, or works intermittently, you might need to set up service for your device. It's possible that your device's problem is due to a hardware defect that requires the Home Button (or its adjacent parts) to be replaced.
Contact Apple Support, then follow the steps to complete a service request.

It's possible that your Home Button is broken and needs repair, usually, your Home Button's bracket comes loose, or the digitizer flex cable is somehow kinked or damaged. If that's the case (or you think it is), follow up with Apple Support or an Apple Service Provider for repair.
If your iPad is still covered by Apple's 1-year warranty or you opted for Apple Care to extend the warranty and are still in that policy's window, take it to an Apple Store for evaluation.
To check your current warranty status, open this check coverage page. You need to enter your device's serial number located in Settings > General > About.
Reader Tips
Try downloading and installing the latest ipsw and do a fresh install on your device (remember to backup all your data via iTunes or iCloud first.)
I restored by iPhone in DFU Mode, and that apparently fixed the problem for me!
Calibrate your home button following these steps:1. Launch any app such as Weather or Stocks that come natively with your iPhone or iPad. 2. Press and hold the Power button until "slide to power off" appears on the screen. 3. Release the power button and then press and hold the Home button until that "slide to power off" slider goes away and all you see is your Home Screen or that App
Obsessed with tech since the early arrival of A/UX on Apple, Sudz (SK) is responsible for the original editorial direction of AppleToolBox. He is based out of Los Angeles, CA.
Sudz specializes in covering all things macOS, having reviewed dozens of OS X and macOS developments over the years.
In a former life, Sudz worked helping Fortune 100 companies with their technology and business transformation aspirations.