You may not know this, but on newer iPhones, the charger and charging cable you use actually make a difference. iPhone Fast Charging has been around since iOS 11.2 in one form or other.
As far as ways to power up your Apple handset, the biggest news for the iPhone 8, 8 Plus and X was the addition of wireless charging. That's a handy feature, but it actually wasn't the whole story.
Apple's latest iPhones actually support fast charging. By the company's definition, that means you can get up to a 50 percent charge in just 30 minutes.
Unfortunately, there's a caveat to the addition of the technology. Here's what you need to know to get the quickest charge possible.st cha
Related Posts:
Fast Charging Isn't Included, Technically
The iPhone 8, 8 Plus and X come with Apple's ubiquitous 5W power adapter and a standard USB Type-A to Lightning cable.
Neither of these accessories allows you to fast charge your iPhone. That's because the fast-charging capability is a result of the USB-C Power Delivery specification. And while newer MacBook devices have switched over to Thunderbolt 3 (which is based on USB Type-C), Apple's lineup of iPhones has not.
In other words, much like wireless charging, you'll need to buy separately sold accessories to access the feature.
How to Get Fast Charging
There are two components to using the fast-charge feature on your new iPhone: the cable and the power adapter.
The Cable
If you want to use fast-charging, you'll need to buy a USB-C to Lightning cable.
Currently, these retail for about $25 for a 1-meter version and $35 for a 2-meter version.
And before you start considering a third-party cable, you should note that we highly recommend buying a first-party Apple cable.
USB-C is an open source standard, but Apple tightly controls the other end of the port: the Lightning standard. It doesn't let third-party manufacturers officially produce Lightning cables, so any cable you pick up is likely to be a knockoff.
We're talking about a technology that delivers lots of charge over a very short period of time. You really don't want to risk damaging your expensive iPhone just to save a few bucks.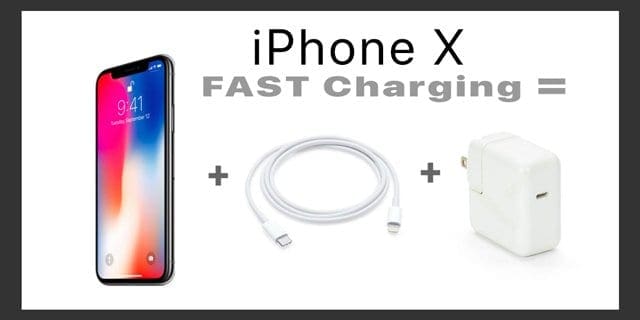 The Adapter
You'll also need a power adapter (or "power brick") that's more powerful than the standard 5W to access fast charging.
Luckily, unlike the cable, you have a bit more flexibility here.
The cheapest first-party Apple charger that lets you access fast-charging is the 29W USB-C charger. Basically, it's a MacBook charger. You can pick one up for $49 from Apple's website. Or you might already have one.
At this point, it's worth noting that you could go for a third-party charger (but not a cable). Again, we wouldn't recommend it as a first choice, but if you want to save a few dollars, it is an option.
But, again, it's not worth risking your iPhone to skimp on a few dollars. If you opt for a third-party charger, check the reviews and go with a larger brand that you trust.
The main thing to remember is to get a charger that's at least in the 27W+ range, or one that specifically claims to support USB-C fast charging.
A (Slower But Cheaper) Alternative
Of course, if you aren't willing to spend money around $74 to unlock your iPhone's fast charging capability, there is an alternative worth mentioning.
It's not quite as fast, and it doesn't truly harness the iPhone 8's and X's fast-charge specification, but it does charge faster than the out-of-the-box 5W power brick.
The standard 12W power adapter that comes with new iPad models is still a fairly quick charge. By some testing results, there's only about a 15-minute difference between it and the $74 option.
The bonus is that you might already have one of these lying around. If not, they're only $19 from Apple — and you can use the standard USB-A cable that came with your iPhone. That'll save you a good $55 from the true fast charging method.
iPhone Fast Charging Methods Compared
Is it really worth it to spend extra cash to get fast-charging? That's up to you, but we can give you the facts on charging speeds.
Several other tech outlets, including MacRumors and AppleInsider, have run their own tests on the matter. Here's roughly what they found.
USB-C Cable to Lightning & 29W Charger. Reached 50 percent charge in 30 minutes. Fully charged in 1 hour and 30 minutes.
Standard USB cable & 12W Charger. Reached 50 percent in 45 minutes. Fully charged in 1 hour, 45 minutes.
Standard USB cable & 7.5W Wireless Charging Pad. Reached 50 percent around 1 hour, 15 minutes. Fully charged around 2 hours, 30 minutes.
Standard USB cable & 5W Power Brick. Reached 50 percent charge in 1 hour, 15 minutes. Fully charged around 2 hours, 30 minutes.
USB-C cable plugged into an iMac. Reached 50 percent charge in 45 minutes. Fully charged around 1 hour, 50 minutes.
Standard USB cable plugged into an iMac. Reached 50 percent charge around 1 hour. Fully charged in 2 hours, 15 minutes.
As we noted above, a standard USB Type-A cable and a 12W iPad Pro power brick is only slightly slower than true fast-charging via USB Type-C. That bodes well for users who have a 12W adapter lying around.
But still, the fact remains that newer iPhones support true fast-charging — that hints that it's probably only a matter of time before the accessories that come with iPhones catch up to that.
iPhone Fast Charging Not Working? No Double Beep?
We tried out fast charging when iOS 11.2 was released. The most common issue that we have heard around fast charging not working from our readers is the double beep issue.
Fast charging usually starts when your batteries are super low. This is when you hear the double ding while connecting the 29 W charger and USB-C/Lightning cable. (Usually when your battery is lower than 20 – 25%)
The best experience so far with fast charging has been to use the29w Macbook charger + USB-C to lightning cable. The Apple USB-C to Lightning cable works the best in this scenario.
Please note that Fast charging automatically slows down when the charging percentage reaches 80%. It's not a bug with the feature.
On iOS 12 Beta, the double ding has been missing for many users although the fast charging was happening. Charged to 50% within 30 minutes without any issues. If you are missing the double beeps with iOS 12 Beta,  it may not be an issue.
Here are some Steps you can try
Unplug the USB-C to Lightning cable from the Apple power brick. Plug the power brick in the outlet.
Wait 1 minute.
 Plug the C connector into the power brick. Don't plug the lightning connector into the phone just yet. Leave the cord in and wait 1 minute.
Now, plug the lightning connector into your phone.
Many readers found that the steps above yielded the double ding sound.
Majority of the fast charging issues are related with faulty cables as opposed to the charger.
Check the cable tips and see if there is any oxidization. You may want to replace the cables if you see any wear and tear.
The other issue that can cause fast charging to not work is related with the iPhone charging port itself.
You may need to clean the charging port. One rule of thumb we use is when ever Apple releases a major iOS update, we time the cleaning of the ports and the device, and the non-essential apps with the release. It becomes more of a maintenance habit to keep your idevices in top shape.
Lastly, switch on the Airplane Mode on your iPhone when charging the device. That really helps in charging it up faster.
We hope that you found this article helpful. Please let us know in the comments below if you have any questions or comments.
Mike is a freelance journalist from San Diego, California.
While he primarily covers Apple and consumer technology, he has past experience writing about public safety, local government, and education for a variety of publications.
He's worn quite a few hats in the journalism field, including writer, editor, and news designer.