Not every website has a dedicated app, but you don't need to let that stop you adding it to your Home screen. That way, you can easily get quick access to your favorite sites with the tap of a button.
It's easy to pin website shortcuts to the Home screen on your iPhone, iPad, or iPod touch. Create as many shortcuts as you like and rearrange them like you would any other apps on your device.
When you tap a shortcut it opens in Safari on the exact page you saved. Here's how to make them.
Related:
Step 1. Load the website in Safari
Open Safari on your iPhone, iPad, or iPod touch and navigate to the page you want to save a shortcut for. Whichever page you navigate to is what Safari opens when you tap the Home screen website shortcut.
Any changes you make to the webpage in Safari save to the shortcut you create. For instance, if you tap the Aa button and request a desktop version of the site, that's what loads whenever you open the shortcut from your Home screen.
The same goes for Reader View, font size, and ad blockers (if you have one).
Tap the Share icon at the bottom of Safari. This looks like a box with an arrow pointing out the top of it.
If you can't see the Share icon, scroll up or tap the bar at the top of Safari to reveal it.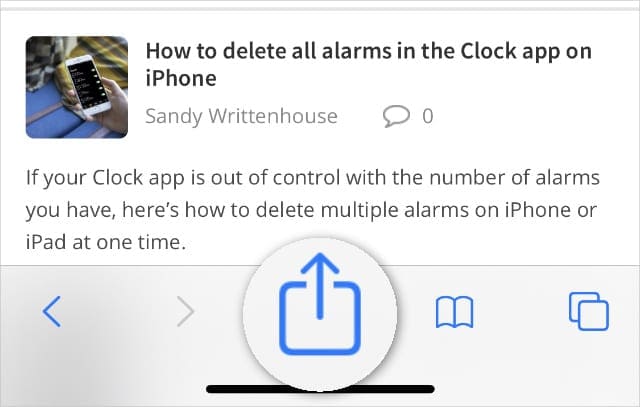 At the bottom of the Share Sheet, beneath the app icons, you should see a list of actions. This list typically starts with Add to Reading List or Add Bookmark.
Scroll further down to reveal more actions and tap Add to Home Screen to create your website shortcut.
If you can't see an Add to Home Screen action, scroll to the very bottom of the Share Sheet and tap Edit Actions.
Add to Home Screen should be listed beneath the Safari heading on this screen. Tap the Add button next to it to save that action to your favorites.
Older versions of iOS featured an Add to Home Screen icon in the second row of the Share Sheet. It looked like a gray box with a plus icon in the middle.
Step 4. Create a name and save your website shortcut
After tapping Add to Home Screen, choose a name for your website shortcut. This name displays beneath the website icon on your iPhone, iPad, or iPod touch Home screen.
When you're finished, tap Add in the top-right corner to create your shortcut.
Step 5. Rearrange the website shortcut on your Home screen
Your website shortcut appears in the next available space on your iPhone, iPad, or iPod touch Home screen. You can identify it by the name you gave it and the website icon.
Tap and hold your new website shortcut—or use 3D touch, if your device supports it—to reveal more actions. Choose Edit Home Screen, then drag your new shortcut wherever you want it on the Home screen.
You can even save it to the dock if you want to!
Can I save shortcuts for Chrome, Firefox, or other browsers?
Unfortunately, it's only possible to save website shortcuts to your Home screen from Safari. This is another of Apple's limitations when compared to Android devices.
It's also not possible to set other apps as your default web browser. Although you can share web pages to them from within Safari.
To do this, tap the Share icon in Safari and select your app of choice from the second row of icons on the Share Sheet.
If the app you want to use isn't in the list, tap More from the far-right. Tap Edit from the list of apps and hit Add next to the app of your choice to add it to your favorites.
Safari is even better in iOS 13
You can't save websites to your iPhone, iPad, or iPod touch Home screen from other browsers. But maybe you can get on board with using Safari. After all, it gets better with every iOS or iPadOS update.
Take a look at how Apple improved Safari with iOS 13 and let us know your thoughts in the comments!