Getting our iPhones, iPads, and iPods to connect to the internet using WiFi is a fundamental part of our mobile experience. So, when WiFi isn't working or is grayed out, it makes our devices almost useless!
If you just discovered that your iPad's or iPhone's WiFi is grayed out and you can't get it to toggle on, we've got you covered with our top tips on how to fix WiFi problems on your devices!
Try these quick tips when you discover your iPhone's or iPad's WiFi is grayed out
Check that Airplane mode is off
Reset your device's network settings
Check for any liquid damage
Related articles
What do you do when your iPhone WiFi button is greyed out? Potential Fixes!
Update your iOS, if available
Reset network settings (General>Reset>Reset Network Settings)
Toggle Airplane Mode and Do Not Disturb on/off by going to Settings > Airplane Mode ON and Do Not Disturb ON > Turn Off Phone > Leave for 15min-20min > Turn Phone Back On > Turn Off Airplane Mode and Do Not Disturb > Turn WIFI ON. 
Turn off Cellular Data (Settings > General > Cellular) then try to connect to your WiFi
Reset your WiFi router–usually be unplugging, waiting a few minutes, and plugging it back in. Check with your router's manufacturer or internet provider for exact model directions on how to reset your specific router
Check for liquid damage
If your iDevice recently took the plunge and got wet or soaked, it's possible that there was some internal damage done to your hardware and your buttons.
So, check for water damage and take a look at your device's Liquid Contact Indicator (LCI)
Most iPhones have the LCI in or around the SIM card port.
The LCI activates when it contacts water or a liquid. The indicator's color is ordinarily white or silver, but turns red when it touches any liquid.
If you discover liquid damage, contact Apple or your carrier to see what your options are.
Restart your device
On an iPad with no Home Button and iPhones X or later: press and hold the Side/Top/Power button and either volume button until the slider appears
On an iPad or iPhone with a Home Button and iPod Touch: press and hold the Side/Top/Power button until the slider appears
Drag the slider to turn the device off and after the device turns off, press and hold that Side/Top/Power button again until you see the Apple Logo

Restart your phone to fix many software issues
With iOS 11 and above, restart using Settings > General > Shut Down

Reset All Settings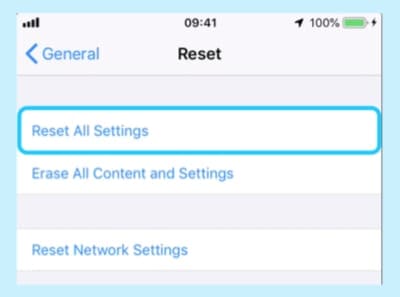 This is usually the last resort since it resets all your personalized features back to factory defaults.
Go to Settings > General > Reset > Reset All
This resets to default everything in Settings, including notifications, alerts, brightness, and clock settings like wake up alarms. Resetting all settings also reverts all your personalized and customized features like wallpapers and accessibility settings back to factory defaults. Performing this action does not impact any of your personal device data, including photos, texts, documents, and other files. You will need to reconfigure these settings once your iPhone or iDevice restarts.
My WiFi is still grayed out! Now what?
If you tried all the tips above and your WiFi is still grayed out, it's time to look at your device's hardware for a problem. It's likely a hardware issue at this point and that means you need to contact Apple or an authorized Apple Service Center.
If your device is under Apple Care+ warranty, Apple will likely replace your phone or device.
If your device is no longer under Apple Care+, then it's still worth it to contact Apple Support. They may offer you replacement options at prices lower than retail.
When you suspect hardware is the problem, set-up an appointment with your nearby Apple Store or visit the Apple Support site and start the repair process online.
Obsessed with tech since the early arrival of A/UX on Apple, Sudz (SK) is responsible for the original editorial direction of AppleToolBox. He is based out of Los Angeles, CA.
Sudz specializes in covering all things macOS, having reviewed dozens of OS X and macOS developments over the years.
In a former life, Sudz worked helping Fortune 100 companies with their technology and business transformation aspirations.