When trying to sync your iPhone or another iDevice to an Exchange account, are you getting an "Unable to Verify Information" error? Was Exchange working with your old iPhones and iPads but now after updating to the latest iOS, it no longer works?
Well, you are not alone. Several readers report that they are getting this error message when setting up a work email on the iPhone, iPod touch or iPad and trying to synchronize their iOS device with an Exchange server. Other readers are seeing a slightly different error "Exchange Can't Verify Server." If you are having one of these errors, give these tips a go and see if one works for you.  Try them one at a time–not all at once.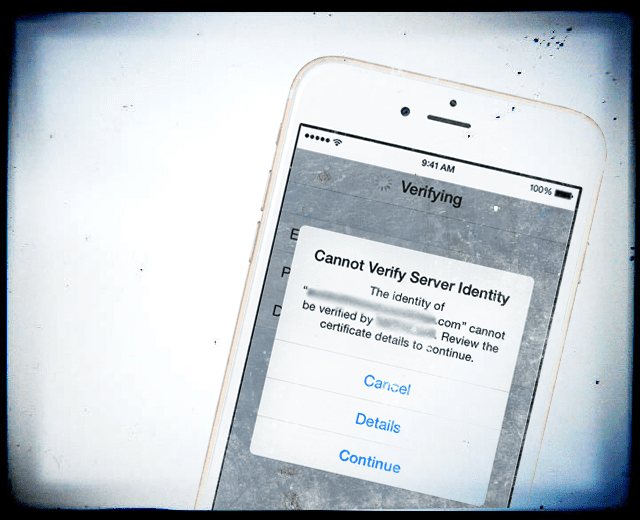 Note: Make sure that your credentials are correct. To check, just visit the web access and verify your credentials. For instance, sign in to your account using Outlook Web App and click the drop-down arrow next to the Help question mark, and then click About and verify the server name.
If you are using Office365, disabling and re-enabling Exchange Activesync on the user's mailbox often resolves this issue.
Quick Tips

 

 
Create a new password on your account using a web browser (not an app)
Delete Exchange Account and then add it back
Use Mobile Data and turn off WiFi
Add domain name+/  to your username
Turn off SSL
Change your exchange password
Reset network settings
Related Articles
 
What's an Exchange Account Anyway?
An exchange account is an email-based collaborative communications server for organizations. It uses a syncing style similar but not the same as IMAP to sync emails, contacts, calendars, and other features. Exchange's syncing feature is called "Exchange ActiveSync." And the most typical email clients used for Exchange are Microsoft's Outlook.
The biggest difference between IMAP and Exchange are the servers that store email. IMAP uses a remote mail server, while Exchange users Microsoft Servers. When you add an Exchange ActiveSync account, your Mail, Contacts, Calendars, Reminders, and Notes all sync to your iPhone or iDevice.
How Exchange Connects to iPhone or iDevice
Typically, your iDevice finds your Exchange Server with some basic account information. However, you might need to enter additional server information. Contact your Exchange Server administrator if you need specific details and information, such as Server and Domain info, to connect your iDevice to your company's particular Exchange Server.
Editing your Exchange settings
Tap Settings > Accounts & Passwords (or Mail for older iOS), and select your Exchange account. Then tap Account Info to edit your configuration. This is also where you set up automatic out-of-office replies and change how often you want Mail to sync. By default, Mail syncs every seven days, so chances are you want to update this setting.
Unable to Verify Information: Before You Try Anything, Try This
Deleting your Exchange account and add it back again

Go to Settings > Accounts & Passwords (for older iOS: Mail) > Accounts > Tap Exchange Account > Delete Account
Next, reset your wireless network. Go to Settings > General > Reset > Reset Network Settings
Restart your device by pressing and holding the Sleep/Wake button until a red slider appears and slide the slider. Then turn your device on by pressing and holding the Sleep/Wake button until the Apple logo appears
Enter WiFi credentials and passwords again if requested
Add your Exchange Account again, go to Settings > Accounts & Passwords (for older iOS: Mail) > Accounts > Add Account

If you see a prompt that asks "Cancel, Trust or Continue," select TRUST
Check Cellular Data
 Check Settings->Cellular->Scroll Under "Use Cellular Data For" and make sure both "Mail" and "Settings" is enabled
Visit Outlook.com
Go to outlook.com and generate an app password under the security settings
Check Your Active Directory
Reader Dave provides a great tip: another place to check is in Active Directory. If your company uses the "Log On To…." security option on the account tab, be sure that the user(s) has the rights to access your mail server(s)
Toggle Connections ON or OFF
Toggle Airplane Mode ON and OFF
Turn WiFi OFF and add your account using Mobile Data instead
Look at Your Domain
"Domain" field may not be necessary.  Leave it blank and try again
For username, add the domain name first, e.g., domain name/username

Make sure you use the format domain name + / (forward slash)–some folks use domain name + \ (backward slash) which does not work
Turn Off SSL
Go to Settings  > Accounts  & Passwords (for older iOS: Mail) > Account > Exchange account > Account > Advanced. Turn OFF USE SSL
Tap OK on Error Message
Remove your existing account

Enter again your account details
When you receive 'Unable to verify' pop up message, tap OK and add this account anyway
Tap Settings  > Accounts & Passwords (for older iOS: Mail) > Exchange account > Account and turn off "Use SSL" and tap Done
Manually Enter Your Account's Server Information
On the error message, tap OK
Tap Save (you might need to do this three times)
In the Exchange area, next to Account, tap your email address
Enter your email address & server address

Leave Domain blank

Enter your username (usually your email address)
Enter your password
Tap Done
Keep Passwords Short & Simple
It may be that your email password is too long. Try to change your password to a shorter one and try again
Your password may be expired or out of date. So create a new password

Do not include a special character in your password
Using Employer VPN?
If your company requires a VPN to access the Exchange server, contact your IT department for assistance
Reader Tips 
I solved it by deleting the entry with my iPhone on the office365 server under Settings > Mobile Devices. After that, I restarted my iPhone and recreated the exchange email account
Go to your Office 365 account using a web browser (not an app) and follow these steps:

My Account > Security & Privacy > Additional Security Verification
Select Create and manage app passwords
Tap Create to create a new app password
Office 365 generates a new password specifically for your app

Disable WiFi and use your mobile data network to connect to the Exchange Server to resolve this issue
I had this problem, and I solved it by going into Settings> Mail> Accounts> selecting the problem account. Then selecting Advanced and unchecking Use SSL in incoming settings
I changed my password to something simple, and my iPhone was able to connect on the first try
Go to Settings>General>Reset>Reset Network Settings. Reboot. Try Exchange. This worked for me, and there was no need to turn off WiFi or SSL
Disable the two-step verification under security settings in Outlook
Change the default account to the email account you are having a problem with. Go to Settings > Mail and scroll all the way down to Default Account. Update this to the email account that's giving you issues
Launch Safari and navigate to the https URL of the server address. You are prompted with a security warning. Select details then Trust at the top right corner. Close Safari and run through your email wizard again or just re-enter your password if your account is already saved. You should now have the option to press continue for this server
Delete the Email Account that's giving you Trouble. Then go back to Settings> Mail  > Accounts then click on another email account that you have on there. Tap on that account then Outgoing Mail Server. After getting to the Outgoing Mail Server, tap on the email that you deleted in the first step and then scroll down and Delete the Server! Finally, add your email account and the Continue will pop-up to Verify Server
Jon found success with the following steps (follow exactly):

Add an exchange account
Add the ALIAS email from exchange and not the email address (i.e., [email protected])
Find this in the admin center of office365. It then says can't verify…. but provides another box
Put the EMAIL address in here [email protected]
Set in Exchange Account settings as follows
Email: The usual full email address of the user
Server: complete name (mail.servername.com)
Domain: fill this in with your domain name
Username: Enter your SHORT name here not your full email address (what's before the @____.com)
Password: your user password
Turn SSL ON, and S/MIME is OFF