Does this situation sound familiar?  You go to iTunes to play your favorite album or artist, only to discover that while your music is there, many of the tracks are grayed out! If you experience the problem of iTunes songs greyed out and found out that you cannot play any of those songs, it's a very inconvenient truth and super frustrating. Several users have experienced this with iTunes 12. The majority of the time, you solve AND fix these issues simply except in cases when you have unsupported formats or DRM protected tracks. Let's explore a few option to help you resolve the problem of your iTunes songs grayed out.
Related Articles
Fast Track 
Check for DRM protection and unsupported formats
Right-Click song(s) to Check (or Tick) Selection(s)
Download the song(s) again
ReSync your iTunes Music to your iDevice
DeAuthorize and then ReAuthorize iTunes on your computer
Using Apple Music Subscription Service?
If your songs appear in light gray text, there are a few reasons.
You're not connected to iCloud Music Library

If you see a Disconnected icon in the upper-right corner of iTunes, you're not connected to iCloud Music Library. Click the icon to reconnect.

The song isn't in Apple Music or isn't available in your current country or region
You have Restrictions turned on for explicit lyrics
There are changes or edits to an album.

Delete that grayed out album from your library and add it back from the Apple Music catalog
iTunes Songs Greyed Out: Check the Audio Format of the problem track
If you are unable to play certain tracks, it may be that they are unsupported formats or DRM protected tracks. To check this issue, navigate to iTunes and select the track you are unable to play. Right- Click and choose Get Info. Under the File tab, look for Kind. If your song is of an unsupported type or DRM protected you will see "Protected" next to Kind.
When you encounter this issue of DRM protected tracks, there are a few options for you to consider. The first is to explore if you want to upgrade your iTunes account to subscription-based iTunes Match service or subscribe to Apple Music.
iTunes Match and Apple Music are both subscription services. iTunes Match stores all your music DRM-free in iCloud, including songs imported from CDs or music not purchased in the iTunes Store. With iTunes Match, all your iCloud stored music is available to you at any time on up to 10 of your devices and computers. This service should convert the majority of your protected songs, but it's are not always 100% perfect. So be mindful before tossing away all your CDs etc.
On the other hand, Apple Music provides you access to Apple's full music streaming catalog with no device restrictions. Play any song in Apple's Music Catalog, whether your own it or not as long as you continue your subscription.  All Apple Music is DRM-protected.
Both services use iCloud Music Library to store your music.  Since iTunes is DRM-free, all of your downloaded songs remain playable after your iTunes Match subscription ends. Not so with Apple Music–you're only able to play that music as long as your Apple Music subscription is active. And that's the biggest difference between iTunes Match andApple Music.
iTunes Songs Greyed Out: Check your iTunes Settings
There is this setting in iTunes that seems to get somehow switched on and causes your songs to gray out. Right-Click on the particular song(s) that you have a problem with iTunes. At the bottom of the menu, you find a setting that says Check Selection (or uncheck selection.) You may see it called Tick (or Untick) Selection instead—either way both tick and check function the same way.
Click on this Check Selection (or Tick Selection) option, and you should be able to play the song and add it your playlists, etc. This is a small setting, but it is not very noticeable. So, we added a screenshot below to show you how to access this setting for your track(s).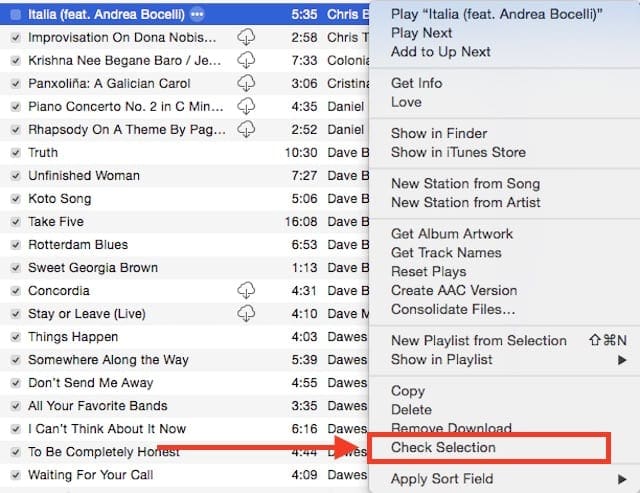 iTunes Songs Greyed Out: Re-download the Song
A straightforward approach to playing the grayed out songs is to check if the particular track in question was purchased by you in iTunes. If you had purchased the song before, then proceed to delete the song and redownload it from the purchased section in iTunes. This is known to have fixed many issues related to iTunes songs grayed out. Click on iTunes Store on the top right. Next click on your account and from the drop down you will find the purchased option. you can reinstall the song from here and test it see if it pays properly.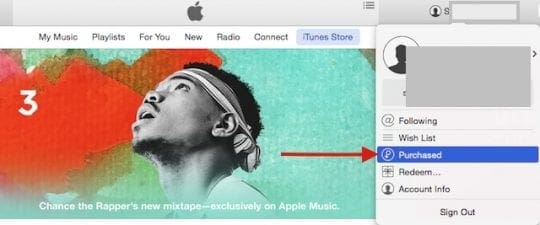 iTunes Songs Greyed Out: ReAuthorize
If the steps above did not resolve your problem, you can try this option before calling Apple support. Sometimes iTunes "forgets" that your music is authorized. You can refresh the authorization by de-authorizing and then re-authorizing your computer. In order to de-authorize your computer in iTunes, Click on the Store Menu option on the top of iTunes. you will find both these options here. Proceed to de-authorize your computer, then sign out of iTunes from your account.  Restart your computer, Log in to your iTunes account and re-authorize your computer back in iTunes. This can resolve many issues associated with iTunes problems.
iTunes Songs Greyed Out:  On your iPhone or iPad
If you are facing the issue on your iPhone and iPad, you can follow the same step as above which is to try deleting the song and re-installing it. To accomplish this on your iPhone, Tap on Settings > General > Storage > Music. For older iOS go to Storage & iCloud usage and under storage choose Manage Storage.
Select Music and tap edit. Next, tap the symbol on the left for all songs and select Delete. This deletes all your songs from your iPhone. If it works correctly, you should see that your storage is freed up quite a bit on your phone depending on how many songs you have on the device. Next Sync your iPhone to your iTunes and this re-installs all the songs. Hopefully, at that point, you've resolved the problem.
ReSync Your Music
This problem often occurs because of a syncing problem. If you removed some songs from your computer in methods other than iTunes, when you sync iTunes music with your iPhone, those removed songs show up as missing (and therefore are grayed out.) First, before connecting your iPhone, delete the grayed out songs from iTunes and then refresh your iTunes library and playlists and ensure all songs are available. Finally, resync again using your lightning cable NOT WiFi.
Other possible solutions
Enable Use Cellular Date for iTunes. Go to Settings > iTunes & App Store > Toggle ON Use Cellular Data. If you don't want to use Cellular Data when connected to WiFi download all the songs you want by tapping on the cloud icon to the right of the track's name
Sign Out of iTunes on your iPhone, wait 30 seconds or more, and sign back in. Go to Settings > iTunes & App Stores > Tap your Apple ID and choose Sign Out
Uncheck Sync Music on iTunes. Now, sync your iPhone to iTunes. Unplug your iPhone and then restart it. After restarting, plug your iPhone back into your computer (with iTunes open). Wait for a backup or manually make a backup. Now re-check the box to Sync Music and click on the Sync button
Re-sync all your iTunes music by going to Settings > General > Storage ( for older iOS, Storage & iCloud Usage >Under STORAGE, Tap Manage Storage) > Music.  Now delete all your music and resync with iTunes

One of our readers, Cijidunne, discovered a strange but successful way to get songs back. So why not give this reader tip a try. First, CTRL+ SHIFT and select on ALL UNCHECKED songs. Then go back, do ANOTHER CTRL+SHIFT and RECHECK all those same songs. As Cijidunne reported, all of a sudden the playlist was no longer grayed out and even synced to the iPod just dandy!
When you view by songs in iTunes, notice that the ones that are greyed out are the ones that aren't checked. Select all, Ctrl click, and select check selection
Turn OFFAuto-Synching in iTunes on your computer
Beth looked at her complete music list as 'songs' on the top left and discovered that all gray ones were unticked! So she 'selected all' and then 'ticked' the selection so every song was then ticked. Graying problem now solved even with home recordings and old CD's etc etc. x
Open your iPhone in iTunes (plug it into your computer via USB)

Go into the Summary menu (this is the main screen for the iPhone in iTunes)
Check the Manage Music Manually button. What happened here for me is iTunes said that multiple libraries cannot sync
Click Apply. Click Sync
After it syncs, go to the On My Device area and click Music
Right click on grayed out music and delete the tracks

Unplug the phone from the computer, make sure the music app on the phone is closed (force stop it) and then plug it back in. Without reopening the app begin copying the songs from iTunes onto the phone. You should see a blue progress bar at the top of the screen under the song info showing they are being copied. This bar does not show up if they are not being copied correctly. I have not had a single problem since doing it like this. Hope it works for you as well.
Wrapping it up
We hope that this article helps to solve this issue of iTunes songs greyed out . If you find a better or an easier way to resolve this issue, share it!  That's how we all learn and troubleshoot–the power of many.