What's better than an Apple HomePod smart speaker? Two HomePod speakers paired for stereo, of course. Unfortunately, problems do occur when using stereo with the device. Here are some troubleshooting tips to resolve whatever issue you might be having with you HomePod Stereo setup.
Creating a HomePod Stereo Pair
To create stereo sounds with two HomePod speakers, you must first pair them. You can do so using your iOS device or with your Mac.
Note: Before getting started, be sure that your Apple HomePod is using the latest software version.
Setup Your Speakers in the Same Room
Regardless of the method you choose, the speakers you wish to pair must first be located in the same room in the Home app. To do this:
Tap on the Home app on your iOS device.
Press and hold the icon representing HomePod, then tap Settings.
Select Room, then choose the location of your speaker.
Tap Done.
Repeat Steps 1 through 4 for the other speaker and make sure you choose the same room.
Recommended:
Stereo Pair
Once the HomePod speakers are located in the same location:
Open the Home app, press and hold HomePod
Tap Settings.
Tap Create Stereo Pair.
Choose a second HomePod to use as a stereo pair.
Tap a HomePod on the right or left side to identify it.
Select the Identity Swap icon to swap them to the correct left and right channel.
Tap Back, then Done.
Your two HomePod speakers are now paired.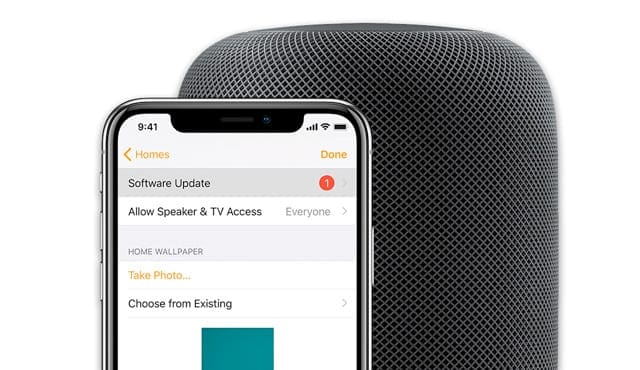 Troubleshooting HomePod Stereo Pairing
Perhaps the most prevalent problems some folks have with HomePod stereo pairing is that the sounds aren't synced properly and you experience a reverb/echo effect between the two devices. When this occurs you can try the following:
Use another app: Go to a different app on your device which uses HomePod and see if the problem has been corrected. This usually restores sync.
Reboot: You can also restart both HomePods and see if this helps.
Check Your Software Version
As noted above, make sure both HomePods are using the latest OS update that supports AirPlay 2.
Re-Pair or Reset
When you've run out of things to try, you can always unpair and re-pair the HomePods. If that doesn't work, you can also reset both. Neither process takes very long to accomplish.
To unpair on your iOS device:
In the Home app, press and hold the grouped HomePod speakers.
Tap Settings.
Scroll to the bottom and tap Ungroup Accessories.
Repeat the steps mentioned above to re-pair the devices.
To reset your HomePods, on your iOS device:
Open the Home app.
Press and hold HomePod, then tap Settings.
Scroll to the bottom and tap Remove Accessory.
You can also reset your HomePod manual on the device:
Unplug HomePod, wait five seconds, then plug it back in.
Wait five seconds, then touch your finger to the top of HomePod and hold it there.
The white spinning light will turn red. Keep your finger down.
Siri will say that your HomePod is about to reset. When you hear three beeps, you can lift your finger.
Using Infuse?
Since HomePod stereo pairing was introduced in 2018, it seems Infuse Apple TV users have been reporting issues. Unfortunately, it appears this issue has persisted for some users, depending on what they're doing. If you are having an issue, you're asked to contact FireCore by opening a support ticket.
Return Your HomePod
If you recently purchased a new HomePod specifically to pair it with another to create stereo and it doesn't work, return it. You could have a bad HomePod, and it might not be worth your time to troubleshoot it even further.
Contact Apple
When in doubt, contact Apple support to resolve this issue. Apple provides chat and phone tech support 24 hours per day, seven days a week. Each HomePod speaker comes with free unlimited support for 90 days after your purchase. If you purchased AppleCare+ for the speaker, you'll get an additional two years of support for $39.
Have you had stereo pairing problems with your HomePod speakers? What did you do to resolve the issue? Let us know below.