Adverts, adverts, adverts! Pop-ups are annoying as heck and it's no wonder they're blocked by default on Safari. Gone are the days of constantly closing new browser windows or hunting through the mess of pop-ups for the advert that's blaring through your speakers.
That being said, pop-ups were developed for a reason and as hard as it may be to believe … sometimes we need to use them.
Online support chats, banking verification windows, interactive games, and even some job applications. All of these websites make good use of pop-ups in one way or another. But when Safari blocks every pop-up, many of these websites cease to function.
That's why we've put together this simple guide that shows how to allow Safari pop-ups on any Apple device.
Related Posts:
How to turn off Safari's and disable the pop-up blocker on Macs

Macs give you the greatest level of flexibility for pop-ups, allowing you to save specific websites to enable pop-ups for.
Additionally, you can choose from three pop-up options: allow, block, or block and notify, where the last option displays an icon in the Smart Search field whenever a pop-up has been blocked.
How to allow pop-ups in macOS
Launch Safari
In the menu bar, go to Safari > Preferences or use the key command: ⌘
Go to the Websites tab and select Pop-up Windows from the sidebar
Choose the pop-up settings for any currently open or previously edited websites
Choose Safari's default pop-up where it says: When visiting other websites
Select the Allow option for sites you want to pop-ups to appear and choose Block and Notify for all others (you can change this setting later for sites you want to allow)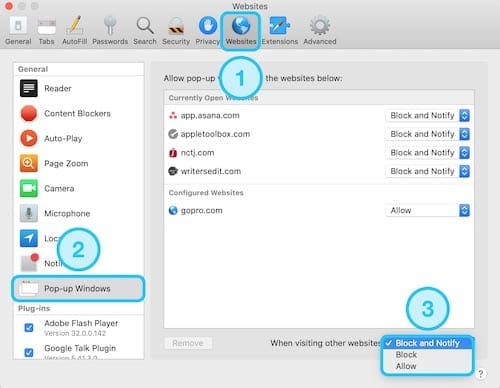 Close Safari and relaunch and visit the site again, that Safari blocked the pop-up
Allow Safari pop-ups on iOS and iPadOS
iOS on iPhones and iPods and iPadOS on iPad allow you to enable Safari pop-ups for all websites but don't let you customize specific website settings like on a Mac.
As a result, you'll probably want to manually revert the pop-up settings once you finish using any particular website. Otherwise, you may find yourself inundated with a lot of advertisements or even pop-up scams!
You can access all your open browser tabs and pop-ups using the Open Tabs button in Safari, shown by two overlapping squares in the bottom-right corner.
How to allow pop-ups in iOS and iPadOS:
Launch the Settings app and scroll down to Safari
Turn on or off the Block Pop-ups switch

Turn off the Block Pop-ups button in Settings.

Revisit the site where Safari blocked a pop-up–it should now load. If not, restart your iDevice and go to the site again
If any other pop-up issues pop up, pop an explanation in the comments below and we'll see what we can do to help. 
Reader tips
You can also use Terminal to how to turn off Safari's pop up blocker on Mac and disable it for good. Use the command:

defaults write com.apple.Safari com.apple.Safari.ContentPageGroupIdentifier.WebKit2JavaScriptCanOpenWindowsAutomatically -bool true
If you decide you need to turn it back on, you can re-enable Safari's pop-up blocker with this Terminal command:

defaults write com.apple.Safari com.apple.Safari.ContentPageGroupIdentifier.WebKit2JavaScriptCanOpenWindowsAutomatically -bool false