Personal hotspot is a handy feature that lets you share your iPhone's cellular data connection with other devices like MacBooks or iPads. That is, it's handy when it works.
According to some reports online, iOS 13 and its subsequent point releases may be causing issues with personal hotspots.
Related:
Here are a few ways to fix the problem.
How to fix personal hotspot issues in iOS 13
It isn't clear what's causing the hotspot connectivity issues, but it seems to be tied to a problem in iOS 13. Since we don't what's causing it specifically, we can't pin down an exact fix — but we can run through some basic troubleshooting steps.
Basic troubleshooting
First, power down and restart your iPhone. This is always our recommended step one to fix basically any issue on an iPhone.
Then, check that Personal Hotspot is enabled on your device. You can see if it is in Settings > Personal Hotspot. You can also check your carrier's support page to see if they have any supplemental information.
Note that if it doesn't appear, your carrier may have disabled the functionality. Give them a call and see if it's enabled on their end.
Lastly, it's always recommended that you update to the latest available version of iOS — particularly with iOS 13. There may be a software update that fixes this bug. You can update by going to Settings —> General —> Software Update.
Using a Dual SIM or eSIM enabled iPhone?
On iPhone models with eSIM/Dual SIM, the Personal Hotspot feature uses the line you selected for cellular data.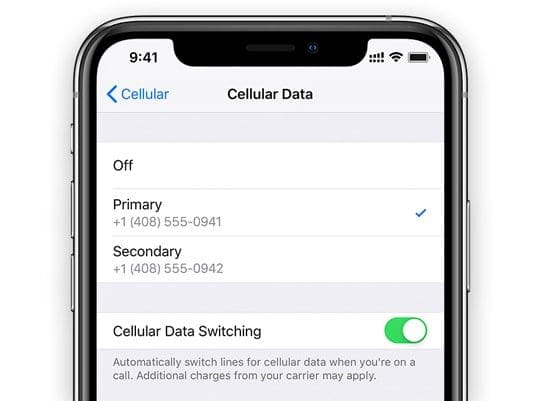 If you have both lines turned on using the Allow Cellular Data Switching toggle, personal hotspot uses the mobile network that your iPhone defaults to based on coverage and availability.
Check your connection
If that doesn't fix the issue, there may be a problem with either device that you're attempting to pair.
For connecting via Wi-Fi.
On your cellular device, head to Settings > Personal Hotspot. Make note of the Wi-Fi name and password.
Stay on this screen on the cellular device.
Go to the device you'd like to pair and turn Wi-Fi off and on.
Connect to the cellular device's Wi-Fi network.
Type in the password correctly.
You can also try connecting via Bluetooth.
On your cellular device, head to Settings > Personal Hotspot. Make note of the Wi-Fi name and password.
Stay on this screen on the cellular device.
On your device, you'd like to pair, make sure Bluetooth is enabled.
Then, head to your Bluetooth settings menu. (Settings > Bluetooth for iOS devices, Apple menu > System Preferences > Bluetooth for macOS devices.)
Select the cellular device.
For the best results, make sure both Wi-Fi and Bluetooth are enabled. It's also worth enabling and disabling both Wi-Fi and Bluetooth on both of your devices.
If you're attempting to share a cellular connection to a Mac or Windows PC, it may also be worth trying to set up Personal Hotspot via USB cable.
For this, just plug your device in and head to the Network options on your computer. If this works when other steps have failed, there may be an issue with your cellular device's wireless chips.
Other troubleshooting tips
If none of these previous steps work, then you may want to reset your network settings. Head to Settings —> General —> Reset —> Reset Network Settings.
Some users have also reported success by logging out of their iCloud account and then logging back in.
You can do that by opening the Settings app, clicking on your Apple ID profile card at the top, and then scrolling all the way to the bottom. Tap on Sign Out. Then, sign back in.
Note that this won't cause you to lose any of your data. Even if this step appears to delete some data, that data will resync on your device once you log back into your iCloud account.
We hope that you were able to address your personal hotspot issues on iOS 13 with some of these tips. Please let us know if you have any questions or if there are some tips that you would like to share on what worked for you.
How to see how many devices currently connect to your iPhone hotspot?
To see the number of devices presently connected to your iPhone's Personal Hotspot, open Control Center and press and hold the Connections tile (the one with the icons for WiFi, Bluetooth, and Airplane Mode.)
Find the number of connected devices displayed just below the Personal Hotspot icon.
Mike is a freelance journalist from San Diego, California.
While he primarily covers Apple and consumer technology, he has past experience writing about public safety, local government, and education for a variety of publications.
He's worn quite a few hats in the journalism field, including writer, editor, and news designer.