If your family is anything like mine, there's a ton of old photos tucked away in boxes, trunks, and bags in your attic, basement, garage, or rented storage unit. And there's probably little to no organization. Since these were most likely all taken in the pre-digital days, the task of digitizing them is arduous and lengthy.
For those of us with Mac and iPhones, iPads, or some other iDevice, we'd like to get some of those old photos into our digital photo library for safe-keeping. And that's where both our Photos app and scanning comes in.
Related Articles
Photos App and Scanners, Not a Great Pair!
Photos and the now obsolete iPhoto are part of the Apple suite of applications included with any Mac purchase. This combination of programs contains things like Garageband, iMovie, Messages, FaceTime, Photo Booth, and the productivity software package iWork.
Although Photos (or the elder iPhoto) has many great features to organize and edit your complete photo library, scanning directly into Photos or iPhoto is not one of them. But as always with Macs, there are workarounds for that!
How-To Scan on a Mac Computer
Software Check to Scan photos/images by using iPhoto or Photos
Before we move on, check that your scanner is installed correctly. First, connect your scanner to your Mac and power up the scanner if not already on. Then open the application Image Capture from your main Applications folder.
If your scanner appears in the left column, everything is ok. If your scanner does not appear, you must (re)install the scanner driver that is specifically for your scanner. Check the manufacturer's website for the drivers if your Mac is unable to locate them.
Use Image Capture to scan images directly into Photos
Open Image Capture from your dock or the Applications folder.
Select Show Details and change the Scan To: to Photos (if you don't see the Photos app, choose Other and then navigate and select the Photos app from your Applications folder)
Place the photo you want to scan face down on the glass in the scanner

If you want to adjust the settings like DPI, size, and format, hit the button 'Show Details.' The scanner shows you a preview, and you adjust the settings as you wish
Hit the button Scan

After the scanner is finished, the image is automatically imported into Photos

Find your picture(s) by clicking on Last Import (Left column in Photos)
Scan normally using Image Capture and then import the file into Photos
Open Image Capture
Select Your Scanner in the Left Sidebar

Look in Shared for WiFi and Ethernet Connected Printers

To change DPI and other settings, select the Show Details button 
Place the photo or content you want to scan face down on the glass in the scanner and choose the Scan button
Once completed, a Scan Results Window pops-up with your current scan 

Tap the magnifying glass to locate the scanned image, then rename and open it

Image Capture works with your System Photo Library

Check if the scan is performed as intended

Check file details, dimensions, and the pixels (DPI)
If not acceptable, delete the current scan and rescan with any revised settings

To change the location of scans, select the Show Details button and change the Scan To Folder to your desktop or location of choice or create a Scanned Photos folder
Open Photos from your dock or your Applications folder
Click on the Photos menu File > Import, select the image(s) you want to import and click Review for Import
Your scanned photo is now in your Photos Library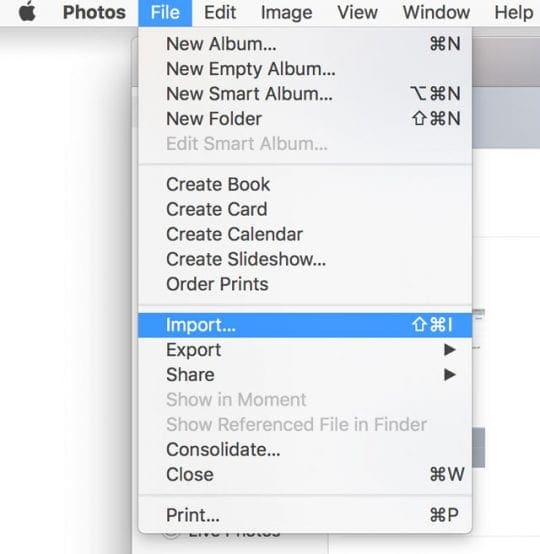 Want Another Method to scan photos/images?
Another way is to drag and drop the files onto the Photos directly. Find your picture(s) in Photos in the left column of Photos under the heading Last Import. 
Dragging and dropping follows whatever import preferences you set in your Photos App. So if you set your Photos Library to Copy when importing, moving your scans follows this same rule.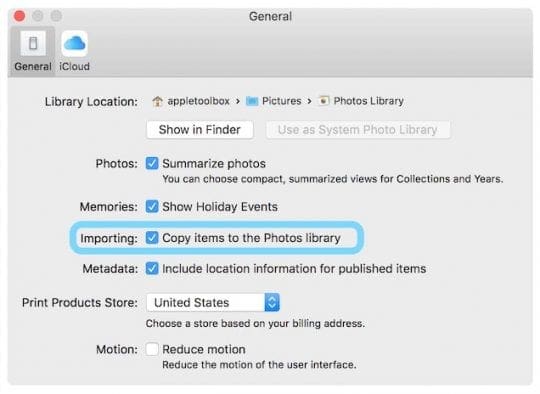 Scans are Imported, Now What?
After your pictures are imported into Photos, take advantage of the helpful tools like the slideshow tool (Photos > File > Create Slideshow.) Or quickly create a slideshow by clicking the arrow in the upper-right corner. With Slideshow, you get to customize the theme and music. And adjust the settings for display time and transitions.
The Photos editing tools are also great to enhance your images. You can resize, rotate and crop the photo.
Other features are red-eye-reduction, aligning the horizontal position and improve the color balance of the picture. Just try and experiment with all the awesome Photo tools. Don't be afraid, because you can always return to the original image!
And Don't Forget to Share with Friends
Use the Photos app Share Button to send your photos to friends, family, and social media via Messages, Facebook, Twitter, iCloud Photo Sharing, Mail, and more.
iCloud Photo Library
Another feature to take advantage of is iCloud Photo Library. This feature securely stores your entire photo collection so you can access it from anywhere, including all your devices and on iCloud.com. To turn on iCloud Photo Library, go to Photos > Preferences > and select the iCloud tab. Tick the box for iCloud Photo Library.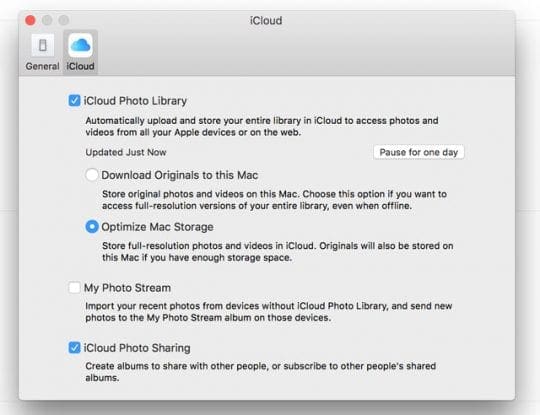 The beauty of an iCloud photo library is that when you edit and organize images in the Photos app on any device, your changes are kept up to date and visible on all devices including icloud.com. Just make sure that you're signed in with the same Apple ID on all of your devices.
The only downside is that your photos count towards your total iCloud storage, so if you have the free 5GB plan, you may need to upgrade to a larger capacity plan to accommodate your photo library.
Not able to scan to your Mac?
If your Image Capture does not list your scanner, check that you updated your scanner's firmware and scanner driver.
Check with your scanner's manufacturer's support site to find the appropriate updates for your device and your computer's operating system.
Common scanning errors
Error Occurred communicating with scanner, -9923
Several readers have pointed out that whey they use their scanner along with their Mac, they are often stuck with an error code -9923, where it says that an error occurred communicating with scanner.
If you see this error, you can resolve it directly from your Mac by following these steps:
Click on  > System Preferences
Choose Network
Click on the 'Advanced…' at the bottom right of the screen
Click on the TCP/IP tab on the top
Change Configure IPv6 to automatically
Click OK and confirm
If it was already set to IPv6, change it to 'link-local', confirm and then re-change it back to automatically. This toggling action on the IPv6 solves this problem for most users.
Unable to import photos Error 9912
Try a different cable. Error 9912 usually indicates a connection problem between your device and the Mac. See if changing the cable solves the issue for you!
Image capture error 9956
We see this error on Macs using macOS Mojave+. Apple introduced an updated security and privacy procedure. The good news is it's easy to do.
Go to System Preferences > Security & Privacy
If locked, tap the lock icon in the bottom corner and type in your password
Choose Full Disk Access from the sidebar
Tap the Plus sign to add a new app
Navigate to your Applications folder and tap Image Capture to add it to the list
When done, tap the lock to prevent changes
Image capture error 9934
This error shows up when you try to import photos to a folder or location that your current user does not have permission to write to. By default, Image Capture saves your photos and videos to your user's Pictures folder. For folks trying to save their images elsewhere, make sure you can write to that designated folder or directory before you save your images.
Obsessed with tech since the early arrival of A/UX on Apple, Sudz (SK) is responsible for the original editorial direction of AppleToolBox. He is based out of Los Angeles, CA.
Sudz specializes in covering all things macOS, having reviewed dozens of OS X and macOS developments over the years.
In a former life, Sudz worked helping Fortune 100 companies with their technology and business transformation aspirations.