One of the most common complaints we hear from iFolks is problems with their iPhone (or iPad) batteries not holding a charge or draining way too fast.
Often, people say their iPhones do not hold a charge for more than an hour or never charge past a certain percentage, usually 60-80%. So it looks like their iPhones are unable to charge a full 100%.
Related Articles
Before you spend a lot of time trying anything and everything, let's go over some basics:
Brand New iPhone?
If you are lucky enough to get your hands on a brand spanking new iPhone XS or XR or another model, then some battery drainage is expected in the first days (up to a week) as your iPhone downloads and syncs all your data, apps, music, photos, etc. This is expected and normal! So patience is our best virtue when getting a new iPhone.
If you notice this behavior for longer than a few days, follow the tips listed below.
Updated your iOS?
The same advice holds true. If you recently updated your iOS version to the latest out there, expect some diminished battery performance for about a day or so. Often it's less!
Again, if this battery issue isn't temporary and lasts longer than a day, look at the tips below.
iDevice and iPhone Charging 101 
Connect your iPhone or iDevice to a wall outlet (or another wall outlet)
Try using a different Lightning cable (the charging cable)

Make sure your cable is Made For iPhone (MFI)

If available, try a different power adapter

You can even visit an Apple Store or Apple Retailer and ask them to use one of theirs

Check your iPhone's charging port at the bottom of your iPhone for any dirt or collected lint

Clean both the port and the cable ends to ensure no debris is lodged in there, blocking connectivity
This cause is the most common reason for an iPhone not charging correctly–so check diligently!
Fast Charging Your iPhone XS/XR/X? 
If you're charging your iPhone X using a fast charge, you may notice that when the charge hits 80 percent, things slow down.
This behavior is normal. Once your iPhone X reaches 80%, its charging method switches from fast charge mode to regular charge mode to finish the full 100% charge. 
What's Fast Charging on the iPhone XS/XR/X?
According to Apple, the iPhone X Series phones and the iPhone 8 models support fast charging up to a 50 percent charge in 30 minutes.
But doing so requires additional accessories, fast charging is not included in your iPhone X Series package. So sadly no, Apple did not switch the iPhone XS or XR to USB-C from the get-go!
Included with your new iPhone XS or XR (or X and 8) is the same old Lightning port and cable…
If you want to charge your iPhone X at the fastest possible speed, it absolutely requires using USB-C.
You need both an Apple-branded USB-C Lightning cable and a power adapter that supports the USB-C Power Delivery specification such as Apple USB-C Power Adapters 30W Model A1882 and 87W Model A1719.
Unfortunately, your iPhone XS or XR does NOT include these fast charging accessories with your iPhone X. They need a separate purchase!
And yup, you currently MUST purchase the Apple USB-C Lightning cable–no off-label brands work for fast charging on Apple products.
Have a MacBook or MacBook Pro with USB-C? 
If you own or have access to a recent MacBook with the single USB-C port, you can use the MacBook power adapter as long as it fits these current specs. You need a separate USB-C to Lightning cable, however!
Supported USB-C Power Adapters for iPhone X Fast Charging
Apple 29W, 30W, 61W, or 87W USB-C Power Adapter
A comparable third-party USB-C power adapter that supports USB Power Delivery (USB-PD)
What About Wireless Charging?
Both the iPhone XS and XR (and the older models iPhone X/ iPhone 8) support wireless charging using Qi Wireless Chargers–but this is NOT fast charging.
As mentioned above, fast charging your iPhone X Series (or 8) requires using an Apple-branded USB-C lightning cable and USB-C power adapter.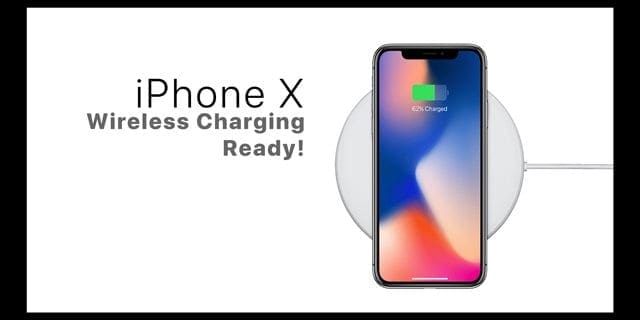 Sadly, it looks like the anticipation for Apple's wireless charging pad, the AirPower, is over. Most Apple pundits, including our own, believe Apple stopped AirPower development due to technical limitations and overheating problems.
It appears that Apple is now pursuing other wireless charging solutions–ones that are device specific rather than all-inclusive.
So in the meantime, you can charge your iPhone XS or XR (and the original X and iPhone 8) wirelessly now using a Qi-compatible wireless charging pad.
Check out Apple's recommendations for supported Qi-compatible charging pads in this support article.
Wireless charging not working at Starbucks or your local hang out?
If your iPhone XS/XR/X or 8 isn't charging when visiting your favorite cafe or other spot offering wireless charging pads, the chances are that those pads are not designed for the Qi-standard.
Unfortunately, at this time most of those charging mats at Starbucks and other spots use Powermat technology that supports Samsung and other Andriod phones!
The good news is that patches for those wireless pads are in the works, so you should soon see wireless charging with the Qi-standard at your local Starbucks and other joints.
However, it's unclear if these patches will release to consumers or small businesses. So while it might work at the local Starbucks, it might not work at your local shop. At least not yet!
Is Your iPhone XS, XR, or X Battery Still Not Holding a Charge?
If your iDevice continues not to hold a charge or drains unexpectedly fast, we need to determine if it's a software or hardware problem.
While hardware problems do exist, most of the time the problem is in the communications between the device and its software.
In these cases, just replacing the battery does nothing to remedy the problem!
Hit Basic Battery Hogs First!
Go to Settings > Privacy > Location Services and check out which apps are using your location all the time. Change these settings to never or only when using the app
Update your Settings > General > Accessibility > Display Accommodations > turn ON Auto-Brightness
Take a look at Settings > General > Background App Refresh and check out which apps are refreshing in the background. Turn off ones you don't need refreshing or turn them all off via the toggle on the top.

Anytime you open and use an app, it automatically refreshes
Stick with WiFi When Possible
When you use your device to access data, WiFi uses less power than mobile. That's why we always recommend using WiFi whenever you can.
Ways to turn on WiFi
Swipe up to open Control Center, tap the WiFi icon and log in to a WiFi network
Go to Settings > WiFi 
Turn ON Low Power Mode
Low Power Mode is awesome! It extends your battery's life when the percentage gets into the low zone (usually 20% or less.)
Your iPhone even notifies you when your battery goes down to 20% and sends another message again at 10%.  All you need to do is turn on Low Power Mode with one tap.
BUT, you can also turn on Low Power Mode anytime–when you think you need it. Just go to Settings > Battery > and toggle ON Low Power Mode. OR customize your Control Center in iOS 12 & iOS 11 and add it to there for easy access anytime. 
Even better, when your phone charges up again, Low Power Mode automatically switches off.
Low Power Mode Has Impacts
It reduces screen brightness, minimizes system animations, some apps will not download content in the background, and some iOS features like AirDrop, iCloud Sync, and Continuity are disabled.
Try a Restart
It's become the first step in diagnosing any problems with iDevices, the restart. A restart powers down your devices and runs some housekeeping protocols like clearing the cache and running a series of checks correct any detected system corruption. It's surprising how seldom people actually shut down their iDevices!
We recommend turning off your phone at least once per week so your device cycles through these shutdown processes. It keeps things healthy!
And remember that shutting down your iDevice is very different than simply letting it go screen dark after a period of non-use!
And it's super easy to shut-down your device. If you're using iOS 11 or above, there's even a Setting for that–go to Settings > General > Shut Down. 

For most iPhone models, you can also shut down by pressing and holding the power button (sleep/wake) and sliding to power off.
Shutting down is different for iPhone XS/XR/X
Yup, like quite a few things, the iPhone X mixes things up! So for this iPhone model, press the Volume Up Button and Side Button together and then slide to power off, just like on other iPhones.
For those that attempt to shut down the old way, you'll instead activate Siri by pressing and holding the Side button!
Next, Try a Forced Restart
If things still aren't looking good for your the battery, try a forced restart. This one action has somehow become the default of many troubleshooting guides, and it is useful in certain circumstances.
However, performing a forced restart for any problem often leads to corrupting your device's system software–so definitely proceed with caution and DON'T use it as your first step in treating a problem.
But if those other steps haven't helped, it is time to perform a forced restart (also called hard reset)
Perform a Forced Restart
On an iPhone 6S or below plus all iPads & iPod Touches, press Home and Power at the same time until you see the Apple logo
For iPhone 7 or iPhone 7 Plus: Press and hold both the Side and Volume Down buttons for at least 10 seconds, until you see the Apple logo
On an iPhone X Series or iPhone 8 or iPhone 8 Plus: Press and quickly release the Volume Up button. Then press and promptly release the Volume Down button. Finally, press and hold the Side button until you see the Apple logo 
Are you updating your iPhone through WiFi?
Unfortunately, when you update your iOS via WiFi, it can often lead to these charging problems!
So if you're noticing that your iDevice's battery does not hold a charge or is unable to charge fully, try updating your iOS via iTunes instead of WiFi (OTA–over the air.)
This might just solve your problems in a single straightforward process!
Updating your iDevice With iTunes
Get access to a Mac or Windows PC installed with the latest version of iTunes
First, plug the lightning connector into your iPhone and then into the port on your computer
Next, open iTunes and navigate to the device's Summary section
Perform a Backup to iCloud or This Computer using Backup Now
Tap Check for Update 

If a newer version of iOS is available, follow the on-screen instructions
If no update is available, consider reinstalling iOS by performing a Restore and then restoring from that latest backup during the setup process

It's imperative you perform a backup first if you want your data available!
If you want to choose an older backup, check out this article for backup location details

Once completed, eject properly using the Eject Device icon and then unplug the lightning cable from device and computer
Once you end this process, your iPhone or iDevice is up to date, and your iPhone battery should be more efficient after that iTunes update. If not, you made need a battery replacement.
Finally, consider always updating your iOS using iTunes from now on to avoid these common battery issues.
For most of her professional life, Amanda Elizabeth (Liz for short) trained all sorts of folks on how to use media as a tool to tell their own unique stories. She knows a thing or two about teaching others and creating how-to guides!
Her clients include Edutopia, Scribe Video Center, Third Path Institute, Bracket, The Philadelphia Museum of Art, and the Big Picture Alliance.
Elizabeth received her Master of Fine Arts degree in media making from Temple University, where she also taught undergrads as an adjunct faculty member in their department of Film and Media Arts.