Many users encounter a "Problem Turning On Mail" when creating a new iCloud email address on their iPhone. They see this message "Problem Turning On Mail. There was a problem turning on your email, try again."
The good news is that there is a simple fix of signing out of iCloud and signing back in again.
This error has been plaguing iPhone users since 2012! It occurs when trying to create an iCloud email address through the iPhone Settings. Frustratingly, the issue persists through device restarts and Software Updates.
Fortunately, we've got the solution below — and it couldn't be much simpler.
Related Posts:
How to Fix "Problem Turning on Mail"
Before You DO Anything…
Check Apple's System Status page and make sure iCloud Mail is working without any reported issues. Look for a yellow sign for problems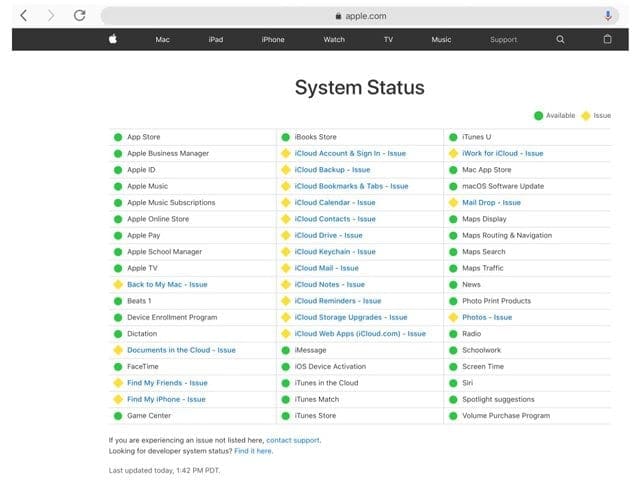 If Apple indicates there are problems with iCloud or iCloud Mail, wait until the System Status returns to the green sign for available (and working normally) before trying again.
Sign Out and Back Into iCloud
The easy fix for this annoying bug is to sign out of iCloud on your device, then sign back in and try again. This solution has proven effective for most people with the same error.
Most users tell us that when they sign out of iCloud and sign back in, that somehow they can suddenly create an icloud.com email address, with no roadblocks!
If you're at all unclear on the process follow the steps, we've laid out below.
How to Sign Out of iCloud:
Go to Settings > [your name] > Sign Out (at the bottom)
Enter your Apple ID password, and tap Turn Off
Choose what data to keep a local copy of Selecting everything is safer but slower
How to Sign In to iCloud:
Go to Settings > Sign in to your iPhone
Enter your Apple ID email and password
If prompted, enter the verification code sent to your devices
Enter your iPhone passcode and select Merge
Once successfully signed back in, you should find that you can create an iCloud email address without any problems.
Remember, Your Apple ID is Your iCloud Email Address!
If you already have an Apple ID, you should have an email address associated with that ID.
When you first set-up your Apple ID, Apple automatically suggests an iCloud email address for you using the information you provide when setting up your Apple ID. It's usually your Full [email protected]
Look at Your Date & Time Settings
Sometimes, your device's date and time do not match Apple Servers, and this inconsistency causes the error.
So let's check your date and time settings
Go to Settings > General > Date & Time
Choose Set Automatically or toggle it off, wait a few seconds, and toggle it back on
Restart your device (power down and back on) and try your iCloud email again
Trying iCloud Email on a Browser? Clear the Browser's Cache
If you can't access your email or send and receive messages with your @icloud.com email address
For Safari, go to Settings > Safari > Clear History and Website Data
If you're using a different browser, clear its cache following the browser's guidelines
Contact Apple Support For Help
If nothing helps, we suggest you reach out to Apple Support in your home country.
Since there are quite a few reasons why this error happens, it's best to go to the source if these quick fixes don't work for you.
Did any of these fixes work for you? Let us know in the comments!
Reader Tips

Try creating an email alias instead of using your Apple ID
iCloud and Apple don't seem to like number strings in your email ID. Try using just letters and see if it now works. That did the trick for me!
Try changing your Apple ID password. Then shut down your iPhone or iPad and restart. You should see a message saying you need to log in to your Apple ID again due to the password change. Once done, try setting up iCloud and your iCloud email. This was the trick for me that finally, after a lot of wasted time, worked!
Change the iCloud email name you selected to something different (so if it's [email protected], try [email protected]) For me, the error happened when they email address I chose was already taken and in use. Once I changed my iCloud email address to something else, it worked!
All I had to do was sign out of my iCloud account. Then, when I signed back in, I suddenly was able to create a new iCloud email address! Don't know exactly why, but it worked for me
Sometimes it's because too many accounts were created from that device or, as stated above, a problem with the email alias you chose or the email address you use
The problem is with iCloud. It does not always appear to know that an email is being used for iCloud! Try a forced restart and the set up your iCloud account again and use a different email address this time around
Dan is a freelance writer based in South West England.
He spent two years supervising repairs as a Genius Admin for Apple Retail and uses that knowledge to keep our troubleshooting guides up to date.
Long before that, Dan turned to Apple products from a musical background. Having owned iPods for years, he bought a MacBook to learn sound recording and production. It was using those skills that he gained a first-class Bachelor of Science in Sound Technology.