If you've ever lost your iPhone or iPad, you probably know how incredibly useful the native Find My app (previously called Find My iPhone) can be.
You can "ping" your device if it's simply misplaced around the house. But the app has other features that come in handy if you actually lose your device when out-and-about — including accurate location tracking, a "Lost Mode," and a remote data wipe feature.
But, of course, Find My is only useful if you have it enabled and it's working properly.
Read on to find out what to do if it isn't.
Quick tips
Follow these quick tips if your iPhone, iPad, or iPod isn't showing up in the Find My app
Open a web browser and check using Find My on iCloud's website
Verify that you signed in with your correct Apple ID on your device
Check that your device has a cellular or Wi-Fi network connection
Make sure you turned on location services for each device
Turn Airplane Mode on and back off
Restart your device and check again
Check that Set Automatically is on in Settings > General > Date & Time
With the same Apple ID, Apple allows you to register up to 100 devices in Find My. Once you register 100 devices, you must first remove a device to add another.
Related articles
What's the difference between the Find My and Find My iPhone app
Apple introduced the Find My app with iPadOS and iOS 13 and macOS Catalina. Find my includes both Find My iPhone and Find My Friends–in one combined app.
In earlier iOS versions (12 and below) Apple offered two different apps for finding devices and finding friends.
Both Find My apps use Bluetooth from nearby Apple devices to locate missing or lost devices.
What If You Don't Have The Device?
Unfortunately, none of the steps below work if you don't have physical access to your device.
If your device is lost or stolen and not showing up on Find My, its battery may be dead or it may have been intentionally powered off. Alternatively, Find My iPhone could be disabled.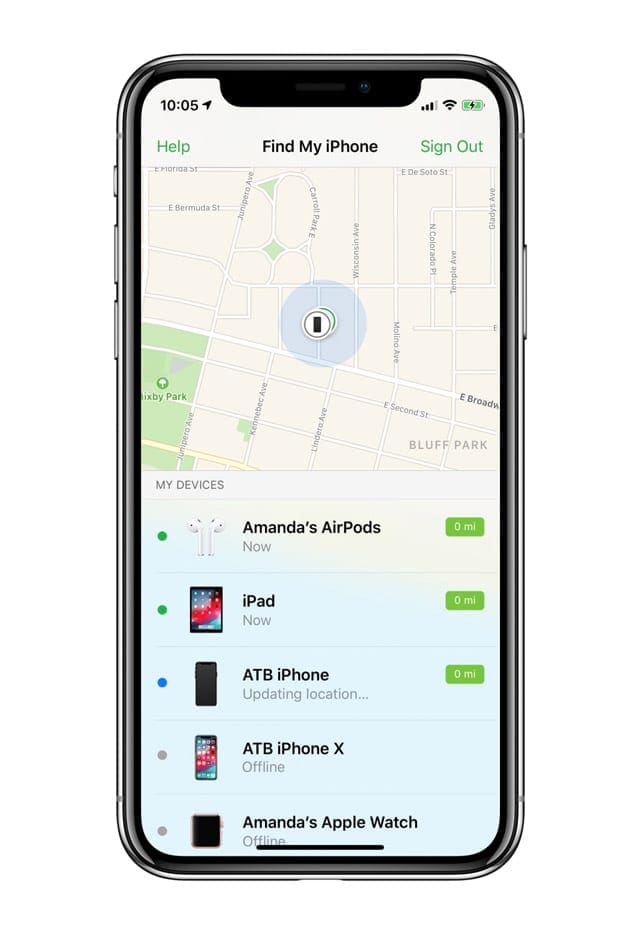 The best you can hope for is to activate Lost Mode.
If the device reconnects to the internet, it displays a Lost iPhone message which you can tailor with a contact number or other information.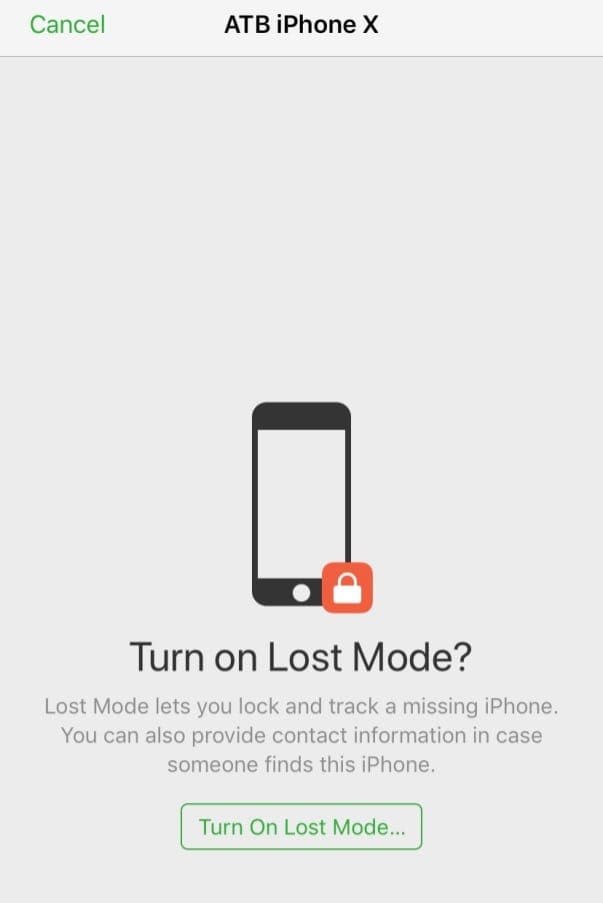 If you're particularly concerned, you can also remotely wipe your data. But, again, the device will need to be connected to the internet for that to work.
But, truthfully, there aren't really many options left.
You should file a report with your local authorities, spread the word around social media, and hope for the best. (Police may ask for the serial number of your device — find out how to find it here.)
Because of this, it's strongly recommended that you get Find My device's list fixed as soon as you notice a problem with the feature on a device.
My iPhone, iPad or iPod Isn't Showing Up on Find My or Find My iPhone
With the bad news out of the way, if you do have access to your iPhone and you notice that it isn't showing up in the Find My or Find My iPhone app, you can take steps to fix it.
Sign Into iCloud
First off, if you have access to the lost smartphone, check to see if it's logged into the proper iCloud account.
Tap Settings and then your Apple ID card. Check to see if the email is the same as the one you're attempting to use in Find My.
If you tap Settings and see a pop-up that asks you to sign in to your device, enter your Apple ID and password. (If you weren't signed in, this was the problem.)
Check to See If Find My iPhone is Enabled
Next, you should check to see if Find My is even enabled. You may have skipped configuring Find My during your device's setup, or it may have been turned off for some reason.
Go to Settings
Tap your Apple ID card (it should say your name)
Choose Find My
Then, tap Find My iPhone and toggle it on

Also, toggle on Enable Offline Finding and Send Last Location

For iOS 12 and below, find and tap iCloud

Tap Find My iPhone

Hopefully, you turned on Find My iPhone in your iCloud Settings before you lost your device!

Here, Find My iPhone should be on. If it isn't, tap it and switch it on
Verify you turned on location services
Turn on location services on iPhone, iPad, or iPod
Open the Settings > Privacy > Location Services
Turn on Location Services
Turn on location services on Mac
Choose Apple menu > System Preferences > Security & Privacy > Privacy tab
If the padlock in the lower left is locked, click it, then enter the name and password of the administrator
Select Location Services
Select the Enable Location Services checkbox
Tick the box next to Find My

Check the box to turn on Find My Mac.
Restart your device
For iPhone X and higher and iPads without a home button, press and hold either volume button and the side or top power button until the power off slider appears. Slide off. Then power back on.
For iPhone 8 and below, iPods, and iPads with a home button, press and hold the side or top power button until the power off slider appears. Slide off. Then power back on.
Toggle Airplane mode on and off
Open Settings
Toggle Airplane Mode on 
Wait 20-30 seconds
Toggle Airplane Mode off
You can also toggle Airplane mode on and off via Control Center by tapping the Airplane mode icon.
Check your device's date and time settings
For Find My to work correctly, it's best to set your device to Apple's Set Automatically feature.
On iPhones, iPads, and iPods, go to Settings > General > Date & Time and choose Set Automatically.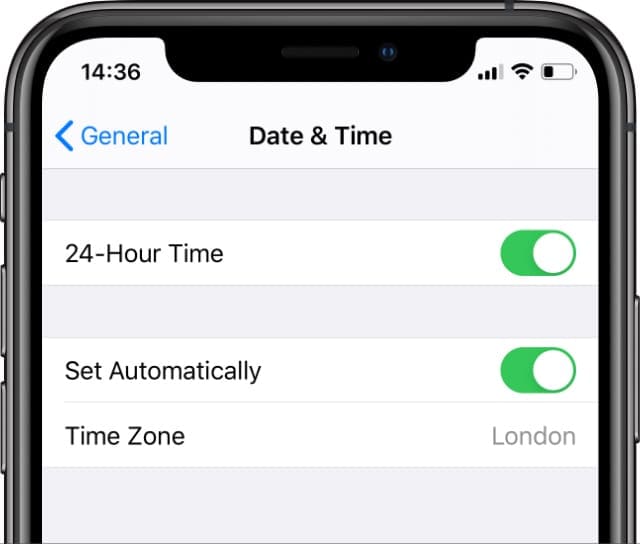 On Macs, go to System Preferences > Date & Time > and tick the box of Set date and time automatically.
Device Shows Up, But is Offline
In other cases, your device may actually be listed in Find My iPhone — but the platform will say that it's "offline."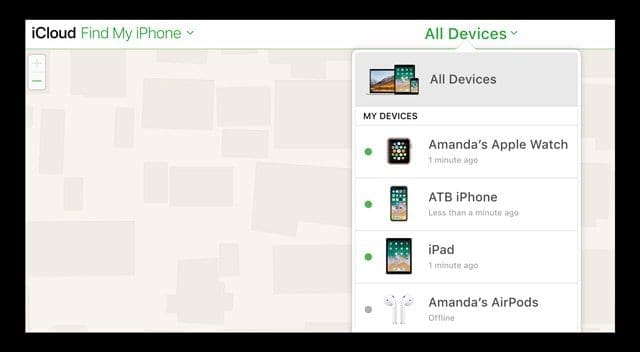 If you have the device with it and it's clearly powered on and connected to the internet, it's probably a cellular settings issue.
Make sure your device can access the internet
If your device is "offline," you should first check to see if your device has an internet connection.
Macs, Apple Watches and certain iPads only show up on Find My if they are currently connected to a Wi-Fi network.
On the other hand, iPhones and cellular-enabled iPads should show up in Find My iPhone if you enabled it.
If you have access to the device, check to see if there are any signal bars or dots in the upper-left hand corner. If it says "No Service," then go to Settings > Cellular and make sure that Cellular Data is on.
Make sure cellular is enabled for Find My iPhone
In a recent case that the writer of this article experienced, Cellular Data was somehow disabled for Find My iPhone. It may have been inadvertent or some sort of software bug. But, thankfully, this is easily fixable.
Open Settings
Tap Cellular
Scroll down and locate Find My (or Find My iPhone)
The toggle should be green. If not, tap on it to enable it
Toggle location services off and on
Disable location services on the device that doesn't show up
Toggle off Find My in Settings > Apple ID > Find My
Confirm with your Apple ID
Wait 20-30 seconds
Turn location services back on then toggle Find My back on
If that doesn't fix it, there are a few things to keep in mind.
Find My iPhone says a device is "offline" when it's been 24 hours since a location was sent, the battery has run out, or if cellular data or the device itself is actually powered off.
Additionally, Apple advises that Find My iPhone is not available in some countries — due to local regulations or technical limitations.
What If None of This Works?
If you have your device and none of the above steps remedy any Find My iPhone problems, then there might be a deeper issue.
There could be damage to the device's antenna array, GPS chip or other components, for example. Presumably, a severely degraded battery could also cause issues.
In any case, it might be worth setting up an appointment at a Genius Bar or with an Apple-authorized service provider. If it's a hardware issue, they should be able to repair your phone for you.
Mike is a freelance journalist from San Diego, California.
While he primarily covers Apple and consumer technology, he has past experience writing about public safety, local government, and education for a variety of publications.
He's worn quite a few hats in the journalism field, including writer, editor, and news designer.