I love using FaceTime to chat with friends and family who don't live close by. So when FaceTime's not working or shows that it's unavailable, it's a real problem in my household!
If FaceTime isn't working for you, you are not alone!
Learn what to do when you just can't get FaceTime to work.
Quick Tips 
Try These Quick Tips And Get FaceTime Working Again!
Make sure Apple's FaceTime Servers are up and running!
Check your internet connection and maybe change your DNS
Restart or force restart your device
Check your Date & Time Settings
For Macs, check your Firewall settings and ports
Make sure you sign in with your Apple ID or check that your Apple ID is correct
Toggle Airplane Mode on, connect to a WiFi network and try FaceTime again
Verify your email and phone number listed in FaceTime's Settings
Toggle FaceTime off, wait 20-30 seconds, and toggle back on to refresh your connection to Apple's FaceTime Servers
Check that you do not have any Restrictions enabled
Delete or Offload the FaceTime app and then reinstall
If your camera shows a black screen instead of you, try closing all open apps and relaunch FaceTime
This article outlines basic FaceTime troubleshooting tips.  For more in-depth learning, please select our Related Articles.
Related Articles
Using a Specific iOS version?
Not All Countries Support FaceTime
Unfortunately, FaceTime is not available in all countries (such as the United Arab Emirates). 
Further, with FaceTime, you make video and audio calls ONLY with another iPhone (4th generation or later), iPad (2nd generation or later), iPod Touch (4th generation), or Mac using either a WiFi or Cellular Data connection.
Visit this Apple Site to learn what services and companies support FaceTime in your home country!
And of course, FaceTime only works with Apple products!
FaceTime is not compatible with Android phones, tablets, or Windows computers.
If you see an unavailable notice when trying to call a specific person using FaceTime, it's possible that the person isn't taking calls at the moment. 
There are a variety of reasons why a person shows up as unavailable in FaceTime
The phone is out of battery or switched off
Do Not Disturb is on
The person did not answer your call after 10 rings
Out of range or not connected to WiFi or Cellular Data
On another FaceTime call
The person you call does not have FaceTime enabled on their device
When you see FaceTime Unavailable, it usually indicates a problem a the receiving end of your call.
Try contacting the person using a different method (like texting via the Leave a Message icon within FaceTime, calling via the Phone App, or emailing) and let them know you are unable to FaceTime with them.
Why is My FaceTime Not Working On My iDevice or Mac?
There are a bunch of reasons why FaceTime doesn't work on your iPhone, iPad, iPod, or Mac.
We're outlining the top reasons why in this article AND give you the tools to fix FaceTime when it's acting up.
1. Check Apple Servers
Sometimes even Apple goes down.
So it's a good idea to check in with Apple's System Status to see if there are any on-going service issues with FaceTime and associated services like iMessage and iCloud. 


2. Toggle WiFi On and Off Or Switch To Cellular Data
Refresh your internet connection by disabling and then re-enabling WiFi. Go to Settings > WiFi and toggle it off. Wait 30 seconds and toggle it back on.
Alternatively, if using a device with LTE Data, go to Settings > Cellular and toggle Cellular Data off and on. 
3. 

Try an iMessage
Ask someone to send you an iMessage before you try to FaceTime.
This often helps Apple Servers, your router, and your iDevice to get things going!
4. Change Your DNS
For iDevices, tap Settings > WiFi > YOUR NETWORK'S NAME > Configure DNS > Manual > Add Server > enter 8.8.8.8 and 8.8.4.4 > Save

Make sure you delete your current DNS by tapping on the red minus sign and pressing Delete 

For Macs, click  System Preferences > Network > Select YOUR NETWORK'S NAME > Advanced > DNS Tab > click the + button to add Google DNS, enter 8.8.8.8 and 8.8.4.4

Click OK then Apply 
5. Restart Your Device
A reboot often fixes these types of issues for Macs and iDevices. And if a restart doesn't help, try a forced restart.
To restart a Mac
Go to the Apple Menu > Restart (or Shut Down and then power up again)

Shut down your Mac from the Apple menu
Restart an iDevice
For iDevices, press the power button until the slider appears, then slide to power off. Power up as normal
To restart an iPhone X Series and devices without a home button, follow these instructions

Press and hold  either volume button AND the Power/Top/Side button until the slider appears
Drag the slider to turn it completely off
After your device turns off, press and hold the Power/Top/Side button again until you see the Apple logo 

For folks using iOS 11 and above, there's another method via your Settings Menu

Open Settings > General 
Scroll down and tap on Shut Down 
Power up after a rest period of 20-30 seconds
How-To Perform a Forced Restart on iDevices
On an iPhone 6S or below plus all iPads & iPod Touches, press Home and Power at the same time until you see the Apple logo
For iPhone 7 or iPhone 7 Plus: Press and hold both the Side and Volume Down buttons for at least 10 seconds, until you see the Apple logo
On an iPhone or iPad without a home or iPhone 8 or iPhone 8 Plus: Press and quickly release the Volume Up button. Then press and quickly release the Volume Down button. Finally, press and hold the Side button until you see the Apple logo 
6. Set Your iDevice's and Mac's

Date & Time to Automatic
For iDevices, it's best to turn on Set Automatically in Settings > General > Date & Time 
For Macs, go to System Preferences > Date & Time > select Set date and time automatically 
Many FaceTime problems are due to incorrect dates or times on your devices.
If Apple Servers find a mismatch between your device's date or time and FaceTime's server's time for your current location, FaceTime, iMessage, and other Apple services won't work, and verification fails
7. Turn Off All Restrictions
If using any restrictions or parental controls on the device, turn these off temporarily, until you get FaceTime working again.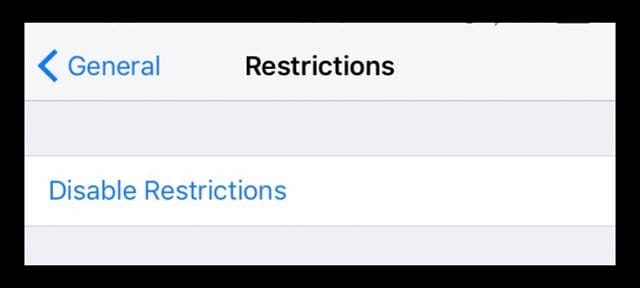 To check if Restrictions are Enabled
Using iOS 11 and below, go to Settings > General > Restrictions
With iOS 12 and above, go to Settings > Screen Time > Content & Privacy Restrictions 
For Macs. go to Apple Menu > System Preferences > Parental Controls
8. Using a Firewall on Your Mac?
Check that you enable the following ports for FaceTime when using a firewall.
Firewall Ports FaceTime
80 (TCP)
443 (TCP)
3478 through 3497 (UDP)
5223 (TCP)
16384 through 16387 (UDP)
16393 through 16402 (UDP)
FaceTime Not Working: Activating Problems 
If you are unable to activate FaceTime, try the following:
Make sure that you have an internet connection via WiFi or Cellular Data

With a cellular data plan, you can use FaceTime without WiFi on an iPhone 4s or later and iPad (3rd generation or later)

If FaceTime doesn't activate on WiFi, try cellular. Or vice-versa if it won't activate on Cellular, try WiFi instead
Try to Reset All Settings. Go to Settings > General > Reset > Reset All Settings

Removes WiFi passwords and any personalized iDevice settings 

Check for any Apple ID issues

Make sure that your Apple ID lists your iPhone's phone number and NOT a landline number (if you have one)

Go to Settings > Apple ID Profile > Name, Phone Number, Email > Reachable At
Edit information if necessary so your iPhone and email is listed
Once updated, toggle FaceTime OFF and Back ON

Make sure that you have a valid Apple ID. You can create a new Apple ID or go to your Apple ID account to make changes by visiting and using the "Manage your Account" part
If you forgot your username or password, select the "Forgot Apple ID or password" link or visit Apple's iForgot website

Tap Settings > FaceTime to see that Apple verified your email address. If your status is saying "verifying," or stuck connecting (the spinning wheel); then try toggling FaceTime off and on (Settings > FaceTime OR FaceTime for Mac: FaceTime > Preferences)

FaceTime Not Working: Tips for Making or Receiving FaceTime Calls
Try turning FaceTime off and on again using the following (iOS: Settings > FaceTime OR FaceTime for Mac: FaceTime > Preferences)
Make sure that the camera for FaceTime is not restricted Settings > Screen Time > Content & Privacy Restrictions (for older iOS, go to Settings > General > Restrictions)
Tap Settings > General > Date & Time to check date and time are set correctly
Make sure that you are using the correct method for calling the person. iPhone user: Use the phone number. For, iPad, iPod touch, or FaceTime for Mac user: Use the email address
FaceTime Not Working: Using iOS 10 and Above?
Delete and then Reinstall the FaceTime App

Tap and hold on FaceTime's app icon until it starts jiggling, then tap the X to remove it
To reinstall FaceTime, open the App Store, search for FaceTime and tap the cloud icon. FaceTime downloads and reappears on your home screen

Add in your Apple ID and phone number credentials again to reactivate FaceTime
Using iOS 11 and Above? Try Offloading!
For folks using iOS 11, Apple offers a new feature called offloading that's similar to delete.
However, instead of removing the app and your data, offloading removes that app only but keeps all the apps documents and data.
To offload an app
Go to Settings > General > Storage
Wait for all the apps to show up in the list
Scroll down the list of apps and locate FaceTime
Tap FaceTime
Choose Offload 
Restart your iDevice
To reinstall, go back to Settings > General > Storage > FaceTime
Select Reinstall 
FaceTime Camera Not Showing You?
A few of our readers tell us that their iPhones cameras stop working while on FaceTime calls. In most cases, users can see their friends, but their friends cannot see them. Instead, your camera shows a black screen. 
If you experience this problem while making FaceTime calls, close out all the suspended apps in the app switcher that have access to your camera by double pressing Home or swiping up the Home Gesture Bar and then swiping up on the App Previews of all apps that use the camera. Close FaceTime's App Preview too!
Then relaunch FaceTime and see if your camera now shows your beautiful face to your callers!
Live Photos Not Working on FaceTime?
To work, everyone on the call must use macOS High Sierra or iOS 11 to capture a Live Photo in FaceTime

Live Photos was not included as a feature in iOS 12.0–update to a more recent iOS and Live Photos returns!

FaceTime Live Photos requires that you open your Photos app at least once before trying to take a FaceTime Live Photo

Live Photos needs the Photos app to have a default library to work

Check that all call members enable Live Photos on their devices.

Go to Settings > FaceTime > Toggle ON FaceTime Live Photos 
For Macs, open FaceTime and go to FaceTime > Preferences and tick the checkbox next to "Allow Live Photos to be captured during Video calls" 
When FaceTime's Live Photo feature works, both you and the people you call receive a notification that a Live Photo was taken. Then, that Live Photo saves directly into your Photos library. 
Group FaceTime Not Working?
If group FaceTime isn' working, check out the tips in our article on troubleshooting FaceTime for iOS 12.
FaceTime Not Recognizing Your Phone Number?
Go to contacts change your phone number from HOME to Phone then turned off FaceTime and turn back on
Go to Settings > General Settings > Reset > Reset All Settings

No data is lost, but WiFi passwords and personal setting preferences are reset

Correct the area code on your Apple ID account
Check that you don't have any outstanding debts with the App Store, iTunes, or any Apple product/services
Remove your SIM card, wait a few minutes, and replace. Or, put someone else's SIM card in and see if FaceTime recognizes the email and phone number

If another SIM works, you need a new SIM card.  Contact your carrier

Log out of all Apple services that require Apple ID and password

Force Restart (holding Power & Home or Volume Down until Apple Logo appears)
Log back into FaceTime with Apple ID

Log out of all Apple services that require Apple ID and password AND reset your network settings (you lose all WiFi passwords so write these down first)

To reset network go to Settings > General > Reset > Reset Network Settings
Force Restart
Log into your network
Log into FaceTime
FaceTime Not Ringing When Somebody Calls?
If you see missed FaceTime calls, but did not hear a ring, check that "Push" is enabled in your Mail settings.
Go to Settings > Passwords & Accounts (for older iOS, check Accounts & Passwords or Mail) and make sure that Fetch New Data is set to Push.
If enabled, toggle it off, wait a few seconds, and then toggle it back on.
Apple's servers need to have a recent internet address for the "location" of your iDevice to work!
Look at these other settings when FaceTime doesn't ring
Check that your sound is up and that mute is not on via the side switch (if applicable)
Take a look and see if do not disturb (DND) is enabled via Settings > Do Not Disturb

If you want DND on, check that you allow calls from FaceTime
Go to Settings > Do Not Disturb > Phone > Allow Calls From > Everyone or All Contacts
No FaceTime Notifications?
Go to Settings > Notifications > FaceTime > Allow Notifications 
Check out this article for more tips on troubleshooting missing alerts and notifications.
Missing FaceTime App?
Update to the latest version of iOS
Go to Settings > Screen Time > Content & Privacy Restrictions (for older iOS, go to Settings > General > Restrictions) and verify FaceTime and Camera are On. Disabling the camera disables FaceTime as well
And if you are still having problems, try restarting your device or performing a forced restart

For an iPhones and iPads with no home button, iPhone 8, or iPhone 8 Plus: Press and quickly release the Volume Up button. Press and immediately release the Volume Down button. Then, press and hold the Side button until you see the Apple logo
On an iPhone 7 or iPhone 7 Plus: Press and hold both the Side and Volume Down buttons for at least 10 seconds, until you see the Apple logo
For an iPhone 6s and earlier, iPad with a home button, or iPod touch: Press and hold both the Home and the Top (or Side) buttons for at least 10 seconds, until you see the Apple logo
Reader Tips 
Some readers discovered that when they changed their Apple ID passwords and FaceTime worked!  Remember to update all your devices with that new password–your Macs too and iTunes on a Windows PC