A few users have complained that they are unable to see images while browsing on their Mac using Safari. In this Article, we will look at a few workarounds to fix this issue. In earlier versions of Safari, there was a setting in the preferences for "Appearance" and you could toggle whether to show images or not. In Safari 9.X it is no longer an option. There are however other ways to get around to this option.
Assumptions: In this post, we are making an assumption that you are having the problem irrespective of the websites. For example, when you go to www.Apple.com, you are unable to see the images on the site. If you are having problems only on a few websites, this article may not be helpful.
Option – 1.
Step – 1 Open your safari. Go to Safari > preferences and choose the Advanced Tab. Turn on the Show Develop Menu option.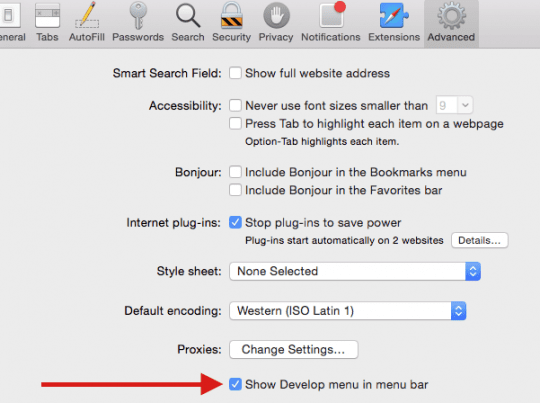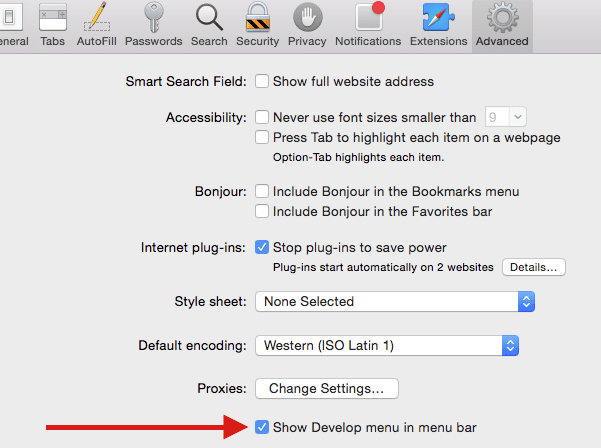 Step – 2
Once you turn on this option, your Safari will sport a new menu item called Develop. Drop down the Menu and choose Empty Cache. Next, Make sure that Disable Images and Disable Javascript is NOT clicked. When the Disable Image option in the menu is checked on, you will not  see any images on your Safari . Similarly Javascript should be enabled.
Here is a picture to help you. Your menu options should like the picture below without any tick marks for the Disable options.
Step – 3
Click on Safari > Preferences > Privacy. Click on "More" as shown in the picture and then choose to "Remove All". We are doing this because if there is any malware in your browser, we want to remove it.
Option – 2
We are hoping that option 1 resolved your problem.  If not, please follow along for the next option. In this option we will dabble with some of the Safari's preferences files and cache files.
Before proceeding with the options below, you may want to sync your reading list and bookmarks to iCloud in the case they are very important to you. There is a chance that they may get deleted while we do the options below, especially option # 3.
Step – 1
Close your Safari. Click on your Finder app on your Mac and open up a session.
Click on GO on the menu and choose Go To Folder. On the field
Type in the following file path
"~/Library/Caches/com.apple.Safari/Cache.db" without the quotes as shown in the picture. Once the file is located, drag it out to Trash.

Please Do the Same exercise for the file "~/Library/Caches/com.apple.Safari/Webpage Previews"
Restart Your Machine and try Safari again to see if it works for you.
Option – 3
This is a multi-step process. Please open the article below and follow instructions for Step 4.
https://appletoolbox.com/2016/01/safari-problems-after-upgrade-how-to-fix/
We're confident that one of these three options will work for you and are hopeful that you were able to solve it using option-1. The Steps above can also be used if you have random pop up issues on your Safari. It is always a good idea to periodically clear the Safari Cache so that anything malicious lurking in there can be purged.
Please let us know if the steps worked to solve your issue. Please feel free to share the article if you found it helpful.