With iTunes 12.7, Apple has introduced some major directional changes. Apple quietly released iTunes version 12.7 for both Windows and macOS, and the most immediate change is that it no longer contains any options for syncing apps or ringtones to your iPhone, iPad, or iPod touch. Apple has removed the iOS App Store from this latest desktop iTunes version.
"The new iTunes focuses on music, movies, TV shows, podcasts, and audiobooks. Apps for iPhone, iPad, and iPod touch are now exclusively available in the new App Store for iOS. And the new App Store makes it easy to get, update, and redownload apps—all without a Mac or PC" – Apple
Starting with this version, manage all your Apps from the App Store's Purchased Tab on each device. However, transferring files to Apps via iTunes remains. So you can continue to use iTunes File Sharing the same way as previous iTunes versions. Additionally, iTunes continues to back up all your iDevices, in just the same way.
BUT, you are no longer able to browse the App store directly within iTunes or sync Apps to ANY iDevice.
There's a lot of confusion about what's changed and what you can and cannot do. So let's look at a few tips and tricks to get you started with iTunes 12.7.
Related Articles
How Do You Go About Re-Downloading an App that you had purchased?
Re-downloading Apps will need to be done on your device itself. If you are looking for Apps on your MacBook, you will need to open the Mac App Store. Click on "Purchased" at the top of the window and you will be able to re-download your apps from here.
Similarly, you can re-download your prior App purchases on your iOS device by opening the app store app. Tap on Updates > Purchased > My Purchases > "Not on this iPhone". Tap on the little cloud icon to re-download the app onto your iOS device.
How do I transfer Custom Ring Tones to my iPhone using iTunes 12.7?
The new iOS 11 allows users to download new ringtones directly onto their iPhone. On your iPhone, go to Settings > Sounds & Haptics, then tap on any sound. At the top of the page, tap Download All Purchased Tones to check for any previously purchased tones not currently downloaded to your device. Please note that Apple does warn that you may not be able to re-download some previously purchased tones.
If you have custom ringtones on your iTunes, you need to transfer them to your iOS device manually. Drag and Drop the new tone from the iMac Tones directory under iTunes Media into the Tones section of "On My Device" in iTunes. (Tones is towards the bottom of the list).
Once you have transferred, click on Sync so that they are moved to the iOS device. On your iPhone, choose Settings -> Sounds -> Ringtone. Here you confirm the custom ringtone you just transferred over.
If you experience problem with dragging and dropping ringtones
First, make sure your ringtone is no longer than 38 seconds and preferably about 35 or less.
Try to drag and drop the tones files over (.m4r format) when there is no other syncing activity going on. Users report that they are often unable to copy a ringtone to an iPhone or iPad when their device is syncing with iTunes. So wait for the sync to complete before dragging and dropping any additional files.
If that still doesn't help, select your iPhone and scroll down to the OPTION section within the Sync page. Locate the checkbox for manually manage music and videos and tick that box. Then try to drag and drop again.
Some additional options to remedy drag and drop ringtones isssues are to find your ringtone file (m4r files) on your computer and right click on that file to Copy it to the clipboard. Navigate to iTunes and try to paste into iTunes and see if it works.
A few others say that dragging tomes it to the DEVICE instead of the tone folder worked for them.
Finally, check if the app you're using to create custom ringtones has an update available. If so, update and try again.
Are My Media Files Still Available on the new iTunes 12.7?
Your iTunes media files (music, podcasts) are still available in your iTunes Library Files. On your Mac, use Finder to retrieve these files by going to Go > Home > Music > iTunes and on Windows the file path is C:\Users\username\My Music\iTunes\
Have Outdated Apps or Custom Content?
It's all there, just hidden in your iTunes Media Folder. Look in these locations for those apps, media, ringtones, or other content:
Mac: /Users/username/Music/iTunes/iTunes Media
Windows 7 or later: Open C:\Users\username\My Music\iTunes\iTunes Media
So if you have an app or other content in your iTunes media library that is not available for re-downloading, you can use your computer to manually transfer these files onto your iOS device. Once you find the app file, drag and drop it on your device in the iTunes sidebar. Use this same process to manually add your custom ringtones, books, and other media.
If you're updating to iOS11, this version no longer supports 32-bit apps, so if some of your outdated apps are 32-bit, they won't work on iOS 11 or anything higher.
To learn more, Apple offers a white paper that shows you how to do this.
How do I transfer my own content such as movies to apps like VLC Player?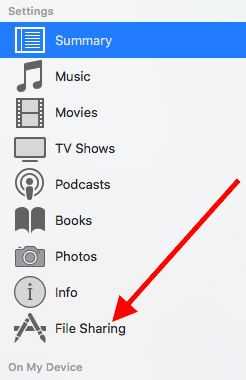 In order to do this, you probably need to use the "File Sharing" feature in the new iTunes. When you connect your iOS device to your computer running iTunes, click on the device and on the left-hand column, you find "File sharing". Clicking on it will reveal the Apps that can transfer documents between your iPhone and computer. You should probably be able to use Infuse or VLC here to move content.
Hide and Unhide Your App Purchases With iOS 11
With these updates to iTunes AND iOS 11's New App Store, it's easy to not find what you need, in particular, your past App purchases are very hard to locate. On top of that, for some reason, in iOS 11 Apple now allows you to hide purchased apps from your App Store. And it's no longer dependent on having Family Sharing turned on or not.
To find your purchases, open the App Store and tap your profile photograph or icon to open your Account Details. Scroll down and locate the Purchased section, tap on that to reveal your purchases and any connected family members purchases. Once done, there are two tabs for apps–All and Not on this iPhone. 
Hiding apps is easy, just swipe on the app to reveal the Hide function.
But Unhide Apps?
Okay, we're perplexed. We use to unhide apps using iTunes. But after this recent update to iTunes 12.7, that function is gone. And so far, even in iOS 11, it's not replaced within the App Store App or via Settings on your iDevice. The only way we've figured out is to download it again using the search function and it does show up again. But then none of your data from the hidden app transfers! It's like starting an app from scratch.
We're hoping that Apple fixes this problem really soon. It's a big surprise for those of us that hide apps and use iTunes for our app management and syncing. And yes, an unwelcome surprise.
Where Are My Podcasts?
Some folks report that items in their Podcast drop-down menu are grayed out. Others find that their Podcast Library is completely gone. And often, folks are even unable to subscribe to any podcasts through the Podcast store. Still, others find that their entire podcast library disappears after updating to 12.7, and they can't add any podcasts using iTunes. Often this results in a blank screen, even when attempting to download a podcast.
If after updating to iTunes 12.7 you're not seeing your Podcasts, expand your iTunes Window so it fits full-screen. Then look for the blue "Continue" button. Click that button to go to your Podcast library.
If that isn't working, a workaround is doing a search for a particular Podcast within the iTunes tab for Podcasts.  At that point, they show up in the dropdown list of your search results.
You Can't Sync Apps with iTunes Anymore
We like the idea of the change BUT this was not properly executed
You can no longer browse or search iOS apps on your Mac using iTunes. And all app management is now conducted via each device, including syncing between devices and rearranging apps on your screens.
It appears you may not be able to unhide your apps in this new version. If you have not yet updated, consider un-hiding the apps before you upgrade to this new version.
Tough on Family or Work Managers
If your the designated family iDevice manager or manage your workplace iDevice apps and updates, iTunes 12.7 is bad news. In previous versions, you only had to download an app ONCE and then install it in seconds via iTunes because the app's already on the hard drive! But 12.7 changes everything and now each device must indivdually download apps and app updates via OTA (over-the-air.) And that adds a lot of time to your iDevice management!
There are some options for folks that manage apps and content if they do not connect to the internet or have spotty/slow internet. Mainly, Apple Use provides the tool called the Apple Configurator. Learn more about how to use this tool by visiting Apple's Configurator site.
Challenging for Persons with Limited Internet Access
Another unfortunate (and likely unintended) effect is on people with limited data plans or low/slow internet speed. Many people in this grouping use iTunes as the primarily vehicle for app management and with that option now gone, will likely find it difficult to update and download apps.
For some of you that have been using iTunes for backing up and restoring, you may want to re-consider the iCloud backup offering from Apple. It is clear that Apple is aggressively pursuing the iCloud strategy and is making the iTunes more of a media backup. We did a backup using USB cable and didn't encounter any issues. Backup to iTunes and iCloud essentially remains the same.
With this new change, you will not be able to sync apps across all your iDevices using your computer/iTunes. Apps will be synced on each of the iOS devices individually. Apple is hoping that since most app developers have pursued "App Trimming" in recent times, the updates will be small and will not consume too much of your cellular bandwidth. Honestly, this remains to be seen.
Tips On Downgrading to iTunes 12.6
Lastly, if you are having challenges with iTunes 12.7, you can choose to downgrade your iTunes back to 12.6. Before you attempt at downgrading, please make sure to backup your machine. You should double check and make sure that your iTunes Media Library files are backed up.
Once the backup process has completed, proceed to remove iTunes from your machine. For Mac users, you can open a terminal session from the Utilities folder, go to your applications folder in terminal and then use "sudo rm -rf iTunes.app/" to un-install iTunes 12.7. For a detailed step-by-step method to uninstall iTunes from your Mac, you can follow Apple's guidelines.
If you are a Windows user, you can follow along the steps in this Apple Whitepaper. 
Remember to rename the "iTunes.library.itl" file so that you can restore from it once you have re-installed iTunes. Once you have successfully removed the iTunes 12.7, you can download the prior iTunes version from Apple Downloads and install it on your machine. Launch iTunes and it should revert back to the iTunes 12.6. You will also need to turn off automatic updates so that it doesnt revert back to 12.7.
In Summary
Although some users are welcoming this change, we think that this was probably done in a hurry without much thinking on Apple's part. No notice, no detailed support guides and they drop this new change!! iTunes 12.7 makes it rather time-consuming for people that own multiple iDevices to update and sync apps! Instead of downloading apps once using iTunes and then syncing all devices, with iTunes 12.7 you need to download apps and app updates on each device! Not so bad when you own 1 or 2 devices, but a heck of a lot more time (and data) for those with many devices. So for those of you that are challenged with this new iTunes version, you may want to restore it back to the older iTunes on your computer for now.
Please feel free to leave a feedback for Apple so that they can provide adequate support documentation.