Our readers frequently ask us which is better for backing up their iPhones and iPads, iTunes vs iCloud? Is there a difference?
There are several important reasons why you should back up your data. Backing up your iDevice helps you protect your data in case it's lost or if your device fails. And the good news is that it's easy to copy and save the information on your iDevice by backing it up.
And if you purchase a new iDevice or need to replace a lost or inoperable device, you can use your current device's backup to transfer virtually all of your information to a new iDevice.
When you backup all your information, you won't have to set up all your applications and accounts again! That's a big plus.
Both iCloud and iTunes can back up most data on your iDevice; your iPhone, iPad, or iPod touch.
So the question is whether you should use iTunes or iCloud to back up your iOS device?
The answer depends on many factors. The purpose of this article is to help you choose a backup method.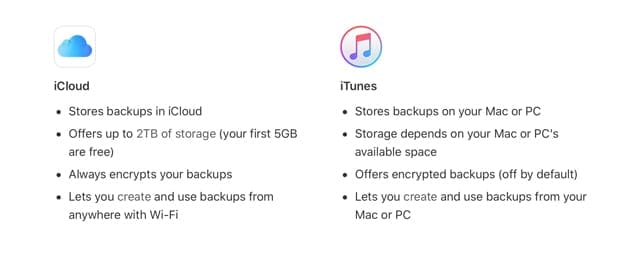 Related Articles
Is iCloud Backup the best choice for you?
iCloud automatically backs up your data on your device using iOS 5 or later.
Turn iCloud Backup ON via Settings > Apple ID Profile > iCloud > iCloud Backup 
Advantages of iCloud backup
Very easy
You can back up your device Wirelessly and Automatically
You do not need to own a computer, PC or Mac
If you use Messages in iCloud, Voice Memos, or turn on iCloud Photos, your content is automatically stored in iCloud

Messages in iCloud include all your iMessages and text (SMS) and multimedia (MMS) messages

End-to-End Encryption for securing privacy when two-factor authentication is turned on for your Apple ID

This means that only you can access your information, and only on devices where you're signed into iCloud. No one else, not even Apple, can access end-to-end encrypted information
Disadvantages of iCloud backup
You need to have a WiFi connection
iCloud backup does not include  your media files (music, movies etc) that you did not purchase from the iTunes Store
iCloud backup does not include your files (podcasts, photos etc) that you originally transferred from your computer
Your space is limited. You get 5 GB of free storage for backup, but if you need more, you need purchase an iCloud Storage subscription
iCloud backups don't include:

Data that is already stored in iCloud, like Contacts, Calendars, Notes, iCloud Photos, iMessages, and text (SMS) and multimedia (MMS) messages
Data stored in other cloud services, like Gmail and Exchange mail
Apple Pay information and settings
Face ID and Touch ID settings
iCloud Music Library and App Store content (If it's still available in the iTunes, App, or Apple Books store, you can tap to re-download your already purchased content.)
Is iTunes backup the best choice for you?
iTunes can back up your iOS device. Turn it on via your computer's iTunes application. 
Advantages of iTunes backup
You own your back up, thus you do not need to rely on iCloud, a third party service
You do not need to pay anybody if you have large files (movies etc)
Does not require a WiFi connection
You can backup to an external drive with iTunes (using Terminal)
Disadvantages of iTunes backup
You need to own a computer and connect your device to this computer when you want to create a backup
An iTunes backup doesn't include:

Content from the iTunes and App Stores or PDFs downloaded directly to Apple Books (iBooks)
Content synced from iTunes, like imported MP3s or CDs, videos, books, and photos
My Photo Stream
Face ID or Touch ID settings
Apple Pay information and settings
Activity, Health, and Keychain data (unless you choose to encrypt your iTunes backup)
If you want to backup your Activity, Health, and Keychain data, make sure you checkmark the box for Encrypt Backup in iTunes. 
iTunes vs iCloud: Our Backup Recommendations
We recommend that you use iCloud backup and iTunes backup together! We think it's wise to have an alternative backup, so that's why we like having two backups of our iDevices' data.
Your iCloud backup does not turn off iTunes backups. All you need to do is tap Settings > Apple ID Profile> iCloud > iCloud Backup and toggle it ON.
Perform an immediate backup by tapping Back Up Now. 
Enabling iCloud backups turns off Automatic Backups via iTunes
So, when your iDevice is connected to your computer, you need to trigger a manual iTunes back up. Go to iTunes > Backups > Manual Back Up.
It 's very easy!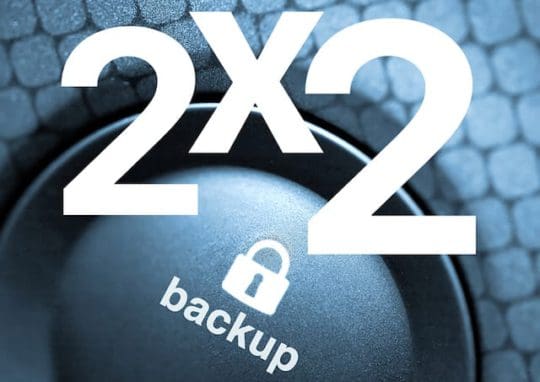 This way your iDevice is backed up locally via iTunes (on your computer or external drive) as well as continuing to back up via iCloud.
Obsessed with tech since the early arrival of A/UX on Apple, Sudz (SK) is responsible for the original editorial direction of AppleToolBox. He is based out of Los Angeles, CA.
Sudz specializes in covering all things macOS, having reviewed dozens of OS X and macOS developments over the years.
In a former life, Sudz worked helping Fortune 100 companies with their technology and business transformation aspirations.