You try unlocking your iPhone or iPad, and without warning or notice, the screen goes and STAYS black or blank. A text or call comes in, and you hear its notification sound, but you don't see anything on your screen! So you know your iPad or iPhone screen is blank, but your device is on!
Maybe you rest your phone for a while and try to ignore it. After about an hour or so, with crossed fingers, you try again.  But no luck, the black screen continues.  The iPhone looks like it's on and you see a faintly illuminated grid; you're just not seeing any icons, lock screens, zilch, nada!
If this sounds familar, you are not alone. Getting a black or blank screen on your iPhone, iPad, or iPod is often a symptom of a larger hardware problem, but not always! This article focuses on software issues that cause black or blank screen and show you steps to fix it!
Quick Tips
Follow these quick tips to fix times when your iPhone's screen goes black or blank
Ask Siri to turn up the screen brightness
Charge your iDevice for several hours (or days)
Restart your iPhone, iPad, or iPod
Perform a forced restart
Cool down or warm up your device
Related Articles
Help! My iPhone is on but the screen is black!
Several readers report that their iPhone or iPad screen turns into an "illuminated" black color or that they see a blank screen even while the device is on and working.
When the screen goes black or blank, your device's audio may keep playing, and even let you use Siri or interact with the screen through guesswork!
Some users also report that this problem started after their most recent iOS update.
Why is my iPad or iPhone screen black or blank?
If you don't see anything on your iPad's, iPod's, or iPhone's screen but you continue to hear that the device works (like vibrates, rings and makes other sounds,) it usually points to a hardware problem.
Often it's problems with the screen itself or the cable that connects to the screen.
However, it's always possible that there is a software or iOS issue in play, so let's first take a look at these settings to see if we can fix it ourselves, for free!
My iPhone screen is black! What to do when your iPad's or iPhone's screen turns black
Ask Siri to turn up the brightness
The problem might simply be your screen brightness.
So if you can interact with Siri, try asking her to turn up the screen brightness to the maximum.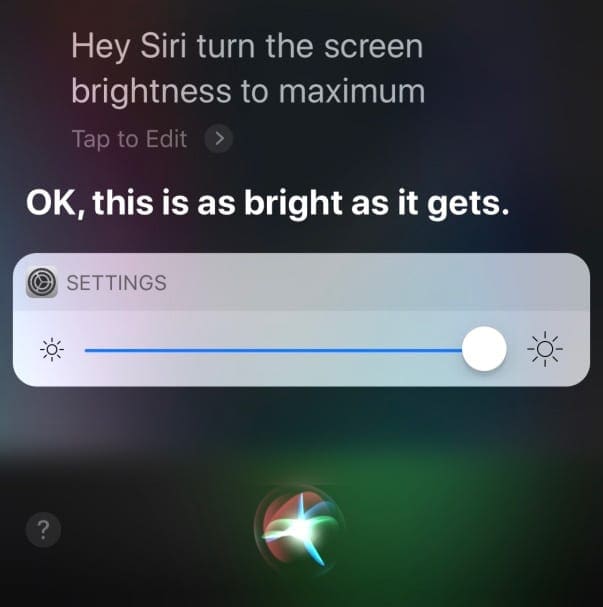 See if that makes a difference. If not, keep reading!

Battery issues
It may be a battery related issue. So connect your device to a power outlet and wait several minutes
Charge your iPhone or iPod for at least 10 minutes and 20 minutes for an iPad before using it–the longer charge the better
Make sure you check your cable and charger for any problems like frayed ends, dirty or greasy connectors or ports. If needed, clean them or use a different cable/charger
Reader Paul suggests plugging in your iDevice to a wall outlet for a very long time (he plugged his in for 2 days.) See if this resets your iDevice's battery and power management
Restart your iPhone, iPad, or iPod
On an iPad with no Home Button and iPhones X or later: press and hold the Side/Top/Power button and either volume button until the slider appears
On an iPad or iPhone with a Home Button and iPod Touch: press and hold the Side/Top/Power button until the slider appears
Drag the slider to the right to turn the device off 
After the device turns off, press and hold that Side/Top/Power button again until you see the Apple Logo
With iOS 11 and above, restart using Settings > General > Shut Down until you see the "slide to power off"
If you see the Apple logo on your device's screen, it's likely the problem was software-related!
Use your device and see if it performs normally.
Perform a hard restart
On an iPad with no Home Button and iPhones 8 or later: Press and quickly release the Volume Up button. Press and quickly release the Volume Down button. Then press and hold the Side/Top/Power button until the device restarts
On an iPhone 7 or iPhone 7 Plus: Press and hold both the Side and Volume Down buttons for at least 10 seconds, until you see the Apple logo
On an iPhone 6s and earlier, iPad with a Home Button, or iPod touch: Press and hold both the Home and the Top (or Side) buttons for at least 10 seconds, until you see the Apple logo
If you see the Apple logo, it's unlikely the problem is hardware-related but rather was a software issue.
Use your device as you normally would and see if the problem resolved.
Check your temperature for blank or black screen problems

Black or blank screen problems often occur if you operate your device under extreme temperature conditions (like being too hot or too cold)
If too hot, just place your device in a cool area for several hours to let your device to cool down
And if too cold, put your iDevice in a warm area (but not hot) for several hours to allow it to warm up
Using an iOS device in frigid conditions outside of its operating range might temporarily shorten battery life and could cause the device to turn off
Battery life will return to normal when you bring the device back to higher ambient temperatures
Try and always use your iOS devices where the ambient temperature is between 0º and 35º C (32º to 95º F)
Burp that baby! 
If the solutions listed above don't work, it could be that your iDevice's display cable has come loose or partially separated from its connector.
If the iPhone, iPod, or iPad is still under Applecare, make an appointment with a genius and take it for inspection.
If your device is not still under warranty, some folks report success with "burping" their devices
First, wrap your iPhone or iPad in a soft cloth or towel
Turn it over so the screen is facing down and the back of the iPhone or iPad faces you
Then pat the back of the device just like you are burping a baby
"Burping" your iPad, iPod, or iPhone often helps get those LDC/OLED screen connectors attached again.
The last stop for blank screen problems
Restore your device in iTunes by connecting your device to your computer
Connect your device to a computer and open iTunes

If you don't have a computer, borrow one or go to an Apple Store

While your device is connected, force it to restart following the instructions above
Don't release when you see the Apple logo. Keep holding until you see the recovery mode screen

An iPhone 7 in Recovery Mode must be restored using iTunes

At the option to restore or update, choose Update

iTunes attempts to reinstall iOS without erasing any of your data

If this takes more than 15 minutes, your device exits recovery mode
Repeat steps 2 and 3
iTunes not recognizing your device?
If iTunes does not see your device, try DFU mode.
DFU Mode (Device Firmware Update) allows iTunes to communicate with your iDevice, without it loading iOS and booting up.
A DFU restore completely erases your iDevice and then installs a fresh copy of the latest iOS and firmware onto your device. It's like starting from scratch!
So if you are considering a DFU restore, make sure you have a backup available or move ahead with the knowledge that your device is completely erased.
No time? Check out our video!
Need to fix your iPhone or iPad screen? Contact Apple Support
If none of the steps above worked for your device, it's likely that your iPhone's or other iDevice's hardware has a problem, typically with the screen's display connector or cable. You likely need Apple to perform an iPad or iPhone screen repair.
For most, hardware problems mean a trip to your local or online Apple Support Team or a regional Apple Certified Repair Center.
Contact Apple Support to set up service if you have any of these issues:
You continue to see a black or blank screen after charging, force restarting, and following the steps mentioned
Your iPad, iPhone, or iPod Touch is recognized by iTunes but nothing displays on-screen or you see a faint glow
You see a black screen, but you hear alerts, sounds, and vibrations
Your screen is on but non-responsive to inputs like tap, slide, and other gestures
The iDevice's Home button or Sleep/Wake button is broken or stuck
Your iDevice is stuck on the Apple logo
The iPhone or iPad displays a solid color or iTunes doesn't recognize it
Why use Apple Support or Apple certified repair shops?
If your iPhone, iPad, or iPod is under warranty, it only makes sense to have Apple or its authorized shops repair it! Apple requires that all repairs covered under Apple's warranty must be performed by Apple-certified technicians.
And usually, repairs made under an active Apple Care+ plan are cheaper than those done elsewhere.
Plus, when Apple repairs your device, the remaining warranty still applies.
If Apple suspects or has evidence that your device was repaired at a non-approved shop, your warranty is automatically voided.
To find out if your device is still covered by Apple's warranty, use this tool and enter your device's serial number.
Wrap up
Usually, you fix blank or black screens on iPhones, iPads, and other iDevices by following the recommended steps above.
We've found that you solve most of these problems by performing a hard restart by holding the sleep/wake button and home button or volume up/down buttons (depending on iPhone model) together for at least ten seconds AND ignore the red slider.

But just in case this happens again, remember to back up your iPhone or another iDevice, so you never EVER lose precious data.
Preferably you backup following our 2X2 rule (2 cloud and 2 local backups.)  It might feel like overkill but better safe than sorry!
Reader Tips 

Some readers have luck with pressing down or tapping with their palms on the backs of their iPads or iPhones to bring up the Apple Logo or Home Screen. If this reader tip works for you, your iPhone probably has a loose connection, likely a bad connection to the LCD Screen or the logic board. This problem typically resurfaces. If so, take your iPhone or iDevice to an Apple Store or Certified Apple Repair Center to replace and repair the bad connections. This repair is not a DIY project as it requires soldering
Paul recommends charging your iDevice via a wall outlet for several days, especially if you've had a recent hardware replacement or update
If you see a glow to your screen but can't make out anything, Paul recommends checking the iPad by connecting it iTunes. If iTunes recognizes the device and is able to communicate with it, it's likely that the screen is disabled or has a loose screen connector cable. The only cure for this is to take the screen off and reconnect the cable firmly–either DYI or via an Apple Service Repair Center. For those into DIY, Paul warns that performing this fix yourself almost always results in a cracked screen, so purchase a new screen for your iDevice (check make and model) before you start the repair!
Obsessed with tech since the early arrival of A/UX on Apple, Sudz (SK) is responsible for the original editorial direction of AppleToolBox. He is based out of Los Angeles, CA.
Sudz specializes in covering all things macOS, having reviewed dozens of OS X and macOS developments over the years.
In a former life, Sudz worked helping Fortune 100 companies with their technology and business transformation aspirations.