Are you trying to log into the iTunes and Apple Store but keep getting the error message "Verification Failed. There was an error in connecting to your Apple ID?" And you're stuck with an Error Connecting Apple ID?
Quick Tips 
Follow These Quick Tips to Fix Apple ID Verification Failed. There was an error in connecting to your Apple ID
Take a look at Apple's System Status to ensure Apple Servers aren't experiencing any issues
Check that you're connected to WiFi
Try using a different WiFi network
Use one Apple ID for all Apple Services or toggle off any services (like FaceTime, Game Center, and Messages App) that use a different Apple ID
Set your Date & Time to Set Automatically
Restart or force restart your iDevice
Try logging out of your Apple ID and then logging back in
Sign out of the Apple ID in Settings >iTunes & App Store, wait 30 seconds, and sign back in
Go to Apple ID's website and reset your Apple ID account password and try with this updated password
Turn off any advertising (adblocker) or Content Blockers
Temporarily disable any VPN
Related Articles
Why This Verification Error?
Several users find themselves stuck with this error on their iPhones from time to time. They try to connect to iTunes and Apple Store from their iPhone settings and instead see the error connecting Apple ID verification failed message. This message can be an annoying experience, and you might think that there is something wrong with your Apple ID. 
Readers often see this message after a restore or iOS update. Usually, it means that your device is not allowing you to connect to Apple's iCloud verification servers.
Most of the time, this problem occurs because of issues that are not related to your Apple ID. Here is how you can try fixing the problem on your own.
Check Apple's System Status Site
Sometimes Apple Servers go down for maintenance, problems, or other reasons. So it's a good idea to make sure the problem isn't on Apple's end before proceeding with any troubleshooting.
Visit Apple's System Status page for your home country/region.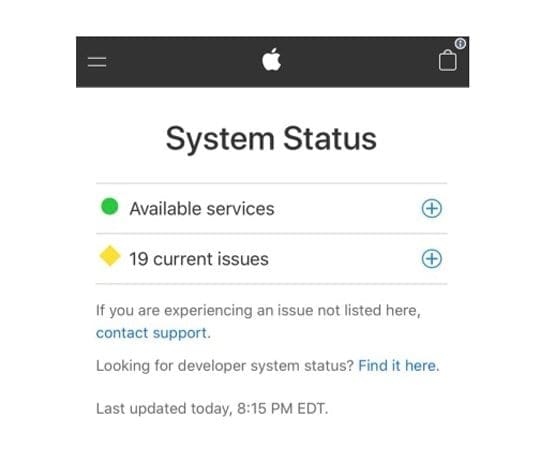 If you see any services listed with the yellow yield sign, there is an active issue on Apple Servers that they are attempting to resolve.
Tap on the service or press the plus sign (+) to learn more.
If the problem is with Apple, there's nothing you can do other than wait.
Steps to Correct Error Connecting Apple ID, Verification Failed
Make sure WiFi is turned ON. Go to Settings > WiFi and toggle it on. If it's already on, toggle it off, wait 20 seconds, and toggle back on. Also, make sure you connect to the fastest WiFi network available

Disconnecting from WiFi frequently happens after an iOS update

If you use multiple Apple ID accounts for iTunes, iMessage/Messages App, FaceTime, App Store, Game Center, and iCloud, sign in with a single Apple ID account to all services OR sign out (toggle off) of all services and then sign back into your main Apple ID. Multiple Apple ID accounts cause problems authenticating, especially after iOS updates
Please try each of the steps in succession and check to see if the issue resolves on your iPhone
There are times when this error shows up on your iPhone following an iOS upgrade. This error is sometimes the case with older iPhone models. For some reason, the system date and time settings on the device go out of sync. Check your iPhone Settings and make sure that "Set Date Time Automatically" is switched ON.

Find this in Settings > General > Date & Time
If it's showing 'Manual,' please change it to automatic, restart your iPhone and then check if you can access the Apple Store or iTunes with your Apple ID
If it's already on Set Automatically, toggle this setting off and then back on

Sometimes with most electronic devices that require credentials, simply logging out and logging back in does the trick.

Tap on Settings followed by your Apple ID
Choose iTunes and App Store
Tap on your ID at the top of the screen and choose to Sign out 
Restart your iPhone
Set up your Apple ID credentials again in Settings > Your Apple ID Profile. Try accessing the App Store now and see if it works for you

Turn off any content blockers or ad blockers. These often interfere with accepting Apple's Terms of Service. So try disabling any content blockers and see if this helps with verifying your Apple ID.
As with most iDevice related problems, it goes without saying that the best course of action when faced with an error or a problem is to try a forced restart

If you have an iPhone older than iPhone 7, press the Home button and the on/off button together for about 10 seconds or so till you see the Apple Logo on the screen. Once the device restarts, you can check to see if this error has been fixed when you access the Apple store
On an iPhone 8 or later and iPad without a Home Button: Press and quickly release the Volume Up button. Press and quickly release the Volume Down button. Then press and hold the Power/Side/Top button until you see the Apple logo and the device restarts. For more instructions and details, check out this article for how to do a forced restart and proceed on models that don't have a home button
We hope that one of these three easy steps fixed your issue around the verification failed error message. If you are still experiencing the problem, please contact Apple Support or try out the Genius Support at your local Apple store to get additional help.
Reader Tips 
For me, the trick was turning off all VPN settings (look at Setting > VPN or Settings > General > VPN)
Connect to iTunes instead and update or restore your iOS. Make sure you follow these steps:

Power off iDevice
Open iTunes on your computer
Hold down the Bome button while connecting the lightning cable to your PC

Try this on another device: Go to Settings > Apple ID > Password & Security and choose Get Verification Code. Enter that code in the device with the problem
Rachel discovered she was unable to approve Apple's iCloud Terms until she disabled Crystal, the content blocker she uses. Once Rachel did that, she was able to load and agree to the terms. And it worked instantly
This worked for me:

Go to Settings >iTunes & App Store
Tap on your Apple ID at the very top
Choose Sign Out
Then sign back in

For older iOS versions, try this method, it worked for me.

connect via wifi
Go to Settings >iCloud
Click on your account
Generate a verification code from another Apple device that uses the same Apple ID. On the other device,  go to Settings > iCloud > Password and Security > Generate Verification Code (or Get Verification Code)
Enter the verification code in the iDevice with the error

If you use a VPN like OpenDNS or Cisco Umbrella, first disable it, then try your Apple ID again, and reinstall OpenDNS once everything works
Yes, my date and time on my iPhone were wrong. Once I updated it to Set Automatically,  verification worked!
Try Resetting Network Settings, then try again by different Wi-Fi connections. Go to Settings > General > Reset > Reset Network Settings
If you use iCloud Backup on your iDevice, turn it off temporarily. Then, try connecting to your Apple ID again. Once it works, don't forget to re-enable iCloud Backup