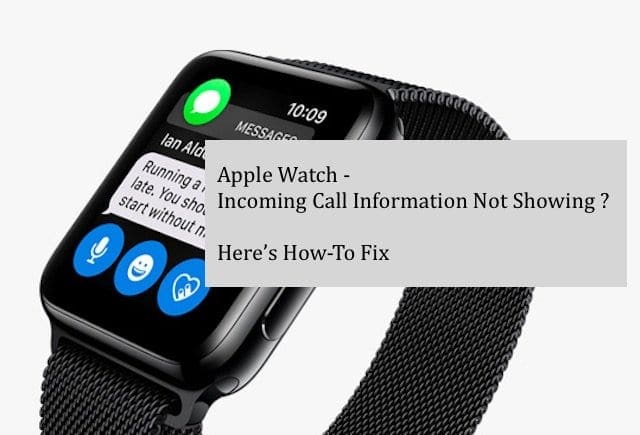 The incoming calls feature works perfectly most of the time on the Apple Watch. Sometimes, usually after an iOS/WatchOS upgrade, you may find that your Apple Watch does not show incoming calls and the corresponding contact names, numbers or other information correctly. Other reported issues include your Apple Watch not ringing for incoming calls.
If you are experiencing this issue, it is relatively easy to fix. Try each step until you resolve your issue.
Apple Watch Not Showing Incoming Calls?
Check if you are having the same issue on your iPhone. When incoming calls come in are you able to see the contact name information or are you only seeing numbers? If you are having issues with contacts in general on your iPhone, you may want to address it before trying to troubleshoot the problem on your watch. Here are a few articles that should help you with the issue.
If the iPhone contacts work and the problem is only limited to your Apple Watch, restart your Apple Watch. To reset your watch, press and hold the side button until you see the Power off slider. Use the slider to turn your Watch off completely. Restart your watch and see if you fixed your issue.
If the simple restart did not fix your issue, your next course of action is to try a forced restart on your Watch by holding both the side button and digital crown for about 10 seconds or so till you see the Apple Logo. Let the Watch restart and check if we fixed the issue.
If you have already tried all the reset steps above without any success, it may be time to refresh the contacts data on your Watch. To do so, using the Apple Watch app on your iPhone, tap on My Watch. Next tap on General > Reset > and tap on "Reset Sync Data." Allow for a couple of minutes. Restart your Apple Watch and see if it fixed your issue.
Apple Watch Not Showing Incoming Call Information, Tips to Fix
Some users report that they do not get incoming calls on their Apple Watch at all following an upgrade. If you face this problem, the chances are that it is related to one or more settings on your Apple Watch. Check the following settings:
Start with the notifications settings. On your iPhone's watch app, tap on My Watch > Notifications > Phone. Make sure to select "Mirror my iPhone.'
Open your Watch Sound settings by tapping on My Watch > Sounds and Haptics. Here you want to make sure that you have not turned on the Silent mode and the haptics strength is set appropriately. You can learn about the Apple Watch Haptics system by using this detailed article.
Check that you do not have Do Not Disturb on. Open the Settings on your Apple Watch by just using 'Hey Siri Open the Settings.' On the screen tap on Do Not Disturb (the last option) and make sure that it is not enabled.
If you have checked all the settings as listed above and have also tried force restarting your Apple Watch without any success, your best bet is to reach out to Apple Support.
We are pretty hopeful that one of these simple steps helped fixed the issue for you, and you can experience incoming calls without any problems on your Apple Watch. Please let us know in the comments if you have any questions or concerns.