I love FaceTime. It's my go-to app for calling overseas and far-away friends and family.  So it really sucks when FaceTime's not working and experiencing problems.
I need my FaceTime, so fixing it is a Number One priority in my house.
Using a Different iOS version?
Does FaceTime get stuck at connecting? Can't call a legacy iOS device using Facetime?
Folks updating to iOS 13.4  or for Macs with macOS Catalina 10.15.4 discovered that their devices could no longer connect to older iOS devices running iOS 9.3.6 and earlier or Mac's running OS X El Capitan or earlier. Some of our readers tell us this issue is also present when trying to call folks using iOS 10 versions as well. And others found this problem when using a Mac with macOS Catalina 10.15.4 to older iOS versions and OS X versions.
With this issue, Facetime gets stuck at 'connecting' for both inbound and outbound calls.
To fix these issues, update to iOS and iPadOS 13.4.1 or above. For Macs running macOS Catalina, update your macOS to the latest macOS version (Apple released a supplemental update for macOS Catalina 10.15.4.)
Apple says the issue is now fixed in these versions and higher.
FaceTime is Awesome!
Just in case you don't know…FaceTime is Apple's amazing video phone calling app.  It's like Skype, but at least for this gal, it's a heck of a lot better!
FaceTime lets you call any iFolk (people with iDevices or Macs), and you get to talk to each other over the internet for free (the exception being the bill you pay for internet services–so not really and totally free.)
For those wanting more info on how to use and set-up FaceTime, check out Andrew's article, Using FaceTime: How Easy It Is!
Now that the explanation is outta the way, here are some things to try when FaceTime's not working like it's supposed to.
So let's get to it!
Number One: The Apple Rule of Thumb
Okay, the number one troubleshooting tip that pretty much every site and Apple suggests is to ensure that your operating system's software is up-to-date.  So for Mac users, that's your Mac OS, and for iDevice users, that's your iOS.
Just visit the app store and see if an update's available.  If so, go ahead and update your computer or iDevice. Just make sure you backup before performing ANY update.
Once updated, check that FaceTime is working.  If FaceTime's not working, then keep moving down our tip list.
Number Two: Target "ON"
The next tip may seem pretty obvious, but it happens, even to the best and brightest out there.  So, when FaceTime's not working check that your iDevice has FaceTime switched ON.
To verify is super duper easy.  For iOS, just head to Settings>FaceTime and check that FaceTime is toggled on (green.)
If not, toggle it on and sign in with your Apple ID and password.   Also, check that your phone number and Apple ID is listed underneath "You can be reached by FaceTime at."  If not, add your email addresses.
If you're trying to use FaceTime over cellular, check that Use Cellular Data is on for FaceTime. Go to Settings > Cellular > Use Cellular Data For and turn on FaceTime.
If you don't even see the FaceTime app, check that you've installed FaceTime by visiting the app store.  In case FaceTime isn't installed, install it.
If you haven't installed FaceTime, and you don't see the app check that both Camera and FaceTime aren't restricted.
Go to Settings>General>Restrictions and toggle FaceTime and Camera ON.
For Mac OS
Open FaceTime and turn FaceTime on or enter your Apple ID and password. That's it!
Number Three: Sounds Off
So you open FaceTime for a quick chat and don't hear a thing.  That's not okay…and very problematic for communication with friends and family.
First, check that your iDevice or Mac isn't set on mute.
For iOS, the easiest way to check this is via Control Center.  Look for the bell icon, if it's highlighted in a color that means mute is ON. Tap it again, so it goes gray. Text on the Control Center screen confirms Mute: Off.
If your iDevice has a side switch, toggle it and listen if you hear anything. If you do, the chances are that your iDevice's side switch is set to mute. Changing this is easy via Settings>General>Use Side Switch To.
For Mac OS
For Macs, go to System Preferences>Sound and check that mute is not selected for both Output and Input. Another option is to utilize the keyboard shortcut F10, which toggles Mute on and off.
Number Four: Use Same Apple ID
To get the most of out FaceTime, check that all your FaceTime accounts are using the same Apple ID.
For iDevices, tap Settings>FaceTime and verify your Apple ID
For Mac OS
Click FaceTime and go to Preferences.  Check your Apple ID.
If any of your devices don't match, sign out and then sign on again using the same Apple ID for all your iDevices and computers.
Number Five: FaceTime's Not Working and Continuously "Connecting"
If you are not able to connect to FaceTime or get the message "Connecting" without FaceTime ever opening, you should now try reactivating your account.
For iOS, go to Settings>FaceTime and toggle the switch OFF, wait a few moments, and then toggle it back ON. A message appears "waiting for activation."  Enter your Apple ID and passcode if needed.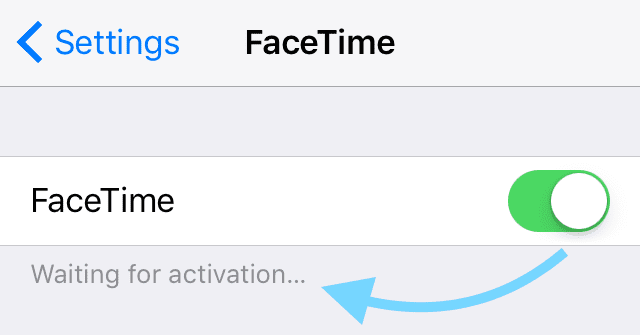 If that doesn't work, try resetting your WiFi network.  Go to Settings>General>Reset and select Reset Network Settings.  This action resets to factory defaults, so you'll need to enter your WiFi credentials again.
For Mac OS
Open FaceTime and go to Preferences.  Select Turn FaceTime Off.  Wait a few moments and turn FaceTime back on.
If it's still not working, go back to Preferences.  Choose Settings and sign out of your Apple ID. Wait a few moments and then sign back in with your Apple ID.
If you still have no luck getting FaceTime working, change your Mac's DNS settings to Google's open DNS. Click System Preferences > Network > Select Network (Wi-Fi) > Advanced > the DNS tab > click the + button to add Google DNS, enter 8.8.8.8 and 8.8.4.4. Click OK then Apply.
Alternatively, change your DNS settings to OpenDNS.  Follow instructions above and enter 208.67.222.222 and 208.67.220.220 in the DNS tab.  Click OK then Apply.
Number Six: Check the Time!
This action is simple but weird.  I too experienced this problem, and it took hours to figure out this one easy tip.  Check that your Date&Time is "Set Automatically."
FaceTime (and other Apple apps like iMessage and Messages) often fail to connect when our iDevices' and computers' date and time are in error or misaligned.
For iDevices, go to Settings>General>Date & Time.  Verify that "Set Automatically" is selected. If not, toggle this ON.
For Mac OS
Go to System Preferences>Date&Time and check the box next to "Set date and time automatically."
Number Seven: FaceTime's Not Recognizing Phone Number
Our iOS 10 testers reported this issue.  When opening FaceTime (and iMessage) your iPhone knows your email BUT NOT your phone number.  There are a few tips that worked for our testers:
Remove your SIM card, wait a few minutes, and replace
Log out of all Apple services that require Apple ID and password

Reboot by holding down the sleep/wake button and

home

button simultaneously
Let go only after Apple logo appears
Log back into FaceTime with Apple ID after reboot

Log out of all Apple services that require Apple ID and password AND reset your network settings (you lose all WiFi passwords so make sure you know them or have them on-hand)

To reset network go to Settings>General>Reset>Reset network settings
Reboot by holding down the sleep/wake button and

home

button simultaneously
Let go only after Apple logo appears
Log back into your network
Log back into FaceTime with Apple ID after reboot

Try putting someone else's SIM card in and see if FaceTime recognizes email and phone number

If so, you need a new SIM card.  Contact your carrier.
Number 8: Not Receiving Incoming Calls
If you missed calls on iDevices, check that "Push" is enabled in your mail settings.  Go to Settings>Mail>Accounts and check that "Fetch New Data" is set to Push.
If friends or family tell you that they tried calling, but you didn't receive the call, check that FaceTime is not blocking your contacts.
Go to Settings>FaceTime>Calls>Call Blocking & Identification.  Here you find your list of blocked contact.  If someone is on that list that you want to receive calls from, tap and slide left to choose "Unblock."
That's a Wrap
Hopefully, one of these tips worked for you, so FaceTime is back in your good graces.  If not, one treasure that iOS 10 brings is the ability to delete most of Apple's native apps.
And FaceTime is one of those deletable apps. So if FaceTime still isn't up and working AND you don't want to spend any more time troubleshooting then try this last resort.
Delete FaceTime app from your iDevice.  And then reinstall FaceTime from the app store. This final tip just might be the right one for you.
If you decide that you had enough, one interesting iOS 10 tidbits is that after deleting FaceTime you can still start a FaceTime call using Siri or answer a FaceTime call you receive. Who'd guess that one?
For most of her professional life, Amanda Elizabeth (Liz for short) trained all sorts of folks on how to use media as a tool to tell their own unique stories. She knows a thing or two about teaching others and creating how-to guides!
Her clients include Edutopia, Scribe Video Center, Third Path Institute, Bracket, The Philadelphia Museum of Art, and the Big Picture Alliance.
Elizabeth received her Master of Fine Arts degree in media making from Temple University, where she also taught undergrads as an adjunct faculty member in their department of Film and Media Arts.