We get this question almost every day: how can I get deleted text messages back? We all know that texts and messages sometimes get deleted by accident.
It's a fact of life, especially if you let kids, spouse or girl/boyfriends, family members, and even plain old friends borrow your iPhone or iPad.
Most of the time, it's not on purpose, all it takes is a swipe in the right direction and bang that message conversation (and any attached images/videos/stickers/gifs) is gone. BUT not necessarily for good.
Related Articles
Look at Your Other Devices, including Macs!
If you're asking how can I retrieve deleted iMessages or texts? Look no further than your Mac or other iDevices.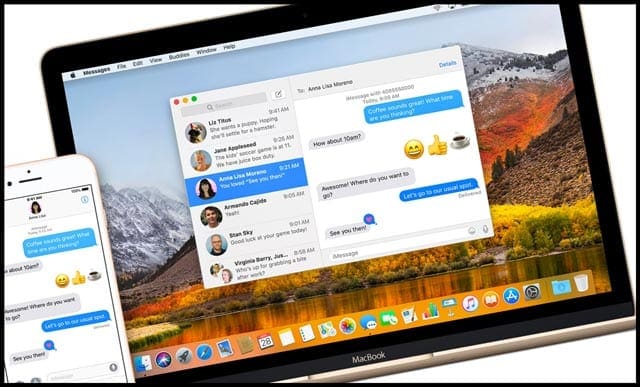 If you don't use Messages in iCloud AND use Messages with the same Apple ID on more than one iDevice or an iDevice and a Mac, when you delete a text thread on one device it DOES NOT delete on any other device.
So first, check any other device and see if the message thread is there.
Your all devices should allow for both iMessage and SMS recovery, just by opening up your Message App!
For this to work, you must have previously activated iMessage on your computer or additional iDevice with the same Apple ID AND not enabled Messages in iCloud.
So if you use Messages on your Mac or another iDevice, forward that thread to yourself so a copy moves to the device where you deleted it.
Just remember that when you reply, it'll reply to yourself and NOT the original sender.
You need to start a new message to converse with that original sender.
So this option is for folks who just want the information held within the texts, NOT for those wanting to continue building the conversation.
I Use Messages in iCloud, What Are My Options To Restore a Deleted Text?
For folks that use iCloud and Messages in iCloud, iOS automatically stores all your iMessages, text (SMS), and multimedia (MMS) messages in iCloud.  
Unfortunately, Messages in iCloud updates automatically, so when you delete a message, photo, or conversation on one device, it's immediately removed from all of your devices.
This syncing between devices means you always have the same view everywhere you use iMessage–and that's normally a great feature.
But when you delete a message accidentally, it's a very bad thing–because that deleted message is no longer available on any device.
Did You Just Delete That Message?
If you deleted that message just now, you may be able to recover it by turning off Messages in iCloud asap (as soon as possible.) 
When you toggle off Messages in iCloud, a message pops up asking you if you want to download your messages and disable Messages in iCloud.
Tap Disable and Download Messages.
If your message is still on Apple's Message in iCloud servers it will download to your device!
How To Recover Deleted Text Messages From an iPhone or iPad Using an iCloud or iTunes / Finder app Backup
If you don't have another Apple device or didn't activate iMessages, how do you get old text messages back?
Well, the only other option (outside of some third-party apps) is to look at your iPhone's backup in either iTunes or iCloud.
If you backup via iCloud or iTunes, all your text message conversations (SMS, MMS, and iMessages) are still retained in your iPhone's backup–so if you backed up recently, those threads are there.
But these backups only contain information up to that backup date and time.
So here's another reason to turn iCloud BackUp ON–if you didn't already have a good reason.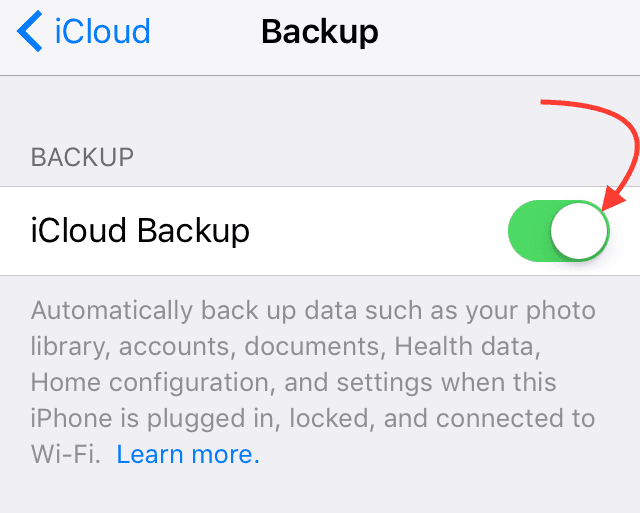 As a quick reminder, turn on iCloud BackUp by going to Settings > Apple ID Profile > iCloud > iCloud Backup and turn it ON.
Find iCloud Backups
So if you recently lost your text messages, restore your latest backup and get all those messages that were current at the time the backup was created.
To check when you last backed up on iCloud, go to Settings > Apple ID Profile > iCloud > Manage Storage > Backup > Your Device to see the date and size of its latest backup. 
Earlier iOS iCloud Backup Locations
For iOS 10.3, go to Settings > Apple ID Profile > iCloud. Tap the graph that shows your iCloud usage, then tap Manage Storage
With iOS 10.2 or earlier, go to Settings > iCloud > Storage > Manage Storage
Find macOS Catalina+ Finder app backups
Connect an iOS or iPadOS device to your Mac running macOS Catalina and above
Open a new window in Finder and select the device from the sidebar
Go to the General tab and click Manage Backups

Locate specific backups from Finder and control-click to show them in Finder.

Control-click the iDevice backup you want
Select Show in Finder
Find iTunes Backups (macOS Mojave and below)
Open iTunes
In the top menu bar, tap iTunes > Preferences
Click Devices
Control-click the device backup you want
Choose Show in Finder 
A window shows all available backups with dates
To learn more about the Finder app and iTunes backups, see this article.
Everything Goes Back, Not Just Messages!
Be mindful that this process reverts everything back to that last backup, so if you took a lot of photos, videos, or downloaded a lot of apps or books, those items won't show up, and you'll need to download them again. For photos and videos, be sure to back these up using something other than iCloud–like to your Google Drive, Dropbox, or your backup location of choice.
And if you never backed up using iTunes or iCloud or you didn't back up recently, your texts are sadly lost for good. Unfortunately, this is currently the only way to retrieve accidentally deleted texts. 
Restore from an iCloud backup
Turn off Find My iPhone via Settings > Apple ID Profile > iCloud > Find My iPhone > Off
Go to Settings > General > Reset > Erase All Content and Settings
On the Apps & Data screen, tap Restore from iCloud Backup and, sign in to iCloud 
Select Choose Backup and select your preferred backup from the list of available backups and then tap the blue Restore button

Your iPhone asks you to choose which iCloud backup to restore (if you have more than one.) Apple stamps your iCloud backups with dates and times, so pick a backup that's dated just before you accidentally deleted those texts messages

iCloud starts restoring and gives you an estimate to completion. It often only takes a few minutes, but occasionally more (even hours.) So be patient! 
After using your iCloud backup to restore
Once restarted, iOS downloads any purchased music, movies, TV shows, apps, books, photos, and other content
If asked, enter passwords for iTunes Store, App Store, and iBooks Store accounts to restore your items
Restore from an iTunes backup
Turn off Find My iPhone via Settings > Apple ID Profile > iCloud > Find My iPhone > Off
Connect your iPhone or iPad and open iTunes
Choose your device and tap Summary
Select either This Computer 
Select Restore Backup in iTunes
From the list of backups available, pick the backup you want to restore and remember to pick a backup that's dated just before you accidentally deleted those texts messages
Tap Restore and wait for the restore to finish

For encrypted backups, enter your passcode

After your device restarts, wait for it to sync with iTunes

As of iTunes 12.7, apps are no longer managed so all apps need to be downloaded on each device
I Don't Backup My iPhone With iCloud or iTunes, How Can I Recover My Deleted Messages?
If you don't back up, you can try a third-party tool or ask your iPhone Cellular Provider if they store your text messages on their servers.
Join a Third-Party! 
And of course, there is an app for that. There are a bunch of apps that claim to help in this exact situation.
These tools look at the data on your iDevice and scan for text message files in storage that's ready for overwriting.
Rather than recommending a particular app, we suggest searching the App Store using a search term like Recover Deleted Texts or variations.
Check out what the options are and make sure you read the reviews.
Some apps work as promised, while others do not, so it's best to check those reviews to see if the app lives up to its promises.
For most of her professional life, Amanda Elizabeth (Liz for short) trained all sorts of folks on how to use media as a tool to tell their own unique stories. She knows a thing or two about teaching others and creating how-to guides!
Her clients include Edutopia, Scribe Video Center, Third Path Institute, Bracket, The Philadelphia Museum of Art, and the Big Picture Alliance.
Elizabeth received her Master of Fine Arts degree in media making from Temple University, where she also taught undergrads as an adjunct faculty member in their department of Film and Media Arts.